Be gone with thee, plastic bags!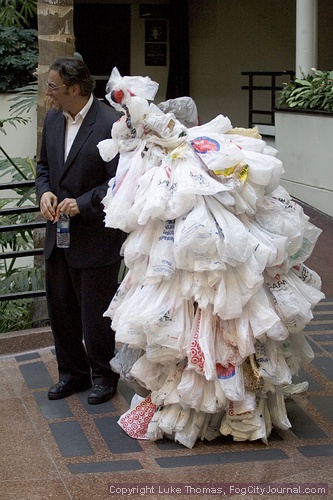 An ordinance banning plastic bags from large supermarkets in San Francisco
goes into effect Tuesday. The legislation, sponsored by Supervisor Ross Mirkarimi,
aims to reduce landfill waste and promote the use of recyclable and reusable grocery bags.
Photos by Luke Thomas
By Ashley Wright
November 19, 2007
San Francisco has again taken the environmental forefront with its newly imposed ban on plastic bags made from petroleum-based products.
The city ordinance, a first for any U.S. city, bans plastic bags that cannot be composted for large grocery stores and pharmacies that gross more than $2 million annually, said Deanna Simon of the San Francisco Department of the Environment.
The ban will take effect Tuesday.
Passed by the San Francisco Board of Supervisors, the ordinance is a reaction to 180 million plastic bags used in the city each year, Simon said.
Supervisor Ross Mirkarimi authored the bill.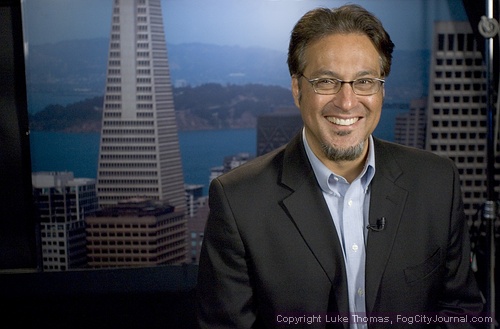 Ross Mirkarimi's plastic bag ban garners worldwide attention
during a live BBC World Service interview.
The ordinance requires that grocers and pharmacies offer only bags made from corn or potato starch or paper bags of high percentage post consumer materials.
Stores will also be required to offer reusable bags made of canvas or other such materials for sale, according to Simon.
The compost-friendly plastic bags will be clearly marked and can be put in the green compost carts in individuals' residences, she said.
Recycled paper bags go in blue garbage carts, she added.
The goal of the ordinance is to lower the cost of compost-friendly plastic bags by increasing demand and to encourage consumers to bring reusable bags when shopping.
San Francisco stores affected by the ordinance include Whole Foods Market, Trader Joe's, Albertsons, Safeway, Rite Aid Pharmacy and Walgreens, said Simon.
Retail stores and small grocers are not included in the ordinance, said Simon.
She said stores affected by the new law have been compliant.
The department does not expect a need for fines for violating the ordinance, which would be $100 for the first offense, $200 for the second and $500 each time thereafter. However, fine enforcement will begin Dec. 1 for noncompliant stores.
"The department has been working closely with the Grocers Association over the past two years," Simon said. "They really want to be green. They know their customers want them to be green. We don't expect there will be any fines. At this point they see the value and they really want to comply."
Dave Heylen, spokesperson for the California Grocers Association, said the association originally believed the city ordinance wasn't necessarily more effective than a recently passed state law addressing the issue.
"The grocer industry believed at the time that a more effective route to go was a law passed and signed by the governor late last year that went into effect July 1," he said. "[The law] calls for any grocer with more than $2 million in sales and provides plastic bags to their customers to provide some way for their customers to recycle the bags."
Heylen said the recycling bins in front of large grocery stores are a better way to address environmental concerns.
Even so, Heylen said all grocer association members are prepared to comply with the new city ordinance.
"Most of our members have indicated that they will just provide for their customers the recyclable paper bags and also have the reusable bags for sale," he said.
Compost-friendly plastic bags can be expensive and confusing for consumers, he said.
"If there are stores that choose to use the compostable plastic bags, we think that there will be confusion because they can't be put into the same recycling bins [as recyclable paper bags]," Heylen said.
Copyright © 2007 by Bay City News, Inc. -- Republication, Rebroadcast or any other Reuse without the express written consent of Bay City News, Inc. is prohibited.
####