Harris tightens belt on San Francisco violent crime
Public defender, advocates, fear pretrial diversion program erosion
By Brent Begin, Bay City News Service

January 30, 2007
SAN FRANCISCO (BCN) - New guidelines for a pretrial diversion program in San Francisco mean more violent crimes will go to trial.
District Attorney Kamala Harris is changing the guidelines following a statutory required annual review of all San Francisco pretrial diversion programs. She says people should be held accountable for crimes that cause considerable physical and emotional harm.
Pretrial diversion programs help first-time misdemeanor offenders avoid jail time and a criminal record by resolving their cases with community service, counseling and other remedies.
"I absolutely support pretrial diversion. Statutorily I am required by the state to review the guidelines every year. This is not about shutting down pretrial diversion," Harris said.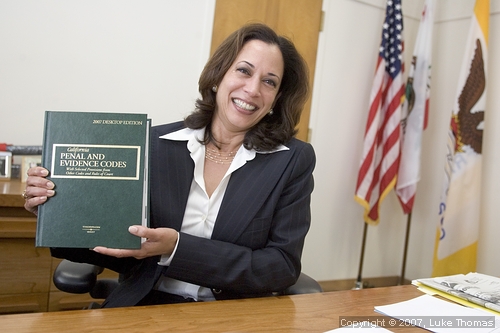 District Attorney Kamala Harris holds a copy of the 2007 edition
of the California Penal and Evidence Codes during an interview with Fog City Journal.
The new guidelines make violent crimes against children and police officers ineligible for pretrial diversion.
Public Defender Jeff Adachi said the changes would adversely affect a successful system and flood the courts with low-level crimes.
"As we go forward today, we must be even stronger in our resolve to ensure that San Francisco becomes a model for reentry programs across the state, not the laughing stock," Adachi said at a news conference Monday outside the Hall of Justice where over 50 people chanted and cheered in support of the second-chance program.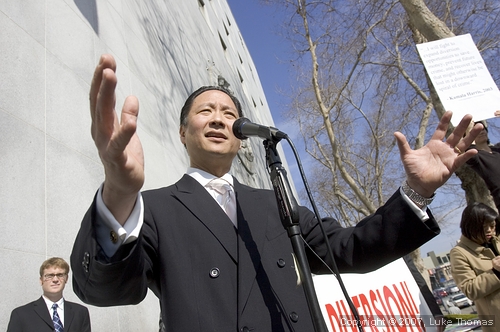 Public Defender Jeff Adachi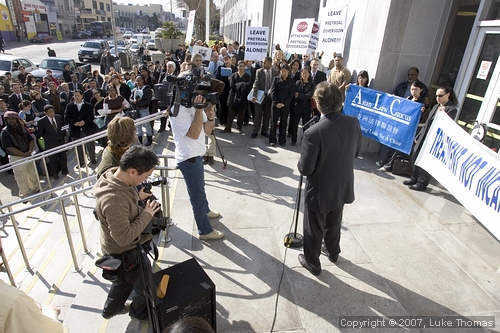 According to Adachi, 94 percent of the 451 cases that have gone to diversion in the past three years have been resolved without the subject re-offending.
Supervisor Ross Mirkarimi supports the program as well, saying it helps stem violence by expeditiously dealing with petty crimes while keeping the court system clear for more serious violations.
"Don't put a community on the defensive, like ours here, when we know viscerally as well as empirically that this is something that has worked for over 30 years," Mirkarimi said.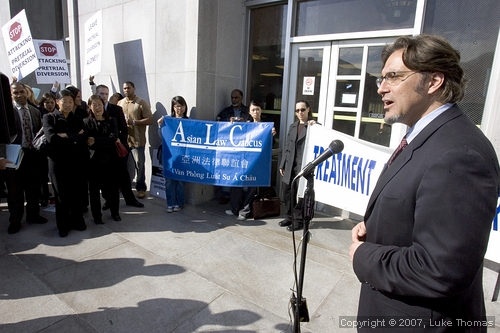 Supervisor Ross Mirkarimi
Tal Klement, a deputy public defender familiar with the diversion process, told the crowd that he has represented hundreds, if not thousands, of people get employment, housing and legal status by expunging their records of one-time mistakes.
He told the story of a middle-aged foster mother who passed out because of a medical condition. The district attorney's office charged her with child endangerment because she was supervising several children at the time. Through the diversion program, however, she was able to resolve the issue without losing her license.
"We've got people all the time who just make a mistake," Klement said. "It's not always that simple. People are human beings. They're not always criminals."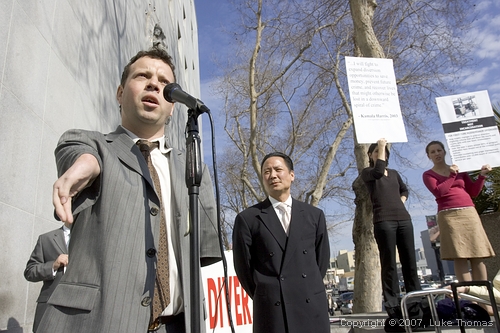 Deputy Public Defender Tal Klement
But the district attorney's office tells different stories of violent criminals who have been released into the public without probation, criminal record or supervision.
In one anecdote, a case was sent to diversion after a landlord secretly videotaped a female tenant while she was changing clothes and going to the bathroom in his building. Another case went to diversion after a taxi driver was severely beaten by three people over a fare.
According to district attorney's office spokeswoman Debbie Mesloh, prosecutors do not have the opportunity to decide on a case-by-case basis which crimes are eligible for the program. The district attorney's only recourse is to change the guidelines during an annual review process.
Harris began that process in 2005 by taking hate crimes, elder abuse, sexual exploitation of a child and distribution of child pornography off the list.
But Harris' opponents say her actions could have far-reaching impacts. Joren Lyons, a staff attorney for the Asian Law Caucus, warned that changes to the program could lead to the deportation of legal immigrants if they are convicted of a misdemeanor, which, under the diversion program, could be expunged.
"The pretrial diversion program allows them the opportunity to come into court and say, 'Your honor, I made a mistake. I can do better,'" Lyons said.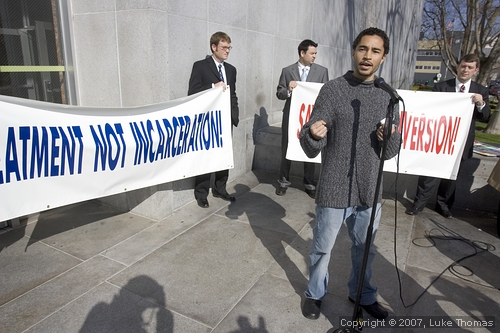 Staff attorney for the Asian Law Caucus Joren Lyons.
The new guidelines are scheduled to go into effect February 1, 2007.
Luke Thomas contributed to this report.
Copyright © 2007 by Bay City News, Inc. -- Republication, Rebroadcast or any other Reuse without the express written consent of Bay City News, Inc. is prohibited.

####