Red Cross throws concert for U.S. troops
aboard USS Hornet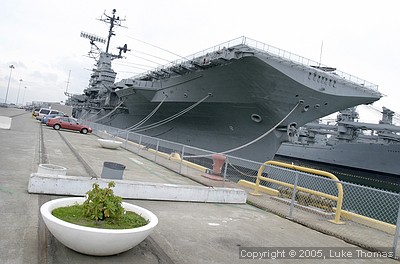 USS Hornet stationed at Alameda Point will host an open day and benefit concert
to raise funds for holiday gift packages to be sent to troops
fighting the Bush administration's war on terror.
Photo(s) by Luke Thomas
Lara Moscrip, Bay City News Service
September 29, 2006
The American Red Cross will host a benefit concert and festival to raise funds to send holiday packages to troops stationed abroad Saturday from 10 a.m. to 5 p.m. aboard the USS Hornet stationed at Alameda Point.
The event, Troopfest 2006, will include a benefit concert with five hours of classic rock music on the hangar deck, with performances by Cocktail Monkeys and Doghouse Riley, according to Elizabeth Leslie of the Santa Clara Valley chapter.
Troopfest 2006 will include a barbecue lunch, aircraft carrier tours, sponsorship tables, a drill team and color guard competition and a raffle. The raffle's grand prize is a 12-day cruise for two from Holland American Line.
Tickets are $25 for adults, $15 for children age 12-17, $7 for children 5 to 11, and those younger than 4 get in free. Tickets are $10 with a valid military I.D.
Tickets can be purchased at Streetlight Records at 980 S. Bascom Ave. in San Jose, at Customer Service Realty at 2155 S. Bascom Ave. in San Jose or at the Santa Clara Valley Chapter of the American Red Cross located at 2731 N. First St. in San Jose.
More information on how residents can participate in the event is available by calling Julie DeMaria at (408) 373-8635.

####