Dellums: Being Mayor harder than being President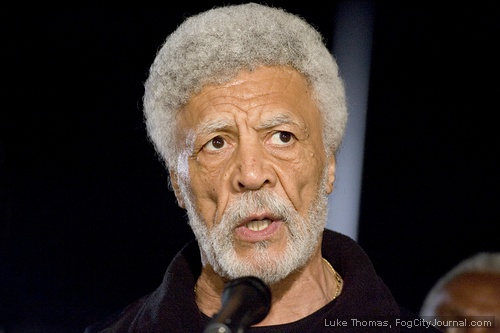 Mayor of Oakland, Ron Dellums
File photo by Luke Thomas
By Jeff Shuttleworth
January 14, 2008
Being mayor of Oakland is more difficult than being the president of the United States, Oakland Mayor Ron Dellums said tonight in a state of the city address that largely focused on the city's crime problems.
Speaking to an overflow audience of about 1,400 at the Oakland Marriott Hotel, Dellums said the president "has more resources" and can escape to the privacy of Camp David on weekends but the mayor of Oakland "can't escape anywhere."
Dellums, who was elected mayor in 2006 after serving in Congress for 28 years and working as a lobbyist for eight years, said, "This is an immediate, in-your-face job and you feel every death," referring to the city's crime problem, which included 127 homicides last year, Dellums' first year as mayor.
Dellums pointed out that the homicide total was 15 percent less than 2006, when Oakland had 148 homicides, and was a better result than the 6 percent increase in homicides nationally.
But he admitted, "You can't take solace when over 100 people are killed" and "the elephant in the room is public safety."
Dellums said, "People have a right to go about their lives with a sense of peace, security and safety."
Dellums pledged to do "whatever it takes" to bring Oakland to its authorized force of 803 police officers.
The city is about 70 officers short of that goal now, but Dellums was quick to blame former mayor Jerry Brown for that shortfall.
Dellums, who said he wanted "to set the record straight," said Brown and other city officials failed to realize that "baby boomer" police officers would retire around this period and leave the city with a shortage of officers.
He also said Brown and city officials had a hiring freeze on police officers for two years between 2002 and 2004.
Dellums said, "That's a fact. There's a reason why we're here" with a shortage of officers.
His comments were part of a theme he set at the beginning of his speech in which he said he wanted people to look at his accomplishments "without third party filtering" and declared, "This is our night to separate fact from fiction."
Dellums said, "It's very clear to me that many people don't know what we've done" and recommended that people read a 22-page booklet of achievements that was distributed to those who attended his talk.
Dellums was criticized by some for engaging in generalities instead of proposing specific solutions for Oakland's problems, but he rattled off a number of specific proposals in his talk, including an eight-point plan to bring more police officers to Oakland.
Among them are having more than one police training academy at a time "to bring more police faster" and creating incentives to encourage senior officers to stay on the job longer so they can train new officers.
Dellums also said he wants to have a public safety summit to review Oakland's police staffing levels.
But Dellums said public safety can't be addressed by police officers alone, saying, "We must solve the root causes of crime and violence."
He called for creating more jobs for at-risk youth and ex-offenders, getting guns off the street and building "safe and strong communities."
Dellums also spoke briefly about his proposals for what he said are his other top priorities, which he said are economic development, education, health care and the environment.
Summing up, Dellums said he still wants Oakland to be a model city and "we can be a beacon of light in the state and nation and world."
Among those who attended Dellums' speech were Congresswoman Barbara Lee, D Oakland, who succeeded him in Congress, San Francisco Mayor Gavin Newsom and Berkeley Mayor Tom Bates.
Copyright © 2008 by Bay City News, Inc. -- Republication, Rebroadcast or any other Reuse without the express written consent of Bay City News, Inc. is prohibited.
####