Judge denies Rosenthal attorney's fees
for dismissed financial charges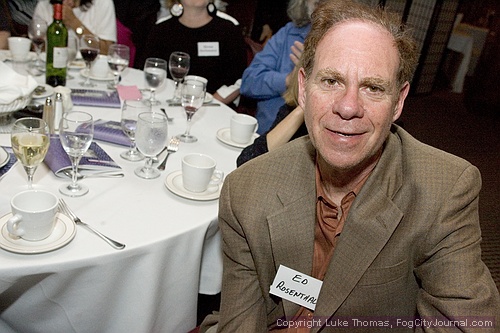 Ed Rosenthal.
Photo(s) by Luke Thomas
By Julia Cheever

July 9, 2007
A federal judge has turned down a bid by Oakland marijuana activist Ed Rosenthal for attorney's fees for his costs of fighting tax evasion and money laundering charges that were dismissed before a trial.
U.S. District Judge Charles Breyer of San Francisco issued a ruling rejecting the request Friday afternoon, shortly after he sentenced Rosenthal to one day already served in jail for marijuana cultivation.
Breyer wrote that even though he dismissed the financial accusations, the charges weren't frivolous and the government therefore should not be required to pay Rosenthal's legal costs.
The judge wrote, "The court does not find that the government acted maliciously or with an intent to harass the defendant.''
"To the contrary, in its order granting the motion to dismiss the court found that the prosecutor acted in subjective good faith," Breyer wrote.
The nine counts of tax evasion and money laundering were added to marijuana cultivation charges in a revised grand jury indictment last year.
Prosecutors obtained the revised indictment after Rosenthal's 2003 conviction on cultivation charges was overturned by a federal appeals court on grounds of juror misconduct.
In March, Breyer dismissed the financial charges on the ground that they gave the appearance of vindictive prosecution in retaliation for Rosenthal's appeal and his complaints about the fairness of his 2003 trial.
Rosenthal, 62, the author of a dozen books about marijuana cultivation, protested federal laws and rulings that barred him from arguing to juries that he was growing medical marijuana for patients who need it under California law.
He was convicted by a jury in Breyer's court in May of three counts of growing and conspiring to grow marijuana at an Oakland warehouse.
Rosenthal sought attorney's fees for the dismissed financial counts under a federal law that allows judges to award such fees if the government's position in a court case is found to be vexatious, frivolous or in bad faith.
Breyer wrote that the decision to dismiss the financial charges was a difficult one and "was not obvious from the beginning."
"No court had dismissed criminal charges on such grounds in recent history," the judge said in the ruling.
"Nonetheless, the court concluded that the government had not rebutted the presumption of vindictiveness that arose from the circumstances," Breyer wrote.
The judge noted that he did not rule that prosecutors acted vindictively, but rather that the additional counts gave an appearance of vindictiveness.
Prosecutors in defending the charges argued they were not retaliatory but instead were intended to give a jury a full picture of the financial side of Rosenthal's marijuana operation.
The tax evasion and money laundering charges could have carried a sentence of two or more years in prison upon conviction.
Friday's sentence of one day in jail for the cultivation conviction was the same penalty that Breyer gave Rosenthal for a similar conviction in 2003 and was in essence approved by the 9th U.S. Circuit Court of Appeals last year in the ruling ordering a retrial.
The judge said Rosenthal sincerely believed he was protected from federal prosecution because he was helping the city of Oakland carry out its medical marijuana program.
Rosenthal said Friday he plans to go ahead with a further appeal.
Copyright © 2007 by Bay City News, Inc. -- Republication, Rebroadcast or any other Reuse without the express written consent of Bay City News, Inc. is prohibited.
####