New U.S. Attorney Joseph Russoniello discusses priorities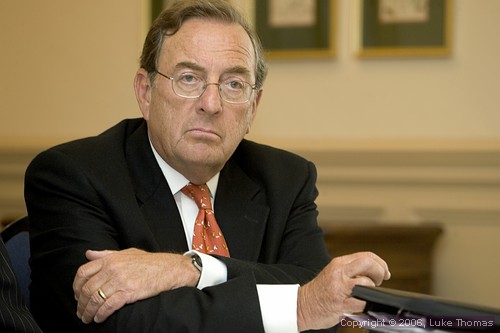 Newly reappointed U.S. Attorney Joseph Russoniello
discussed his priorities today with reporters in San Francisco.
File photo by Luke Thomas
By Julia Cheever
January 31, 2008
U.S. Attorney Joseph Russoniello said in San Francisco today that his priorities in his new job include national security, helping to get guns off the street and prosecuting Internet child pornography distribution.
Russoniello met with reporters today to discuss his plans in the first such meeting since he was sworn into office on Jan. 4.
Russoniello said, "Obviously, the No. 1 priority is protecting the American people, protecting the homeland."
The U.S. attorney said he doesn't view his office as an intelligence agency but said it can support other agencies by prosecuting crimes such as document fraud and money laundering when there is evidence of such offenses in connection with suspected terrorism efforts.
Russoniello said guns are "a scourge to the community" and "combined with the twin poisons of gangs and drugs are literally enslaving a neighborhood."
He said transmission of child pornography has proliferated in recent years through use of the Internet and said, "That has got to stop."
Russoniello, 66, was appointed by President Bush to replace interim U.S. attorney Scott Schools, who in turn replaced Kevin Ryan, one of nine U.S. attorneys fired by the U.S. Justice Department in 2006 and early 2007. Ryan left amid reports of low morale and high turnover in the office.
This is Russoniello's second stint in the job. He previously held the post from 1982 to 1990 and was appointed then by President Ronald Reagan.
Russoniello said he applied for the job because he recently left positions as a corporate lawyer and dean of San Francisco Law School and "I saw an opportunity where I could be of service again."
He said, "There was something I could do to add great value to an office I have great feelings for."
The office handles federal criminal cases and civil cases involving the U.S. government in a coastal Northern California district stretching from Monterey to the Oregon border.
It has about 100 federal lawyers at its San Francisco headquarters and San Jose and Oakland branches. Russoniello said he hopes to hire eight or nine more attorneys soon.
Among other cases, Russoniello will supervise the pending prosecutions of baseball star Barry Bonds on perjury charges, former San Francisco Supervisor Ed Jew on extortion charges, and former radio talk show host Bernie Ward on charges of receiving and sending child pornography by computer.
Russoniello said he may personally try some cases, but said he couldn't say which ones and said he couldn't comment on pending cases.
He said a federal investigation of the Cosco Busan oil spill into San Francisco Bay is continuing.
Bonds, track coach Trevor Graham champion and cyclist Tammy Thomas are all awaiting trial in federal court in San Francisco on charges of perjury or false statements in a sports steroids probe centered on the Bay Area Laboratory Co-Operative, or BALCO.
Seven other people prosecuted by the U.S. attorney's office in the BALCO case have pleaded guilty to steroids distribution, money laundering or false statements charges.
Without referring to specific cases, Russoniello said, "We have an expectation that when people talk to a grand jury or investigators, we expect them to tell the truth."
He said there should "obviously not" be special treatment for celebrities.
When asked whether he thought the office spent too much time in the past several years on BALCO cases, Russoniello answered "No."
Russoniello, a Republican, was appointed for a four-year term, but said he realizes he could be dismissed within a year by a new president of either party. Incoming presidents often appoint new U.S. attorneys in the 93 offices around the nation, but rarely dismiss many in mid-term as happened in 2006.
Russoniello said "I understand that a president might replace me and I respect that, but I don't dwell on it. I'm approaching this job as if it's a four-year job.
--
Copyright © 2007 by Bay City News, Inc. -- Republication, Rebroadcast or any other Reuse without the express written consent of Bay City News, Inc. is prohibited.
####