Sacred Heart school issues statement of condolence following shooting of anti-violence activist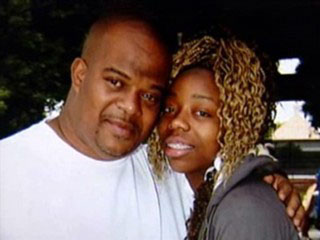 Terrell Rogers, 39, shown with his daugther Tierra Rogers
was gunned down Saturday during a high-school basketball game
at Sacred Heart Cathedral Preparatory school.
Photo courtesy CBS5
By Ashley Wright
January 14, 2008
Sacred Heart Cathedral Preparatory officials issued a statement Sunday offering condolences to the "grieving" family of 39-year-old city resident Terrell Rogers, who was shot dead near the school's Student Life Center Saturday night.
Rogers, an anti-volence activist, was gunned down with multiple shot wounds on the north side of Ellis Street between Franklin and Gough streets in a parking lot across from the school, according to police Sgt. Steve Mannina.
Two shooters allegedly approached Rogers at about 8:20 p.m., shot him and fled on foot, Mannina said. He was pronounced dead at the scene.
Police declined to speculate on a possible motive, but said they do not believe the shooting was random.
"Out of respect for the grieving family, members of the SHCP community who have lost a father and husband, and to assist with the investigation of the crime, SHCP's only public comment is that our prayers are with the family of the deceased," the school's prepared statement read.
A Sacred Heart Cathedral Preparatory Women's Varsity Basketball game against Archbishop Mitty High School of San Jose began in the school pavilion around 7:30 p.m. that night, according to the school Web site. The game ended with a score of 51 to 34, a win for Sacred Heart, according to the Web site.
School officials thanked fans, students, families and friends who were on campus when the shooting occurred and who "maintained calm while exiting events at their conclusion," according to the school's statement.
Anyone with information about the shooting is encouraged to contact San Francisco police Inspectors Antonio Casillas or Robert Lynch at (415) 553-1149 or the anonymous tip line at (415) 575-4444.
Luke Thomas contributed to this report.
Copyright © 2007 by Bay City News, Inc. -- Republication, Rebroadcast or any other Reuse without the express written consent of Bay City News, Inc. is prohibited.
####