Newsom moves to open school playgrounds
on weekends, holidays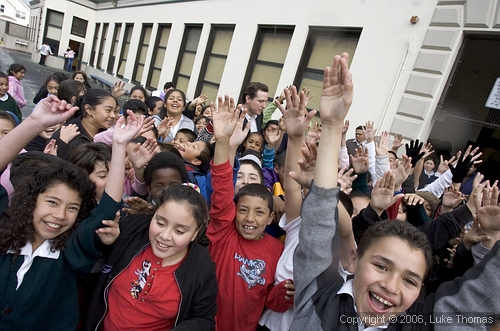 Photo(s) by Luke Thomas
By Caitlin Cassady

October 2, 2007
Mayor Gavin Newsom introduced a pilot program yesterday in San Francisco that could open 14 school playgrounds for neighborhood families on the weekends and holidays, the mayor's office said in a statement.
Newsom announced the facilities-sharing agreement with city school district superintendent Carlos Garcia. The agreement will last through the end of the school year, at which time the plan's effectiveness would be evaluated.
"This is a simple and straightforward idea - to open up our playground when they are not being used," Newsom said. "Once again, partnering with the school district, we are able to expand the recreation options for all our youth."
The city will be liable for playground use in the weekends and holidays, the mayor's office said. Recreation and Parks will lock and unlock gates, Public Works will take care of graffiti or damages before school begins Monday morning, and the city's police department will monitor parks safety.
Only Diane Feinstein Elementary School has been confirmed as a participating member in the pilot program. The other 13 schools will be selected after Newsom meets with school principals and garners support.
The goal is for each supervisoral district to house at least one open playground, according to the mayor's office.
####