Feinstein says oil spill should not have happened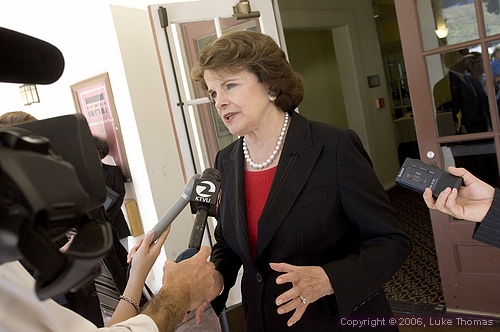 Senator Dianne Feinstein.
File photo by Luke Thomas
By Caitlin Cassady
November 11, 2007
Sen. Dianne Feinstein, D-Calif., said at a news conference today that everything she has heard about the oil spill "indicates that this should not have happened.''
According to U.S. Coast Guard officials, human error seems to be a cause of the accident that leaked 58,000 gallons of oil into the San Francisco Bay Wednesday morning. Authorities are investigating all possible angles to see what led the 900-foot container ship to clip a tower of the San Francisco-Oakland Bay Bridge. Local officials have asked that the investigation cover everything from cause to response to prevention.
Feinstein declined to comment on the cause of the crash until all the facts had been reviewed, but she did discuss needed improvements regarding the shipping industry in San Francisco Bay.
"We can improve our communications systems, our management systems,'' Feinstein said, as well as improving the systems that control ships. Once the investigation is completed, Feinstein said she will "move with alacrity,'' to review legal options against the responsible parties.
Meanwhile, cleanup efforts are ongoing across the bay, Coast Guard Rear Adm. Craig Bone said. Beach cleanup crews are expected to double in size in the next two days and skimmer vessels continue to operate throughout the bay and in the Pacific Ocean.
Cleanup crews, however, have met with some challenges.
"Because of the currents and the wind, the oil is spreading and breaking up,'' Bone said. "The oil is becoming so thin that skimmers are not picking up the same quantities of oil that they did in the first few days of response.''
As the oil becomes tar balls that are floating toward beaches, volunteers have been attending informational meetings to find out what they can do to help with the cleanup.
According to Bill Roberts, a Coast Guard spokesman, volunteers are required to have at least 24 hours of training before they can help clean up beaches, due to the hazardous nature of the oil. Because of this restriction volunteers may not be able to do much more than assist crews who have already received the proper training for handling hazardous materials.
Training sessions were supposed to have been held in San Francisco, Richmond and Marin Saturday, but the sessions were actually more of an informational meeting to inform volunteers about the risks of clean up operations, according to Laura Phillips with the Office of Emergency Services. Training sessions are being organized.
Regal Stone Ltd., the company that owns the container ship Cosco Busan, is paying for all cleanup costs associated with the spill, Coast Guard Lt. Anya Hunter said.
"What makes this area great is the San Francisco Bay,'' Feinstein said. "We need to see what we can do to prevent an incident like this from happening again.''
Copyright © 2007 by Bay City News, Inc. -- Republication, Rebroadcast or any other Reuse without the express written consent of Bay City News, Inc. is prohibited.
####