Congressional committee calls for answers
to oil spill response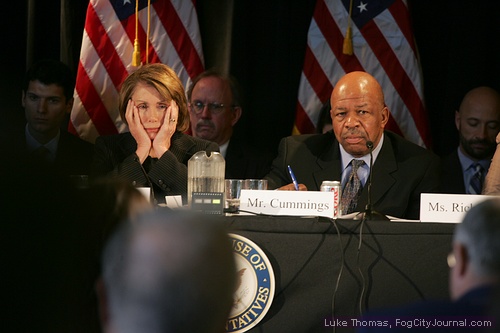 House representatives join Speaker Nancy Pelosi at a congressional hearing chaired by Elijah Cummings (D-Md) in the Presidio today, to investigate the delayed response
to the November 7 Cosco Busan oil spill.
Photo(s) by Luke Thomas
By Ari Burack
November 19, 2007
Members of Congress gathering for a House subcommittee hearing in San Francisco today pledged to pursue a separate investigation into the delayed response to the Nov. 7 Cosco Busan oil spill that darkened San Francisco Bay with 58,000 gallons of toxic bunker fuel.
At a public hearing in the Presidio of the U.S. House of Representatives Subcommittee on Coast Guard and Maritime Transportation, House Speaker Nancy Pelosi, D-San Francisco, and others in the panel expressed skepticism that the current National Transportation Safety Board investigation of the U.S. Coast Guard's response to the spill would be adequate.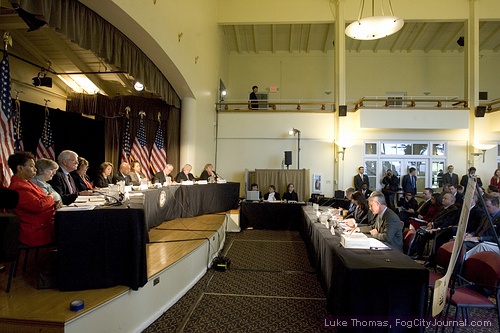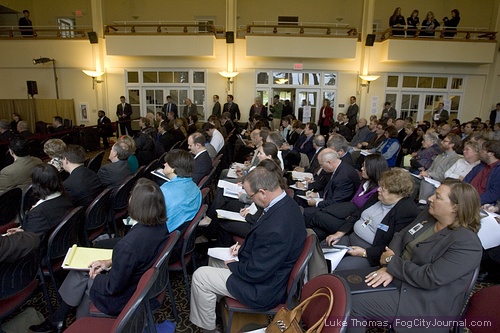 That the NTSB investigation could take a year or more "is just too long," Pelosi said. "Especially since this could happen again."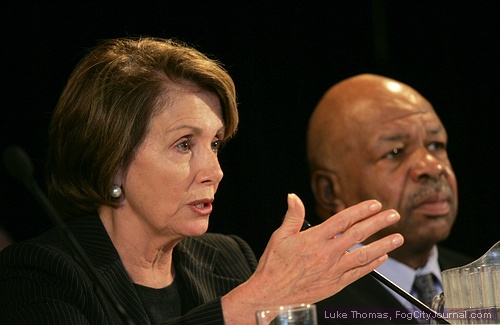 Speaker Nancy Pelosi with Congressman Elijah Cummings (D-Md)
Pelosi said she will ask the U.S. Department of Homeland Security to call for an investigation by the inspector general as well.
"Accidents do happen," Pelosi said. "But the fact that all that time could go by, all that opportunity lost, is something I do not understand. We need the answers, and we need them very, very soon."
San Francisco Mayor Gavin Newsom told the committee this morning that more than four hours after the early Wednesday morning crash of the 900-foot container ship into a Bay Bridge tower, the Coast Guard notified city officials that 140 gallons of fuel had entered the water. Over 12 hours after the crash, Newsom said, city officials were then told the number of gallons spilled was actually 58,000.
"Although the City continued to register our concerns about the need for local involvement, it was not until Saturday that (Coast Guard) Unified Command began to actively incorporate city officials into the disaster response," Newsom added.
"Our local and regional expertise and emergency response structure should play a crucial role from the beginning of any disaster," Newsom said.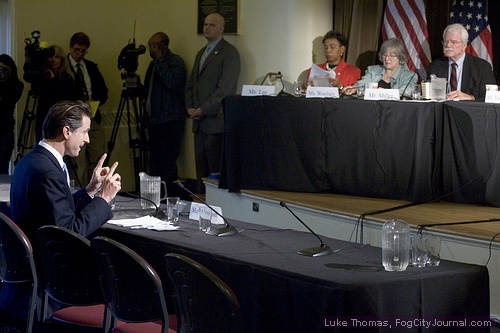 Mayor Gavin Newsom
Coast Guard Rear Adm. Craig Bone agreed there "was a mistake in the communication, but the response," he noted, "was absolutely fabulous."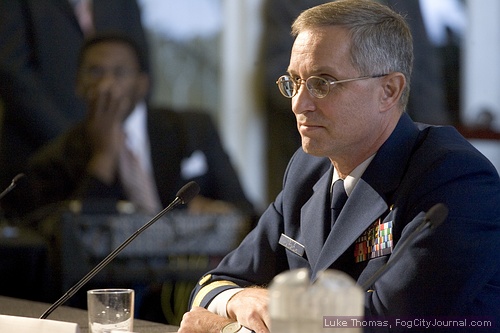 Coast Guard Rear Adm. Craig Bone
Newsom also told the subcommittee that federal authorities turned away thousands of beach cleanup and wildlife rescue volunteers "because there was no effective volunteer management plan."
Bone admitted his agency was caught off-guard by the number of citizen volunteers wanting to aid cleanup efforts and said national response plans for disasters may need review.
"In a post 9/11 environment, we have to have better coordination, better use of volunteers," Bone said.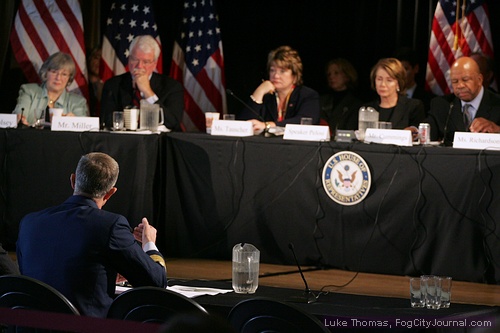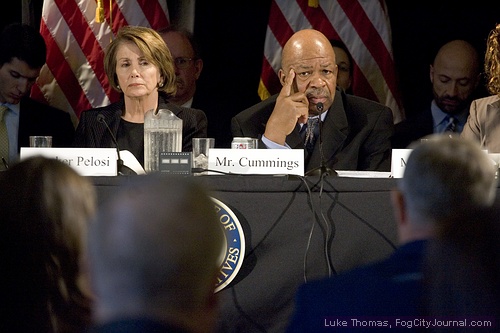 Bone added that notification and communication between the Coast Guard and city and county officials will be different in future disaster responses.
"We can do better...and we will do better," Bone told the subcommittee. "We're not going to wait, we're going to move forward."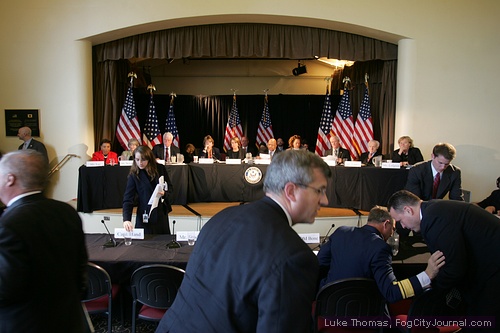 Copyright © 2007 by Bay City News, Inc. -- Republication, Rebroadcast or any other Reuse without the express written consent of Bay City News, Inc. is prohibited.
####