Schwarzenegger declares State of Emergency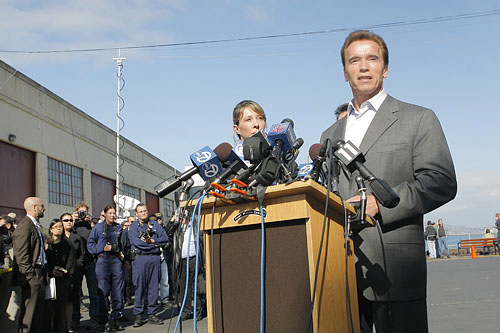 California Governor Arnold Schwarzenegger proclaimed a state of emergency Friday after a 900-foot container spilled 58,000 gallons of toxic fuel oil into the San Francisco Bay.
Photo by John Han
By Maya Strausberg
November 10, 2007
California Gov. Arnold Schwarzenegger Friday proclaimed a state of emergency following an oil spill that occurred when a 900-foot container ship clipped the San Francisco-Oakland Bay Bridge on Wednesday causing about 58,000 gallons of oil to leak into the San Francisco Bay.
Schwarzenegger was in the Bay Area visiting the site of the spill, which has spread out of the bay and along the coastline.
A proclamation of emergency allows the Governor's Office of Emergency Services to deploy emergency personnel, equipment and facilities and provide local government assistance under the authority of the California Disaster Assistance Act.
Schwarzenegger directed the California Office of Spill Prevention and Response to tap into a state-maintained, industry-supported trust fund to ensure that all possible resources are being utilized to expedite the cleanup process.
"I have signed an emergency proclamation to make sure that all the state resources are behind this and that we all work together, all the different agencies - Office of Spill Prevention, the Coast Guard, and everyone that is responsible in order to really clean this mess up as quickly as possible," said Schwarzenegger at a press conference Friday.
The governor said there would be an additional 200 people working on the clean up efforts tomorrow as well as volunteers.
The state of emergency includes the city and county of San Francisco and the counties of Alameda, Contra Costa, Marin, San Mateo, Solano and Sonoma.
John Han contributed to this report.

Copyright © 2007 by Bay City News, Inc. -- Republication, Rebroadcast or any other Reuse without the express written consent of Bay City News, Inc. is prohibited.
####