ElectionWrap: More SF vote totals come in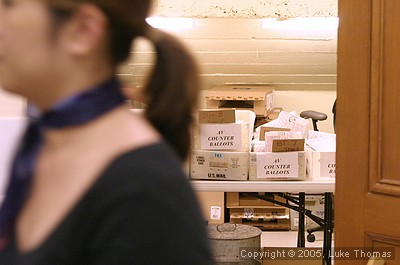 Photo by Luke Thomas
By Maya Strausberg and Caitlin Cassady
November 7, 2007
The San Francisco Department of Elections released updated vote totals from Tuesday's election late this afternoon and the results show Mayor Gavin Newsom maintaining an overwhelming lead in the mayor's race.
Newsom has received more than 73 percent of the votes with some 46 percent of the vote counted.
Small business owner Harold Hoogasian has garnered nearly 7 percent of counted votes. Wilma Pang, a professor at San Francisco City College, has received almost 6 percent and blogger Josh Wolf, who spent 226 days imprisoned for refusing to turn over video recordings of a 2005 protest, received 1.31 percent, according to the Department of Elections.
With 267 of 580 precincts reporting, voters appear to feel strongly about Proposition C, which would change the city charter regarding submission of ballot measures, with a little more than 70 percent voting yes.
If the mayor or any four supervisors want to place a measure on a ballot, they must first submit the measure to the Board of Supervisors for a public hearing.
Three other measures garnering a large percentage of "yes'' votes are propositions B, D and J. Proposition B, which would prohibit appointed members of boards and commissions from serving for more than 60 days after their term expires, has received a 70 percent approval rate from voters.
Currently there is no time limit on how long appointed members may serve after their term has expired.
More than 73 percent of the counted votes favor Proposition D, which would expand the Library Preservation Fund for another 15 years.
Proposition J would make it city policy to offer free wireless high-speed Internet through an agreement with a private provider as quickly as possible. With about 46 percent of the vote counted, the proposition has received a "yes'' from 63 percent of the ballots.
The outcomes of the other seven propositions on the ballot are too close to call. One of the more controversial propositions is A, which would amend the city charter to provide additional funding to the Municipal Transportation Authority. A little more than 53 percent of voters are in favor of passing the measure, according to numbers released by the Department of Elections. A simple majority is needed to amend the city charter.
The voting machines used by San Francisco were not certified by the Secretary of State, and therefore cannot be used to tabulate votes the way they have been in the past. All ballots have been brought to the Department of Elections and will be counted by hand. The department of elections has pledged to release an update of votes tabulated each day at 4 p.m. until all votes have been counted. Election officials anticipate that 75 percent of the votes would be counted by Friday.
Copyright © 2007 by Bay City News, Inc. -- Republication, Rebroadcast or any other Reuse without the express written consent of Bay City News, Inc. is prohibited.
####