Newsom declares local emergency, seeks aid
for North Beach landslide victims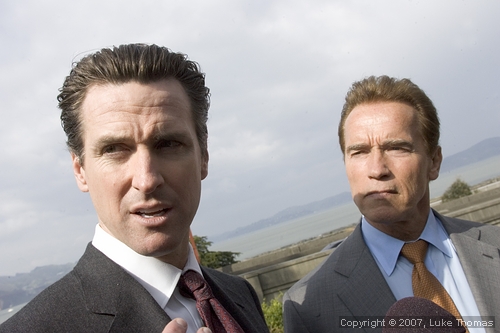 Mayor Gavin Newsom with Governor Arnold Schwarzenegger.
Photo(s) by Luke Thomas
Bay City News Service

March 3, 2007
SAN FRANCISCO (BCN) - Mayor Gavin Newsom Friday declared a local state of emergency connected to the landslide in North Beach's Telegraph Hill on Tuesday.
The local "state of emergency" designation is the first step toward obtaining state and federal help-typically in the form of emergency low-interest loans--for people affected by the slide.
The mayor was requesting a similar proclamation from Gov. Arnold Schwarzenegger, after which a federal declaration could be requested.
Copyright © 2007 by Bay City News, Inc. -- Republication, Rebroadcast or any other Reuse without the express written consent of Bay City News, Inc. is prohibited.
####