Elections: Mayoral candidates run the gamut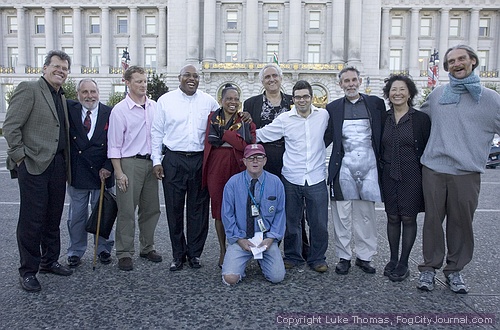 Mayoral candidates (from left to right) Tony Hall, Billy Bob Whitmer, Quintin Mecke,
Lonnie Holmes, Ahimsa Porter Sumchai, h. brown, Harold Hoogasian, Josh Wolf, George Davis, Wilma Pang and Grasshopper Kaplan.
Photos by Luke Thomas
By Caitlin Cassady
October 17, 2007
It's election time again in San Francisco and the mayoral candidates run the gamut this year, ranging from doctors, business owners, and bloggers to nudists and sex club owners.
Incumbent Mayor Gavin Newsom started his tenure at City Hall in January 2004 with a bang. His first month in office he directed the city clerk to issued marriage licenses to same-sex couples. Most recently, Newsom has focused his energies on the problem of homelessness that pervades the city. He has launched Project Homeless Connect and the Care Not Cash initiatives in a drive to eradicate urban homelessness. He has also launched San Francisco on the path to becoming the first city in the U.S. to have universal healthcare.
Newsom has launched his campaign for the upcoming election by asking San Francisco residents to let him know what matters to them most. He has vowed to strengthen the economy, further sustainable environmental practices and providing affordable housing without displacing other San Franciscans.
Eric Jaye, spokesman for Newsom's campaign, said that the mayor is proud of the progress that the city has made in the last four years and would like to continue working toward even greater successes.
"The mayor knows that success really is a series of both big and small steps, he is working very hard to take those steps and continue moving San Francisco in the right direction,'' Jaye said.
Blogger Josh Wolf, a video journalist who was imprisoned for 226 days for refusing to turn over recordings of a 2005 protest, is heading his mayoral campaign under the motto, "A Bold Alternative to Business as usual.''
Wolf promises to wear a video camera while performing any mayoral business to promote transparency of office.
Wolf's platform focuses on eradicating homelessness, providing clean energy and renewable resources and increasing community policing. He also promises to look into offering a county marriage license so that same-sex couples can "formalize their love through marriage.''
"The most important aspect of my campaign is the lack of real democracy in the city,'' Wolf said. "I would like to revise and modernize the community congress in order to empower people who feel they are not really represented by elected officials. I want to give those people a voice.''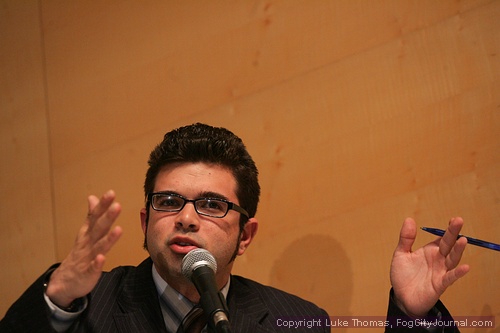 Josh Wolf
Another strong candidate in the mayoral race is Dr. Ahimsa Porter Sumchai. A graduate of University of California, San Francisco Medical School, Sumchai is known as a "vocal proponent'' of universal health care and is an advocate of environmental health and justice. Sumachi would like to stop privatization in San Francisco and improve renewable energy sources.
If elected Sumchai hopes to halt construction activities of the Lennar Corporation in the Hunters Point shipyard. She has been endorsed by the Green Party, Peace and Freedom Party and by former Democratic Congresswoman Cynthia McKinney of Georgia.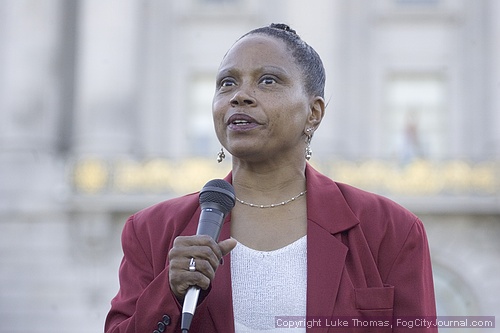 Ahimsa Porter-Sumchai
Small business owner Harold Hoogasian is running what he calls a "No Nonsense'' campaign. He hopes to make land development projects transparent in an attempt increase the number of San Franciscans who own their own home.
Hoogasian is the vice president of the South of Market Business Owners Association and owner of Hoogasian Flowers, as well as a number of other small businesses in the city.
As manager for the San Francisco Juvenile Probation Department, candidate Lonnie Holmes has a strong stance on crime in the city. Holmes would like to see community policing implemented and enforced and a reentry program for repeat adult offenders.
Holmes is calling for voters to "return City Hall to the people of San Francisco.'' He is being endorsed by figures as disparate as Former Supervisor Tony Hall to 49ers Super Bowl Champion Roger Craig.
Another candidate who is focusing on crime is Quintin Mecke. As program director for the Safety Network Program, Mecke is well acquainted with the violence plaguing San Francisco. He would like to see community based crime prevention councils established, and would like to collaborate with the city district attorney's office and the San Francisco Police Department in reducing the number of guns on the street.
Mecke has received endorsements from supervisors Chris Daly and Ross Mirkarimi, as well as the Harvey Milk LGBT Democratic Club.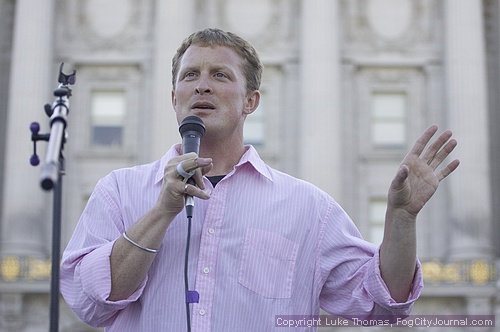 Quintin Mecke
An additional mayoral candidate is "Chicken" John Rinaldi. Rinaldi is a self-proclaimed instigator and artist, as well as being a mechanic.
According to Rinaldi the two most prevalent problems facing the city are homelessness and crime. Rinalidi states on his campaign Web site that he is using the campaign as "an opportunity to examine the political apparatus of San Francisco.''
Alec "Grasshopper'' Kaplan, taxi driver who lives in his vehicle, has called for the legalization of marijuana and amnesty for all undocumented aliens. Kaplan is running his campaign for mayor out of his taxi, which he operates within San Francisco.
As a professor at San Francisco City College for 30 years, candidate Wilma Pang has high hopes for improving education in the city. Her platform aims to improve the quality of neighborhood schools and explore avenues for establishing affordable college tuition at city universities and colleges.
Pang is a lifetime San Francisco resident and founder of community organization "A Better Chinatown Tomorrow.'' She is calling for protective assistance for small business owners and incentives to keep families in San Francisco
Harold Brown is the second blogger involved in the race for mayor. Brown contributes to sfbulldog.com and comments about ongoing issues and events at City Hall.
Candidate George Davis, nudist and author of "Naked Yoga'' is more commonly known as "Naked Yoga Guy'' in the Fisherman's Wharf area. Davis has stated that he will establish Golden Gate Park as nudist-friendly if elected to office. Powers states that he is "reasonably well informed'' on issues such as urban planning and public transportation.
The final candidate for the mayoral race is Michael Powers, owner of Power Exchange Sex Club. He has based his platform on his opposition to the new Transbay Terminal. Powers would like to see historic San Francisco preserved for tourists and residents alike.
A second race that residents will be voting on is for San Francisco Sheriff. David Wong, a 16-year veteran of the force and president of the San Francisco Sheriff's Deputies Association will be challenging the incumbent, Sheriff Michael Hennessey. Wong would like to improve communications within the department, while Hennessey has emphasized his commitment towards improving salaries and benefits for officers.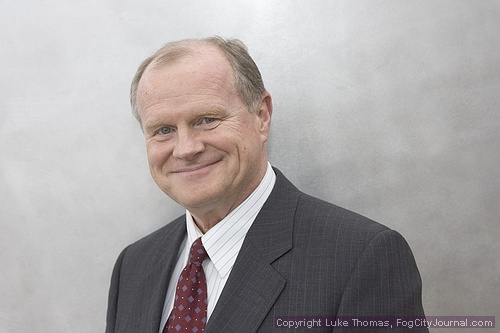 Sheriff Michael Hennessey
Voters will head to the polls on Nov. 6 to decide which candidate will represent San Francisco for the next four years.
Copyright © 2007 by Bay City News, Inc. -- Republication, Rebroadcast or any other Reuse without the express written consent of Bay City News, Inc. is prohibited.
####