Zoo offers peek into sex lives of animals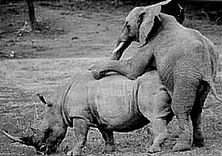 Bay City News
February 10, 2008
The San Francisco Zoo's 19th annual Valentine's-themed adventure featuring a humorous exploration into the sexual behavior of animals kicked off yesterday.
"Woo at the Zoo" educates guests through a multimedia presentation and up-close encounters with various creatures inside the zoo's Osher Great Hall, according to zoo officials. The 90-minute program offers a scientific look at animal reproduction, choosing mates and raising families.
"This is one of the most popular programs that the zoo has to offer going into its 19th year," zoo spokesman Paul Garcia said.
Led by former penguin keeper Jane Tollini, the event is being, Wednesday, Thursday and Friday at 6 p.m. In addition, there will be brunch presentations today and on Feb. 17.
Topics will include how rhinoceros' foreplay lasts for a more than a month while mating occurs only once a year, and how giraffes neck during courtship. Tollini also will discuss how opossums that have two wombs can get pregnant while they're already pregnant and how banana slugs are hermaphrodites, Garcia said.
The presentation will also illustrate how species maintain their populations and how the zoo assists in the reproductive process.
Tickets are $75, which includes a multimedia presentation, up-close animal encounters, refreshments, parking and zoo admission.
"Woo at the Zoo" is limited to guests 21 years or older. Advance purchases and reservations are required.
More information is available by calling (415) 753-7236 or by visiting the calendar of events at http://www.sfzoo.org.
--
####