U.S. judge to hear arguments
on San Francisco Health Access Plan
Golden Gate Restaurant Association seeks to overturn plan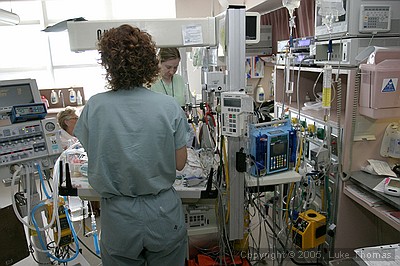 Photo(s) by Luke Thomas
By Julia Cheever
July 16, 2007
A federal judge will hear competing arguments on Aug. 31 on the fate of a restaurant owners' lawsuit challenging part of San Francisco's pioneering universal health insurance plan.
The Golden Gate Restaurant Association has asked U.S. District Judge Jeffrey White to overturn the plan's requirement for employer contributions on the ground that it conflicts with a federal law.
The city, meanwhile, contends there is no conflict with the U.S. law and has asked the judge to dismiss the lawsuit.
The two sides filed their competing motions on Friday. White will consider the two bids at the Aug. 31 hearing in his Federal Building courtroom in San Francisco and is expected to issue a written ruling within two weeks after that.
The law passed last year establishes a program known as Healthy San Francisco and is intended to provide health care to the city's 82,000 uninsured residents.
Beginning in January, employers will be required to contribute either by spending a set amount per employee or by giving a similar amount to the city program for uninsured people.
The amount is $1.17 per hour per employee for medium-sized businesses with 20 to 99 workers and $1.76 per hour for large businesses with staffs of more than 100.
The restaurant group contends that provision conflicts with the federal Employee Retirement Income Security Act, or ERISA, because the U.S. law is the exclusive regulator of employer health plans.
The group's attorneys wrote in their brief that the city's requirements conflict with ERISA "because they interfere with employers' freedom to choose the level and administration of benefits provided to employees."
"This is an area reserved for purely federal regulation," the association said.
But City Attorney Dennis Herrera said the San Francisco plan doesn't conflict with the law because employers are free either to keep or modify an existing ERISA plan or to simply make payments to the city.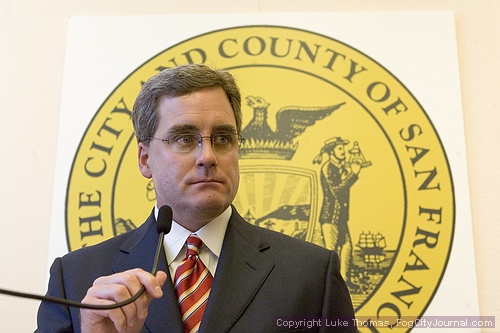 San Francisco City Attorney Dennis Herrera
The city's brief argues the program was crafted to avoid giving employers an incentive to drop health coverage and instead give them credit for dollars they already spend.
Herrera said, "The creators of this ordinance were careful to avoid ERISA preemption and we are confident the court will recognize that."
White's future summary judgment ruling is expected to decide the case because both sides have told the judge that there is no dispute over facts that would need to be resolved at a trial.

Chris Daly speaks at Xmas protest of GGRA
Copyright © 2007 by Bay City News, Inc. -- Republication, Rebroadcast or any other Reuse without the express written consent of Bay City News, Inc. is prohibited.
####