Brown and environmental groups
ask EPA to regulate ship pollution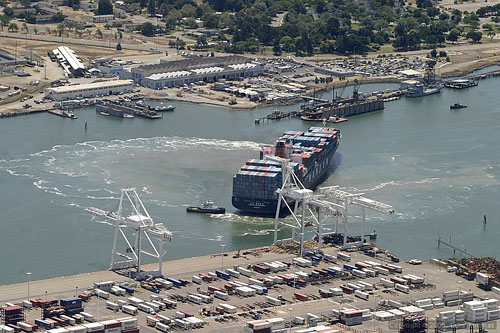 Photo(s) by Luke Thomas
By Julia Cheever

October 2, 2007
California Attorney General Jerry Brown and three environmental groups today announced they have filed petitions asking the U.S. Environmental Protection Agency to regulate greenhouse gas air pollution from ocean-going ships.
The petition submitted by Brown on behalf of the state of California estimates that large vessels, including both cargo ships and cruise ships, produce up to 3 percent of the worldwide greenhouse gas emissions that result in global warming.
Brown said today, "If the U.S. is to do its part in reducing the threat of global climate disruption, then EPA must limit the global warming emissions from ships that enter the ports of the United States."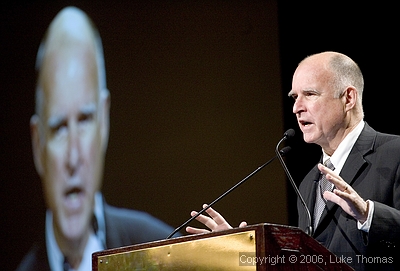 California Attorney General Jerry Brown
The three environmental groups filing a similar petition are Friends of the Earth, the Center for Biological Diversity and Oceana, represented by Oakland-based Earthjustice, an environmental law firm.
Greenhouse gases emitted by ships include carbon dioxide, nitrogen oxides and carbon.
The environmental groups say in their petition that only six countries emit more carbon dioxide than marine vessels worldwide and a single container ship produces as much air pollution as 2,000 diesel trucks.
Earthjustice attorneys wrote in the petition, "Given the gravity of the threat to public health and welfare that global warming represents...the EPA must not delay any longer in regulating these emissions."
Brown and the groups say a U.S. Supreme Court decision issued in April establishes that the EPA has the authority to regulate greenhouse gases.
The petitions ask the EPA to assess ships' contribution to global warming and then issue regulations. They say that ways of reducing pollution could include requiring cleaner fuel, better fuel efficiency and slower speeds.
The Coast Guard could aid in enforcing regulations, Brown said. EPA spokeswoman Jessica Emond said the agency is working with the International Maritime Organization to revise an international treaty that sets standards for air pollution emissions from ships.
Emond said, "EPA's current proposal to harmonize emissions standards at ports worldwide would deliver cleaner air to all Americans."
Emond said the agency is responding to the U.S. Supreme Court ruling by taking drafting regulations that would cut gasoline consumption and greenhouse gas emissions from cars and trucks.
####