Teens charged with aiding murder suspect escape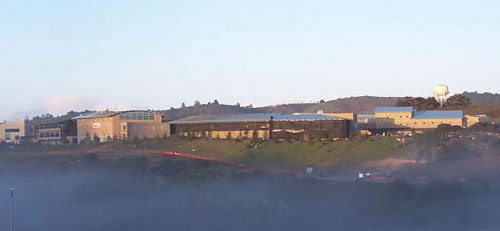 San Mateo County Youth Services Center
Photo courtesy San Mateo County
By Caitlin Cassady
February 17, 2008
Two teens have been charged with helping a suspected murderer escape Thursday from the San Mateo County Youth Services Center, the sheriff's office reported Saturday.
Martin Villa Patino, 18, and Vanher Cho, 18, were in the detention facility's recreation yard with escapee Josue Raul Orozco, 17, at around 7:15 p.m., Lt. Marc Alcantara reported. Patino and Cho helped push Orozco up and over a concrete wall that surrounded the yard where the three were playing basketball.
Once Orozco cleared the wall, he escaped through a hole that was cut in the chain link fence surrounding the facility at 222 Paul Scannell Drive, Chief Probation Officer Loren Buddress said.
"It appears that an accomplice cut a hole in the fence and was waiting for him outside the facility in a car," Buddresss said.
Surveillance cameras at the detention facility show a mid-size black sedan, possibly a Chevrolet Impala, with chrome wheels pulled up to the chain link fence around the time of the escape, Alcantara said. A K-9 unit was called to the scene and tracked Orozco's scent from the hole in the fence to the adjacent roadway, where the scent disappeared.
Orozco, a member of the Sureno gang, is the youngest person to be charged as an adult for murder in San Mateo County.
Sheriff's deputies contacted Orozco's family, who lives in Redwood City, and associates Thursday night, Alcantara said. Detectives learned Orozco may be headed to Mexico, but they are following other leads as well.
The U.S. Border Patrol has been informed of Orozco's escape. Orozco and co-defendant Faustino Ayala, 23, are charged with murder and participating in a criminal street gang in connection with the death of 21-year-old Francisco Rodriguez in Redwood City on July 12, 2005.
At the defendants' 2006 preliminary hearing, a witness testified he saw a man, who prosecutors believe was Orozco, get out of a vehicle the afternoon of the shooting and reach for something in his waistband.
Prosecutors allege that Orozco shot Rodriguez and that Ayala was driving the car. Orozco was 14 at the time of the shooting.
Three other juveniles who were arrested in connection with Rodriguez's killing were already convicted and sentenced for aiding and abetting a murder, Chief Deputy District Attorney Steve Wagstaffe said.
Orozco was in custody on no bail status and if convicted was looking at up to life in prison, Wagstaffe said. A jury trial for the case was continued for the fifth time in January until May 12.
Cho and Patino will be arraigned at the San Mateo County Hall of Justice on Tuesday at 1:30 p.m., Alcantara reported.
--
####