Newsom claims progress in State of City address
"Everything's going to be framed in the context of the election"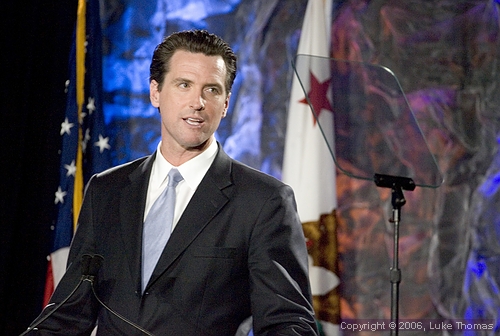 Mayor Gavin Newsom. FIle photo.
Photo(s) by Luke Thomas
By Julia Cheever
October 29, 2007
San Francisco Mayor Gavin Newsom, who faces a re-election vote in eight days, gave an upbeat annual State of the City address today, saying that "San Francisco is making progress in almost every area."
Newsom used charts, graphs and photos on a giant screen at an auditorium at the Mission Bay campus of the University of California at San Francisco to illustrate what he called "Progress by the Numbers."
The city's budget deficit was reduced from $347 million to $12.5 million in four years as the city budget swelled to $6.3 billion.
Meanwhile, unemployment fell from 6.7 percent to 4.2 percent. And San Francisco's 311 telephone number to explain city services is now available 24 hours a day in 176 languages, Newsom told the audience in rapid-fire statistics as he walked in front of the screen and down the aisles of the auditorium.
Newsom said a total of 78 companies, including LucasArts and Wikimedia Foundation, as well as the state's stem cell research institute have established or will establish their headquarters in San Francisco.
"That is a competitive edge, let's not lose sight of that," Newsom said.
Newsom, 40, was elected in 2003. He faces 11 less well-known challengers in his bid for a second term in the Nov. 6 mayoral election.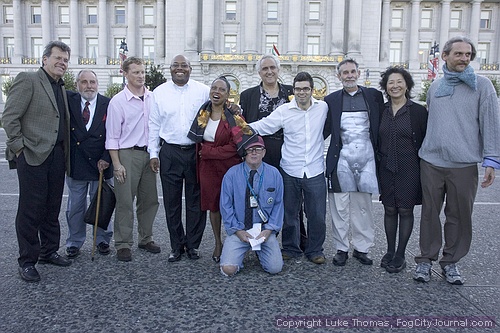 Mayoral candidates Tony Hall, Billy Bob Whitmer, Quintin Mecke, Lonnie Holmes, Ahimsa Porter Sumchai, h. brown, Harld Hoogasian, Josh Wolf, George Davis, Wilma Pang
and Grasshopper Alec Kaplan.
He conceded at the start of his presentation that the election loomed over the speech. "It's an election, so everything's going to be framed in the context of the election," Newsom commented.
On the perennially troublesome question of the city's public transit system, Newsom said Municipal Railway buses and trains have improved on-time performance from 65.5 percent to 71.9 percent.
Bus shelters have been improved, Muni Metro stations have been cleaned and the city now has the third largest fleet of hybrid buses, he said.
But Newsom said the goal for on-time performance is 80 or 85 percent and acknowledged, "No one is satisfied and a lot more needs to be done."
The mayor noted that one of Muni's main problems is congested streets and said that one innovation to address that is the placement of new forward-facing cameras on Muni buses to document parking transgressions.
"If you are double parked or parked in a transit zone, the chances are that a bus is going to cite you," Newsom warned.
Newsom also cited gains in moving 6,288 formerly homeless people off the streets since 2004, building nearly 8,000 units of public housing and adding 444 officers to the police force.
Though Newsom said black on black crime is down 10 percent this year, San Francisco's homicide rate continues to soar.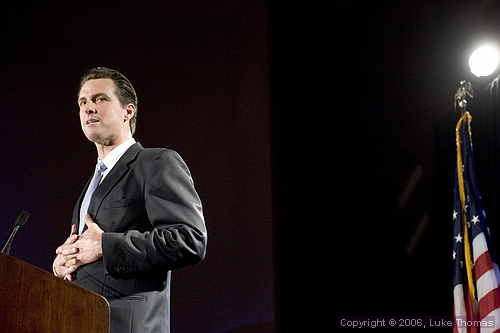 Luke Thomas contributed to this report.
Copyright © 2007 by Bay City News, Inc. -- Republication, Rebroadcast or any other Reuse without the express written consent of Bay City News, Inc. is prohibited.
####