Local researcher successful in creating stem cells
from human skin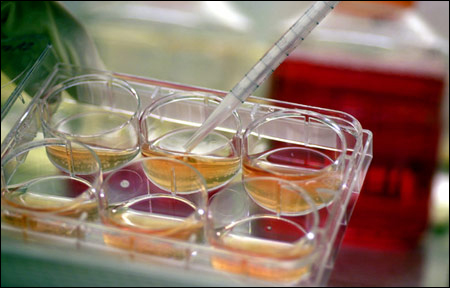 By Ari Burack
November 20, 2007
A Japanese scientist with research ties to the Bay Area reported today a breakthrough in stem cell research that has the potential to quell the field's ethical controversies.
In a study in the journal Cell, Dr. Shinya Yamanaka and a team of scientists in Kyoto, Japan, reported successfully reprogramming human skin cells to function as working stem cells akin to those currently derived from human embryos.
A similar success was reported today in the journal Science by a second group of scientists at the University of Wisconsin.
"If these findings hold up, they could disconnect the stem cell debate from culture-war battles over embryo politics and abortion rights, and put an end to the use of embryonic stem cell research as a political wedge issue," commented Marcy Darnovsky, associate executive director for the Oakland-based nonprofit Center for Genetics and Society.
Both research groups introduced genes into the skin cells that make the cells pluripotent, giving them the capability to develop into any kind of cell, which could potentially be used to generate new tissue or organs for human beings.
Dr. Deepak Srivastava, director of San Francisco's Gladstone Institute of Cardiovascular Disease called Yamanaka's work "monumental in its importance to the field of stem cell science and its potential impact on our ability to accelerate the benefits of this technology to the bedside."
Yamanaka opened a laboratory in August at GICD, a private research firm affiliated with the University of California, San Francisco.
"Not only does this discovery enable more research, it offers a new pathway to apply the benefits of stem cells to human disease," Srivastava said.
Yamanaka's work will require extensive further research, as currently one of the genes Yamanaka used is cancer-causing, according to Valerie Tucker, a spokeswoman for the J. David Gladstone Institutes.
Tucker said Yamanaka will likely continue his research into human stem cells both in San Francisco and in Japan.
In the meantime, the controversial research on human embryos, still considered the standard approach to deriving stem cells, will continue.
"We are still a long way from finding cures or therapies from stem cells and we don't know what processes will be effective," Yamanaka said.
According to Tucker, the Gladstone Institute has received nearly $10 million from the San Francisco-based California Institute of Regenerative Medicine, tasked with providing $3 billion for stem cell research at universities and research institutions in California after voters approved Proposition 71 in 2004.
Richard Murphy, CIRM interim president, called Yamanaka's work "another extremely important contribution to the stem cell field."
Murphy cautioned, however, "We have to continue working with naturally occurring human embryonic stem cells, which remain the gold standard against which all alternative sources of human pluripotent stem cells must be tested."
Copyright © 2007 by Bay City News, Inc. -- Republication, Rebroadcast or any other Reuse without the express written consent of Bay City News, Inc. is prohibited.
####