Charges dropped after surveillance cameras proved men's innocence
Public defender calls for longer video tape retention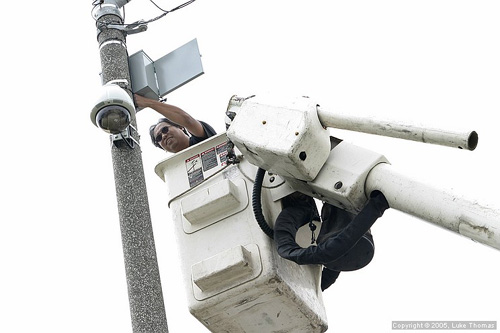 Photo by Luke Thomas
By Caitlin Cassady
October 24, 2007
Robbery and assault charges against two men have been dropped after San Francisco police surveillance cameras proved they were two streets away from the robbery when it occurred, according to the San Francisco Public Defender's Office.
Neil Butler, 23, and Robert Dillon, 21, were arrested Aug. 6, after police responded to reports of a robbery at the corner of 14th and Mission streets. Police patrols spotted both defendants at the corner of 16th and Mission streets shortly after the robbery and arrested them on suspicion of robbery.
Butler and Dillon were positively identified by the robbery victims, according to the public defender's office. They were then booked for robbery and assault with intent to commit great bodily harm.
During Butler's primary court appearance a witness informed deputy public defender Eric Quant that she had been with Butler during the time of the robbery and that surveillance cameras at 16th and Mission streets could prove this. Quant then requested copies of the tapes, but was denied because city policy restricts the release of the tapes.
According to the public defender's office, Quant was informed that all tapes are erased after seven days. He then requested that the Department of Emergency Management, which is in charge of the tapes, not erase them pending a formal request.
The videotapes were reviewed and showed that Butler and Dillon were at the corner of 16th and Mission streets at the time of the robbery.
Charges for both men were dropped Oct. 16. Both men were imprisoned for 69 days before being released.
According to a statement issued by public defender Jeff Adachi, he is concerned about the city's policy of destroying crime tapes after seven days, and not making them available to defense attorneys.
Copyright © 2007 by Bay City News, Inc. -- Republication, Rebroadcast or any other Reuse without the express written consent of Bay City News, Inc. is prohibited.
####