SFPUC head Susan Leal hospitalized
after being struck by minivan at City Hall
Driver not intoxicated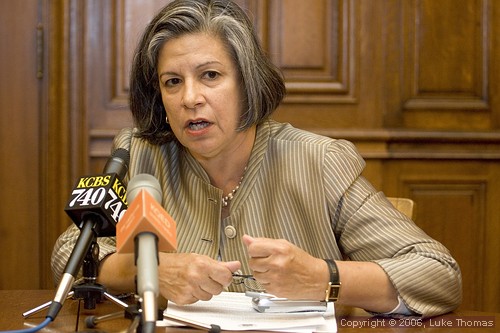 San Francisco Public Utilities head Susan Leal was struck by a minivan
outside City Hall earlier today.
File photo by Luke Thomas

By Ari Burack
December 17, 2007
A driver who struck and injured San Francisco Public Utilities Commission General Manager Susan Leal outside City Hall earlier today is not believed to have been intoxicated at the time and has not been charged, a San Francisco Police Department spokesman said this afternoon.
Police spokesman Sgt. Steve Mannina said police continue to investigate the incident, which was reported at 11:57 a.m.
A green Plymouth van struck Leal in the crosswalk on the Polk Street side of City Hall, according to Mannina.
The driver has not yet been cited and police do not believe the driver was under the influence of alcohol or drugs, he said.
SFPUC spokesman Tony Winniker said the vehicle, a minivan, threw Leal about 30 feet but doctors so far have not found any broken bones or other internal injuries, and she is now recovering at San Francisco General Hospital.
"She's stable. She's alert. She's coherent," Winniker said. "She's actually in good spirits in spite of taking a pretty tough hit," he added.
Winniker said a woman driving the minivan told police she did not see Leal in the crosswalk, and pulled over afterward. The driver was quite shaken as well, and was also taken to a hospital for observation, Winniker said.
According to Winniker, Leal will be held overnight for observation at the hospital.
"She will be quite bruised from the impact and the landing," Winniker said, adding, "It could have been much worse."
Winniker said Leal is "eager to get back to work as soon as possible" and is "grateful for the quality of care at San Francisco General."
Leal, a former San Francisco supervisor, was appointed to head the SFPUC in 2004.
Copyright © 2007 by Bay City News, Inc. -- Republication, Rebroadcast or any other Reuse without the express written consent of Bay City News, Inc. is prohibited.
####