Sutter nurses to begin two-day strike Thursday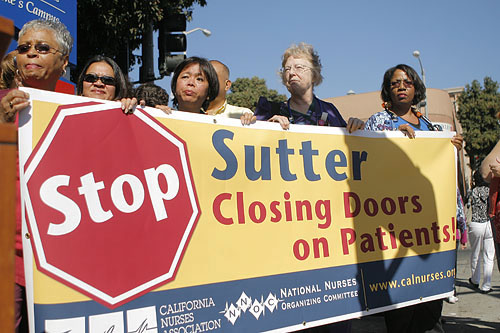 Photo(s) by John Han
By Maya Strausberg

December 12, 2007
Day one of the second strike by Bay Area Sutter Health nurses is scheduled to begin Thursday morning, according to organizers for the California Nurses Association and the National Nurses Organizing Committee.
The two-day strike is expected to include approximately 5,000 registered nurses from 13 Sutter Health facilities, said CNA and NNOC spokeswoman Liz Jacobs.
Among the nurses' concerns is the proposed closure of St. Luke's Hospital, which tends to cater to low-income people. Patient care services and health benefits have also been a concern.
During previous negotiations, officials for the affected hospitals said they believed the contract offers were generous and that they were not planning on reducing benefits.
San Francisco's St. Luke's Hospital and California Pacific Medical Center, San Leandro Hospital, Alta Bates Summit Medical Center in Berkeley and Oakland, Mills-Peninsula Health Services in Burlingame and San Mateo, Castro Valley's Eden Medical Center, Sutter Delta Medical Center in Antioch, Sutter Solano Medical Center in Vallejo, Sutter Medical Center in Santa Rosa, Marin General Hospital in Greenbrae and Novato Community Hospital will be affected by the strike, organizers said.
The nurses held a strike Oct. 10 and 11 and voted at the end of November to hold a second strike. It is scheduled to continue through Saturday at 7 a.m.
During the strike, CNA and NNOC have planned a number of rallies at specific facilities. Nurses at other facilities will be bused to the rallies.
Two rallies will be held Thursday and Friday at 11:30 a.m.
Thursday's rally will take place at California Pacific Medical Center at 3700 California St. in San Francisco. Friday's rally will be at Mills-Peninsula Health Services at 1501 Trousdale Drive in Burlingame.
The third rally will be held to try to save St. Luke's Hospital at the facility's front entrance at the corner of Cesar Chavez and Valencia streets at 2:30 p.m. on Friday.
####