Newsom flip-flops, adds walking beats to Tenderloin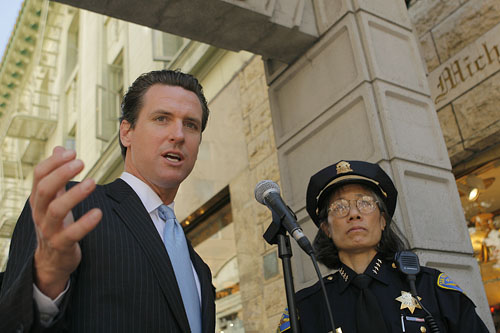 Mayor Gavin Newsom and Police Chief Heather Fong convened a press conference yesterday to announce a welcomed turnaround in policing policy, adding much needed foot patrol officers to San Francisco's crime-ridden Tenderloin district. Newsom vetoed efforts by Supervisors in November to put officers on walking beats in areas most impacted by crime.
Photo by John Han
Bay City News

July 20, 2007
San Francisco's Tenderloin police district, the smallest of the city's 10 district stations, will get a 225 percent increase in foot patrol officers, San Francisco Mayor Gavin Newsom and Police Chief Heather Fong announced yesterday.
"We put foot patrols in strategically where they are going to have the best results in suppressing street crime,'' said Newsom's Communication Director Nathan Ballard.
A total of 37 foot patrol officers will be added to the streets of San Francisco -- 18 in the Tenderloin alone -- with the remainder being added to San Francisco's central, southern and Mission stations.
By month's end, the Tenderloin will lead the surge with 26 foot patrol officers, followed by the southern station with 22 officers on foot and the northern station, which covers the Western Addition, with 17 foot patrollers, 13 of whom are housing authority police.
The city added foot patrol officers in October of 2004 and November of 2006. The most recent increase brings the total number of city foot patrol officers to 125, a 42 percent boost, according to the mayor.
The increase in officers on San Francisco streets has helped to reduce the number of rapes, robberies and assaults, Ballard said.
Copyright © 2007 by Bay City News, Inc. -- Republication, Rebroadcast or any other Reuse without the express written consent of Bay City News, Inc. is prohibited.
####