San Francisco Zoo tiger kills one, mauls two
on Christmas Day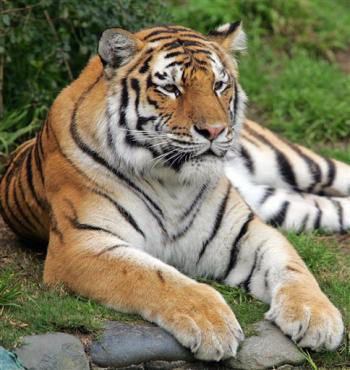 Tatiana, a Siberian tiger, escaped from her grotto at the San Francisco Zoo
on Christmas Day killing one man and mauling two others
before authorities shot and killed the apex predator.
Photo courtesy siouxcityjournal.com
By Mike Aldux
December 26, 2007
A Siberian tiger somehow escaped from her grotto at the San Francisco Zoo yesterday, killing one person and seriously injuring two others in a horrific Christmas Day rampage.
The attacks were carried out by the same tiger, named Tatiana, who attacked and injured her zookeeper during a public feeding in December 2006, zoo officials said.
The 350-pound Tatiana somehow escaped her pen just past the zoo's 5 p.m. closing hour and killed a man in his 20s standing near the tiger exhibit, police said.
Then, about 300 yards away, two more visitors - brothers ages 20 and 23 - were attacked near a zoo cafe. Four San Francisco police officers shot and killed the tiger as it was mauling one of the victims.
The injured brothers suffered multiple lacerations and were rushed to San Francisco General Hospital in serious but stable condition, police said.
Police are still at the zoo investigating the crime scenes and conducting ground and air searches of the property, making certain there weren't more victims, San Francisco police Sgt. Steve Mannina said.
"We're going to search the area thoroughly and systematically from now through the daylight hours," he said.
Mannina said the Police Department has not received any missing persons reports.
Meanwhile, police and zoo officials are trying to figure out how Tatiana escaped the grotto. Zoo officials say the tiger may have jumped a waterless moat surrounding the tiger exhibit.
The moat is 20-feet deep and between 15-to-18-feet wide, zoo officials said.
Three other tigers were confined in the grotto but only Tatiana got out, said San Francisco Fire Department spokesman Lt. Ken Smith.
Mayor Gavin Newsom spokesperson Nathan Ballard issued the following statement on the tragedy:
"The Mayor is deeply saddened to hear the news about the victims of the incident at the San Francisco Zoo this evening. The police responded immediately to the scene during the incident and have killed the tiger that caused the fatality. This tiger was the only animal that escaped its enclosure. The Police Department has secured the scene with the aid of the Fire Department and the Department of Animal Care and Control. A thorough investigation is being undertaken to uncover all the facts and to understand how this tragedy could have occurred. Our thoughts and prayers are with the victims' families."

Police are encouraging anyone who witnessed the attack to please call the San Francisco Police Department General Work Detail at (415) 553-1141. The zoo will remain closed Wednesday, zoo officials said.
Copyright © 2007 by Bay City News, Inc. -- Republication, Rebroadcast or any other Reuse without the express written consent of Bay City News, Inc. is prohibited.
####