City officials respond to tiger attack probe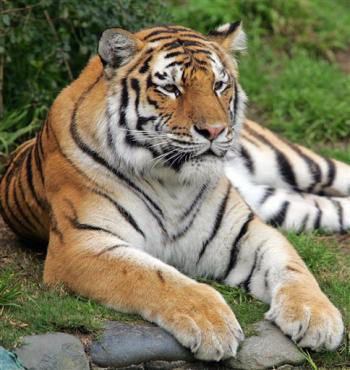 Tatiana, a Siberian tiger, escaped from her grotto at the San Francisco Zoo
on Christmas Day killing one man and mauling two others
before authorities shot and killed the apex predator.
Photo courtesy siouxcityjournal.com
By Ari Burack
December 28, 2007
San Francisco city officials said Thursday they are waiting for the investigation into the Christmas Day fatal tiger attack at the San Francisco Zoo to conclude before making any decisions on the city's relationship with the public-private zoo.
Supervisor Tom Ammiano called the attack on three visitors Tuesday afternoon "shocking."
"We shouldn't rush to judgment," he added, commenting on reports the walls enclosing the tiger exhibit are lower than the standards of a national zoo accrediting organization, or that the victims may have goaded the tiger before it escaped.
"It's just a matter of getting all the facts," Ammiano said.
Supervisor Ross Mirkarimi said the "horrific and extraordinary" mauling "certainly will raise questions" as the city's contract with the zoo comes up for review next year. Issues of responsibility and liability, as well as possible safety protocol reforms, will also be considered, he added.
Supervisors Ammiano and Mirkarimi agreed safety issues at the zoo would likely come up for a hearing by the board at a later date, but doubted that the zoo would be ordered closed outright.
"Everybody will need to review the safety procedures, but we need more information," Mirkarimi said.
"If San Francisco is going to have a zoo, we have to make sure we have the finest zoo possible, so that people feel safe, and the animals are well protected and cared for," Mirkarimi said.
According to Mirkarimi, the San Francisco Zoo is jointly governed in the private sector by the San Francisco Zoological Society, and by the city under its Recreation and Parks Department.
The city, which provides the land and facilities for the zoo, shares a portion of the zoo's profits, according to Ammiano.
Recreation and Parks Department General Manager Yomi Agunbiade said he was not sure whether the zoo would be discussed at the Recreation and Parks Commission next meeting Jan. 17.
"We're all in an information gathering posture right now," Agunbiade said. "We don't want to make any pronouncements that are premature."
Copyright © 2007 by Bay City News, Inc. -- Republication, Rebroadcast or any other Reuse without the express written consent of Bay City News, Inc. is prohibited.
####