Zoo director shifts tiger attack blame away from zoo
"Something prompted our tiger to leap over the exhibit"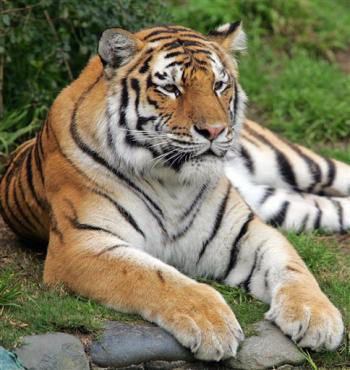 Tatiana, a Siberian tiger, escaped from her grotto at the San Francisco Zoo
on Christmas Day killing one man and mauling two others
before authorities shot and killed the apex predator.
Photo courtesy siouxcityjournal.com
By Ari Burack
January 2, 2008
The director of the San Francisco Zoo said today the tiger that escaped and killed a zoo visitor and injured two others on Christmas Day was provoked before it leapt over its enclosure, though he declined to point the finger directly at its victims.
"Something prompted our tiger to leap over the exhibit," zoo director Manual Mollinedo said this afternoon at a news conference announcing new security measures for the zoo's reopening Thursday, the first time since the fatal mauling.
Mollinedo would not say whether he felt any of the three friends attacked outside the big cat exhibit on the afternoon of Dec. 25 were acting improperly toward Tatiana, a 350-pound Siberian tiger. The tiger somehow traversed a 33-foot-wide moat, scaled a 12-foot, 5-inch high wall - four feet below national guidelines - and fatally mauled 17-year-old Carlos Sousa Jr., of San Jose.
"All I know is that something happened to provoke that tiger out of the exhibit," Mollinedo repeated. "The police are investigating it and until they can come up with some definitive answers, it would only be speculation on my part at this point."
Two of Sousa's friends, San Jose brothers Paul Dhaliwal, 19, and Kulbir Dhaliwal, 23, were also attacked, hospitalized and treated for claw and bite wounds. Police responding to the zoo fatally shot the tiger.
The case has led to media reports first published in the New York Post Tuesday suggesting that one or more of the brothers may have used slingshots to provoke the attack. But police told Fog City Journal today they had no evidence to support the claim.
"No slingshots have been found," SFPD spokesperson Steve Mannina affirmed.
About 20 visitors were still inside the zoo at the time of the tiger escape, as the zoo was closing around 5 p.m., according to Mollinedo.
The zoo will reopen Thursday at 10 a.m. with a new public address system to notify visitors if a dangerous animal escapes, Mollinedo said.
Visitors will also be greeted with signs throughout the zoo about "proper zoo etiquette," warning against tapping on glass enclosures, throwing objects into exhibits, making excessive noise, and teasing or calling out to animals.
The big cat exhibit remains closed indefinitely while the zoo constructs a higher wall around the exhibit's grotto area. Mollinedo said the current wall will be extended to 19 feet and will include glass portals for visitors to view the cats.
Construction on the wall is expected to take about 30 days, he said. The zoo also has "long term" plans to install security cameras, Mollinedo said.
"I want to ensure all our visitors that the zoo is a safe place," Mollinedo said.
Luke Thomas contributed to this report.
Copyright © 2007 by Bay City News, Inc. -- Republication, Rebroadcast or any other Reuse without the express written consent of Bay City News, Inc. is prohibited.
####