Police describe tiger attack victims' escape
"She had to have jumped"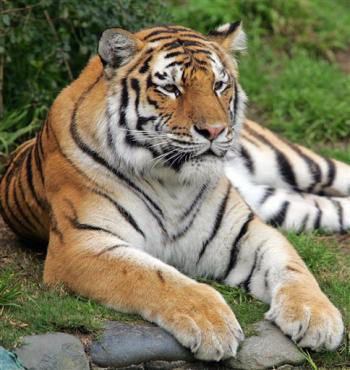 Tatiana, a Siberian tiger, escaped from her grotto at the San Francisco Zoo
on Christmas Day killing one man and mauling two others
before authorities shot and killed the apex predator.
Photo courtesy siouxcityjournal.com
By Ari Burack
December 28, 2007
Police Thursday described the efforts of three young men from San Jose to save each other and themselves from an escaped Siberian tiger that mauled all three, killing one, at the San Francisco Zoo on Tuesday..
San Francisco police Chief Heather Fong and zoo director Manuel Mollinedo spoke outside the zoo, offering more details about the timeline of events, and police response, as an investigation continues into exactly how the tiger escaped.
Fong said police responded to the zoo at 5:08 p.m. Tuesday after zoo officials reported the attack. Officers saw Carlos Sousa Jr., 17, on the ground in front of the lion exhibit, being attended to by paramedics. He was pronounced dead at the zoo.
Two others, brothers ages 19 and 23, whose identities have not been released, were bitten and clawed by the tiger and are recovering at San Francisco General Hospital.
According to police, the victims had come to the zoo together and were standing in front of the exhibit at closing time, when Tatiana, a 4-year-old, 350-pound tiger somehow got out of the exhibit's grotto area, which is surrounded by a 33-foot wide moat and a 12-foot high moat wall.
A police investigation determined Tatiana first attacked one of the brothers, while Sousa and the other brother tried to yell and distract the tiger. The tiger then turned to Sousa, fatally mauling him, while the other brothers ran to a zoo cafe about 300 yards away, according to police.
When plainclothes officers came to the cafe, they saw one of the brothers bleeding from his face with the tiger sitting next to him, according to Fong.
"They heard him saying, 'Help me, help me,'" Fong said. The four officers approached and the tiger resumed its attack on one of the brothers.
Officers then yelled at and distracted the tiger, and when it turned and started moving toward them, they opened fire, killing the tiger, she said.
The entire episode from when police were first notified until the tiger was shot lasted only 19 minutes, Fong said.
"They took quick action, they protected the victims while doing so," she said.
Paramedics attended to both brothers, who suffered "significant blood loss" but were stabilized before being rushed to the hospital, doctors said today. Their release from the hospital is anticipated in the next several days.
Amid speculation that the tiger may have been taunted before the attack, Fong said she wanted to clarify reports that someone may have stuck a leg through an outer railing where visitors stand.
Fong said police have no evidence "that someone's leg was leaning over the rail."
Fong noted that investigators did find a shoeprint on the railing in front of the exhibit where the first attacks happened, and that forensic analysts are trying to determine whether the print matches any of the victims' shoes.
"We have no information to tell us at this point that they did, or did not, go over the railing," Fong stated, adding that no one's shoe was found inside the railing.
Fong concluded her remarks by saying that it was "too early to speculate" about whether there had been any behavior that could be considered criminal.
Mollinedo said today that a "seasoned" employee had been caretaking the exhibit that night.
He added that he believed Tatiana must have escaped through the front, grotto portion of the exhibit and not the rear, where "every lock was in place," he said.
"She had to have jumped," Mollinedo said. "How she was able to jump that high is amazing to me."
Inspectors from the U.S. Department of Agriculture, the federal agency that oversees all U.S. zoos, visited the zoo today, according to Mollinedo.
An inspection three years ago by the Association of Zoos and Aquariums, a national zoo accrediting organization, never noted any deficiency in the design of the grotto, which was built in 1940, according to Mollinedo.
On Dec. 22, 2006, Tatiana, who was born in captivity, attacked a female trainer in front of dozens of onlookers after a feeding demonstration.
The trainer was bitten on both arms and underwent extensive surgeries. The zoo's Lion House was closed for almost nine months following that incident.
"There's still things that need to be looked at, and areas that need to be reviewed before I feel comfortable reopening the zoo," Mollinedo said.
Some "immediate fixes" include proposals to install new fencing in front of the feline exhibits and to add hot wire in front of zoo animal habitats, he said.
"When we open the zoo, the zoo will be safe," Mollinedo said.
Copyright © 2007 by Bay City News, Inc. -- Republication, Rebroadcast or any other Reuse without the express written consent of Bay City News, Inc. is prohibited.
####