San Francisco Zoo faces permit suspension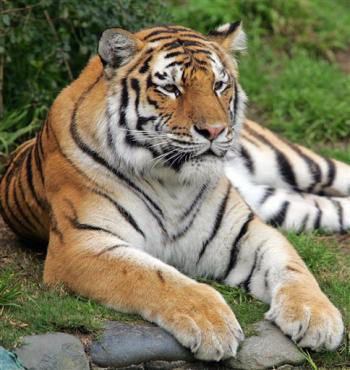 Tatiana, a Siberian tiger, escaped from her grotto at the San Francisco Zoo
on Christmas Day killing one man and mauling two others
before authorities shot and killed the apex predator.
Photo courtesy siouxcityjournal.com
By Ari Burack
December 29, 2007
If the San Francisco Zoo violated federal law regarding an enclosure a tiger escaped Tuesday -- killing one man and injuring two others -- it could face penalties ranging from a written warning to having its operating license suspended, a U.S. Department of Agriculture spokesman said Friday.
Jim Rogers, spokesman for the USDA's Animal and Plant Health Inspection Service, would not confirm that an official investigation by his agency has begun into Tuesday's fatal mauling of Carlos Sousa Jr., 17, of San Jose, by the zoo's 4-year-old, 350-pound Siberian tiger Tatiana. Two of Sousa's friends, 19- and 23-year-old brothers also from San Jose, are recovering at San Francisco General Hospital.
Rogers said inspectors would have to determine if there were possible violations of the federal Animal Welfare Act before there is a decision on whether to initiate an official investigation.
Zoo director Manuel Mollinedo confirmed Thursday that two USDA inspectors had visited the zoo that day.
The USDA oversees all U.S. zoos and is charged with enforcing the Animal Welfare Act, which includes regulations regarding the care and enclosure of zoo animals, according to Rogers.
However, the act does not mandate specific enclosure dimensions, Rogers said. Enclosures "must allow the animal to stand up, sit down, turn around and make normal postural adjustments," and "there must be sufficient barriers between the animal and the general public," he said.
Mollinedo revised his estimation Thursday of the dimensions of the tiger's grotto exhibit enclosures. After he initially described the grotto's barriers on Wednesday as a 20-foot moat and an 18-foot wall, he said the moat had been measured at 33-feet wide and the moat wall at 12 feet 5 inches high.
"If you have an animal getting out of an enclosure," Rogers said, "that would certainly be something" USDA inspectors would look at, he said.
Rogers said inspectors would have to make a subjective determination whether the zoo was in violation, taking into account factors such as the moat distance and wall height, fencing around the exhibit, and wall construction.
USDA investigations normally take anywhere from two weeks to two years, according to Rogers, and are not made public until they are completed, he said.
If an official investigation finds the zoo in violation, the USDA can simply issue a written warning, or impose a fine and order the zoo to make repairs, Rogers said. If the case is brought to court, the maximum penalty for violation of the AWA is $3,750 per count per day, he said.
Finally, the USDA can suspend or revoke a zoo's exhibitor's license, Rogers said.
Mollinedo said Thursday that zoo officials were looking into "immediate fixes" such as installing new fencing in front of the feline exhibits and adding hot wire in front of animal habitats.
The zoo remained closed today as San Francisco police investigate the circumstances of the tiger's escape.
Copyright © 2007 by Bay City News, Inc. -- Republication, Rebroadcast or any other Reuse without the express written consent of Bay City News, Inc. is prohibited.
####