Tenderloin parking lot to become low-income housing, grocery store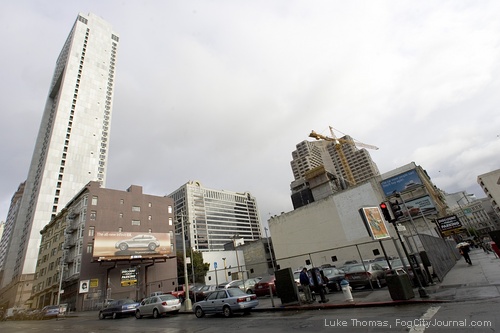 As many as 130 low-income housing units and a much needed grocery store
is planned for development by the Tenderloin Neighborhood Development Corproation
at the corner of Eddy and Taylor streets
Photos by Luke Thomas
By Mike Aldax
January 21, 2008
A developer plans to transform a parking lot in San Francisco's Tenderloin neighborhood into a low-income housing complex with a large street-level grocery store, it was announced Friday.
The Tenderloin Neighborhood Development Corporation said it has acquired the property at the northeast corner of Eddy and Taylor streets with financial help from the San Francisco Mayor's Office of Housing and Bank of America Corp.
The building, slated for completion in 2012, will house 130 low income and formerly homeless families along with a much-desired grocery store, the developer said.
TNDC said area residents complained in a survey about the Tenderloin's lack of safe, one stop shopping options. Most residents shop in Chinatown and at the Safeway at Church and Market streets, having to take public transit to get their groceries, according to the survey.
"We've had our eye on this site for a long time," said Don Falk, executive director of TNDC, which has developed 25 low-income housing properties in and around the Tenderloin.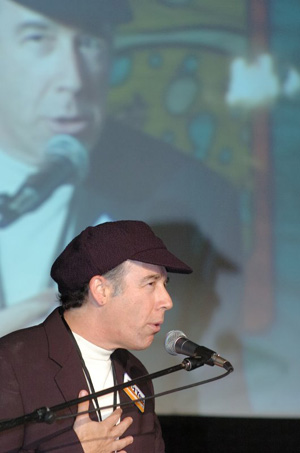 Don Falk
Photo by Adam Aufdencamp
The housing part of the complex will comprise of studios and one, two, and three bedroom apartments and will be designed by David Baker and Partners, the architects behind the Curran House located a block away on Taylor Street, the developer said.
About 20 percent of the apartments will be reserved for formerly homeless households, according to officials.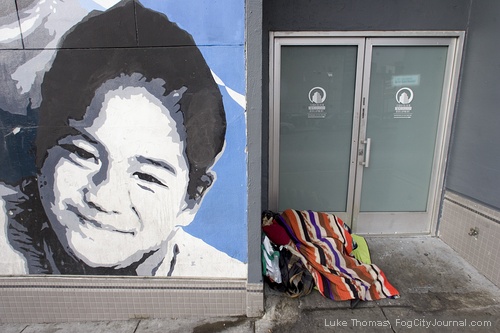 Copyright © 2007 by Bay City News, Inc. -- Republication, Rebroadcast or any other Reuse without the express written consent of Bay City News, Inc. is prohibited.
####