Congressman Lantos announces he has cancer,
will not seek re-election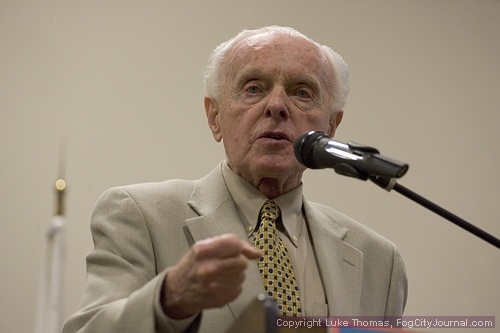 Congressman Tom Lantos (D-San Mateo) announced today he will not seek re-election after being diagnosed with cancer of the esophagus. File photo 10/21/7.
Photo by Luke Thomas
By Laura Dudnick
January 2, 2008
After nearly three decades in Congress, Rep. Tom Lantos, D-San Mateo, announced today that due to his recent diagnosis of cancer of the esophagus, he will not seek re-election.
Lantos, the only Holocaust survivor to be elected to Congress, is a senior member of the House Committee on Oversight and Government Reform and the founding co-chairman of the 24-year-old Congressional Human Rights Caucus.
"Throughout my adult life I have sought to be a voice for human rights, civil liberties and social justice ... I will never be able to express fully my profoundly felt gratitude to this great country," Lantos said of his time in Congress.
Lantos was diagnosed with esophagus cancer in mid-December and is considering a variety of treatments including chemotherapy and radiation, according to his spokeswoman Lynne Weil.
"Tom is taking these developments in stride," Weil said.
Lantos, who turns 80 on Feb. 1, is serving his 14th term. He expects to serve until the end of his congressional year, which ends in December 2008.
Copyright © 2007 by Bay City News, Inc. -- Republication, Rebroadcast or any other Reuse without the express written consent of Bay City News, Inc. is prohibited.
####