Transit Center design team
offers $350 million to project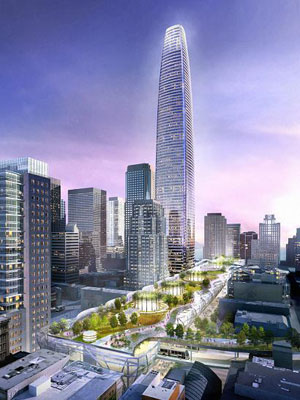 Illustration courtesy TransbayCenter.org
By Caitlin Cassady
September 20, 2007
A $350 million offering from the design team that won the right to build a proposed Transbay Transit Center in San Francisco would help the project kick off on stable financial ground, according to a transit official.
Pelli Clark Pelli Architects and Hines Interests teamed to design and develop what would be the Grand Central Station of the West at First and Mission streets.
"The Hines commitment of more than a third of a billion dollars in hard cash moves us in the right direction toward ensuring the financial viability of this project," Alameda-Contra Costa Transit Board Member Elsa Ortiz said in a statement.
The Transbay Joint Powers Authority Board of Directors decided today on the proposed design, which would include an over five-acre city park atop the transit terminal and the tallest skyscraper on the West Coast, according to the board.
The skyscraper would be obelisk in shape and its base would be encased in glass to let in natural light. The park would absorb pollution, treat and recycle water and provide a habitat for local wildlife, according to the Transbay Joint Authority.
"The Transit Center, with its accompanying tower, will have an immeasurable impact in the life and form of the city," architect Cesar Pelli said.
The transit center would accommodate nine regional transportation systems, including Alameda-Contra Costa Transit District, Caltrain, San Francisco Municipal Transportation Authority, Golden Gate Transit, San Mateo County Transit District, Greyhound, Bay Area Rapid Transit, Western Contra Costa Transit Authority and the future California High-Speed Rail.
California High Speed Rail promises to reduce travel between San Francisco and Los Angeles to two and a half hours, according to officials.
The design would not only offer a new transit center, but would incorporate homes, shops and parks adjacent to the transit center.
"The selection of Pelli and Hines to build this transit hub and tower is a testament to the values, the vision and the excitement of San Francisco and the entire Bay Area region,'' San Francisco Mayor Gavin Newsom said in a statement.
The AC Transit board of directors has approved the recommendations of the Transbay Joint Powers Authority in hopes of speeding up the project's starting date, according to AC Transit.
The board of directors considered three different firms to build the new complex. A design and development competition was launched in November 2006.
The Design and Development Competition Jury, a panel of design, planning, engineering, transit and real estate development professionals, unanimously recommended Pelli Clark Pelli and Hines as the best design to the Transbay Joint Powers Authority Board on Sept. 10.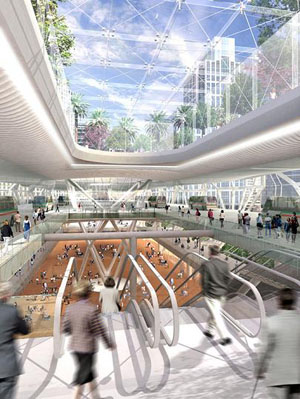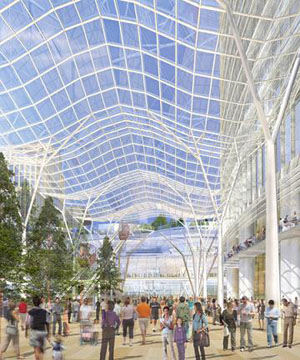 Copyright © 2007 by Bay City News, Inc. -- Republication, Rebroadcast or any other Reuse without the express written consent of Bay City News, Inc. is prohibited.
####