Virgin America wins tentative approval
for SFO-based airline
United Airlines union not happy with decision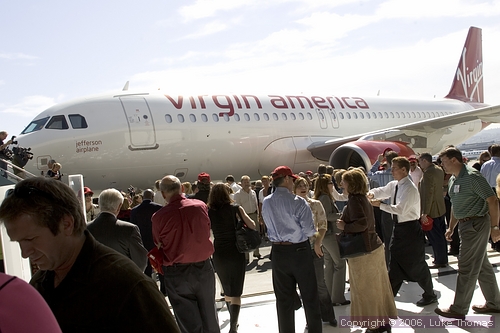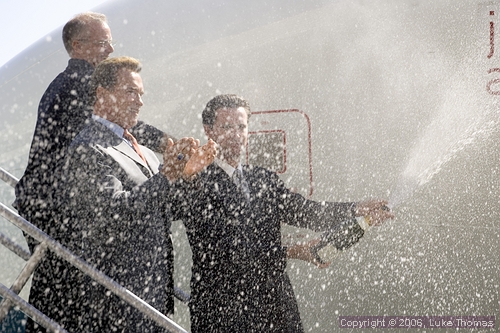 Virgin America CEO Fred Reid, Governor Arnold Schwarzenegger
and Mayor Gavin Newsom, have a lot to be bubbly about as Virgin America wins tentative approval from the U.S. Department of Transportation for SFO-based operations.
However, not everyone is happy with the decision.
Photo(s) by Luke Thomas (file photos, 10/11/6)

By Ari Burack, Bay City News Service

March 21, 2007
Virgin America's plan to establish a U.S. airline based at San Francisco International Airport moved forward Tuesday with an announcement of tentative approval of the airline's plans by the U.S. Department of Transportation.
A department spokesman announced that Virgin America's proposed ownership and management changes to reduce its dependence on investors from the United Kingdom and distance itself from its parent company The Virgin Group would put the airline in compliance with a federal law requiring that an airline show it is controlled by U.S. citizens.
There is an approximately 30-day period during which objections to the bid can be filed and responses to any objections can be made. The DOT would "aim to make a final decision as soon as possible after that," department spokesman Bill Mosley said.
The airline also needs to secure approval from the Federal Aviation Administration before it can begin operations, Mosley said.
"We worked very hard to address the Department's initial concerns," Virgin America CEO Fred Reid said in a prepared statement. "We plan to meet with our shareholders immediately to address the Department's proposed conditions."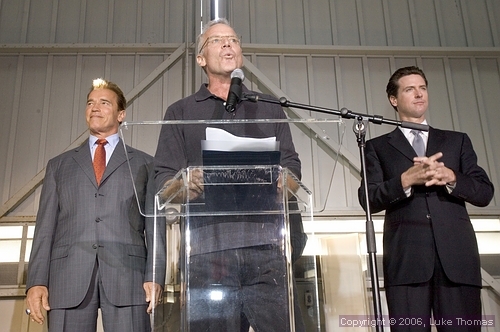 Virgin America CEO Fred Reid
Airline spokesman Gareth Edmondson-Jones said the airline hopes to launch service from SFO in mid-summer, initially to New York's John F. Kennedy Airport. Service to Los Angeles, Las Vegas, San Diego and Washington D.C. could begin within months after that, he said.
"Once finalized, this decision will create more jobs, service and competition for U.S. travelers," Edmondson-Jones said.
According to SFO spokesman Mike McCarron, if approved, Virgin America would be the first major airline to be headquartered at SFO and in all of California.
The airline's SFO hub is expected to bring approximately 2,000 new jobs for airline personnel at the airport, McCarron said.
Gov. Arnold Schwarzenegger issued a statement this morning applauding the tentative decision, calling it "a historic opportunity to bring innovative service and competition to consumers here and elsewhere in the country," Schwarzenegger said.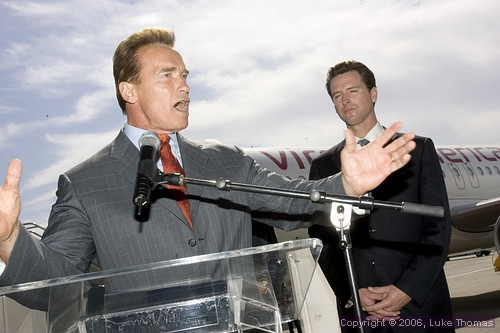 Gov. Arnold Schwarzenegger
"I look forward to having them bring new jobs, low fares and more service to our state," he added.
However, a union representing 17,000 United Airlines flight attendants condemned the DOT ruling as caving in to "a massive public relations campaign" by Virgin America that would jeopardize the American airline industry.
The campaign "heralded immediate consumer benefits and job creation, but when the smoke and mirrors are cleared these benefits are ambiguous, tenuous and will be short lived at best," United Airlines Flight Attendants President Greg Davidowitch said in a statement.
CEO Fred Reid and Virgin America employees recently took to the streets of downtown San Francisco with a splashy Valentine's Day "Let VA Fly" event, promoting the airline with red T shirt and Frisbee give-aways and bearing a signed online petition of support for its DOT approval.
That Virgin America's DOT application conforms to U.S. law "is yet another corporate backed sham supported by the Bush Administration and set to enrich a few at the cost of many, including passengers and our communities," Davidowitch said.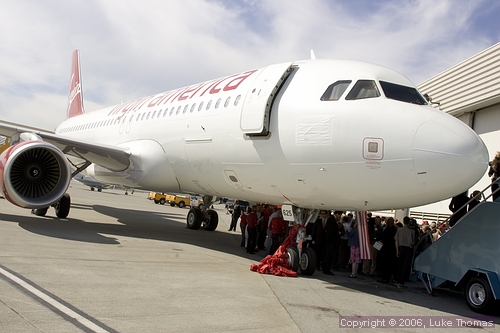 Copyright © 2007 by Bay City News, Inc. -- Republication, Rebroadcast or any other Reuse without the express written consent of Bay City News, Inc. is prohibited.
####