ES&S responds to voter machine accusations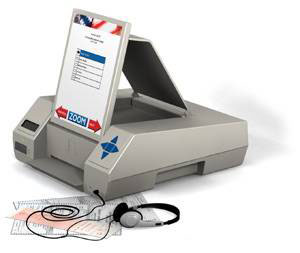 By Maya Strausberg
November 11, 2007
A company that supplied San Francisco with voting machines for Tuesday's election has denied any wrongdoing despite accusations by the city attorney that the machines were not certified by the state.
Election Systems & Software's comments are in response to a notice sent by San Francisco City Attorney Dennis Herrera on Wednesday charging the company with material breach of contract.
In a prepared statement, ES&S spokesman Ken Fields said the company did not wrong the city in any way and did in fact meet contract obligations.
"The fact is (Tuesday's) election in San Francisco went well and voters had a positive experience at the polls," said Fields.
But what occurred at the polling places and what has occurred since have been two very different experiences, especially for the Department of Elections, according to Director John Arntz.
Every ballot is being hand counted due to the lack of certification of the machines, according to Herrera and Arntz. ES&S' alleged breach of contract comes in part from the company not notifying California Secretary of State Debra Bowen of changes made to their AutoMARK ballot marking devices. They lost the machine's certification but did not inform the city of San Francisco or other districts using the machines.
Fields said the accusations simply aren't true. "We have fulfilled state and federal requirements for certification of our voting equipment," he said. "In fact, the ES&S AutoMARK used in California has been reviewed, tested and approved as part of the state's certification process - specifically as part of the certification of San Francisco's voting system."
Herrera's notice gave the voting machine company until Nov. 19 to supply new machines and pay for any costs accrued by the additional manpower needed to count ballots.
Although Herrera said ES&S has not yet offered to hand over the money, Fields said they have indicated that they are willing to pay for the voting machines that San Francisco borrowed from Contra Costa County.
"We have also taken numerous steps to help the city and county of San Francisco meet additional conditions imposed by the Secretary of State's Office, even though those conditions were not part of our contractual agreement with San Francisco," Fields' statement said. "We have provided additional staff, equipment and resources to help process ballots 24 hours a day, seven days a week."
Arntz estimated that the cost accrued from the situation is approximately $300,000. The city originally bought 565 AutoMARK machines for more than $3 million, said Herrera.
Copyright © 2007 by Bay City News, Inc. -- Republication, Rebroadcast or any other Reuse without the express written consent of Bay City News, Inc. is prohibited.
####