Board of Supervisors committee approves new voting machines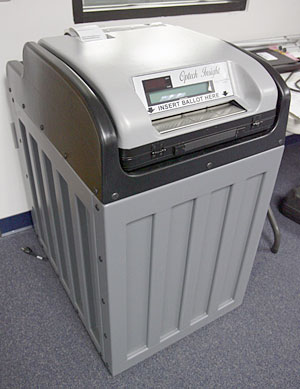 Photo courtesy Tampabay.com
By Ari Burack
December 6, 2007
As ballot counting from San Francisco's Nov. 7 election continues, supervisors on Tuesday will vote to replace the city's current computer voting system after approval via committee today.
San Francisco's three-member Budget and Finance Committee yesterday gave preliminary consent to a resolution awarding a new, $12.66 million, four-year contract to Sequoia Voting Systems.
The full, 11-member Board of Supervisors will vote on the resolution at the next Board of Supevisors meeting.
The committee vote comes a day after San Francisco elections officials were granted a weeklong extension for a manual recount of some ballots from the Nov. 7 election because of issues with the city's current computerized voting machines, manufactured by the Omaha, Neb.-based Election Systems and Software.
According to Director of Elections John Arntz, his office has been given court approval until Tuesday to recount some 80,000 absentee ballots, a week more than the Dec. 4 official certification date of election results required by the state.
Arntz said yesterday he hoped the counting would be done by Friday. Problems arose from the ES&S machines, causing California Secretary of State Debra Bowen to impose stricter conditions on the tabulation of results using hand counts.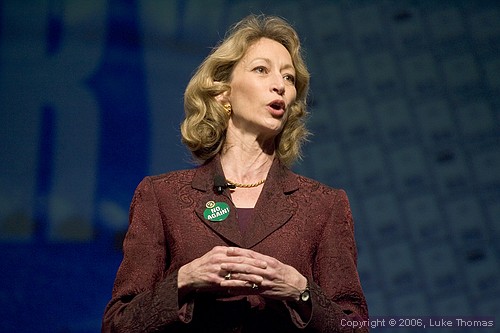 California Secretary of State Debra Bowen
Discrepancies between initial hand counts and results from the ES&S machines have resulted in the need to manually recount absentee ballots related to measures A, E, F and G, according to Arntz.
The preliminary voting results for the four measures are not expected to change significantly, according to Arntz.
Some of the absentee ballots from the election were registered as "undervoted" by the ES&S machines, when in fact they did have marked selections, Arntz said.
"It's based on the equipment," Arntz said. "This equipment, we knew, had limitations on what it reads." Arntz said those limitations were originally believed to be manageable, but now, he said, "it really is unacceptable."
"The Sequoia equipment just picks up more than does the ES&S equipment," he said.
Arntz said the Sequoia machines offer a newer operating system, quicker generation of reports, are more flexible in their operations, and have no issues with state certification.
The Sequoia machines still need federal certification for ranked choice voting, which Arntz said he expects soon, in time for San Francisco's next ranked choice election, scheduled for November 2008, he said.
Both Santa Clara and Alameda counties also currently use Sequoia voting machines.
The committee approved the resolution despite several public comments skeptical of the Sequoia system's security, its ease of use and issues raised concerning source code transparency.
Committee chair Supervisor Aaron Peskin acknowledged that the country is in a "very unstable time" in the development of secure and accurate voting technology, and that the current choices are limited.
Peskin said that there is a provision in the Sequoia contract, should it be approved, that would allow it to be terminated at any time. In such a case, Sequoia would be required to buy the technology back from San Francisco, he said.
Absent other options, Peskin said there was "an imperative" for San Francisco not to engage in lengthy hand counts of ballots.
Copyright © 2007 by Bay City News, Inc. -- Republication, Rebroadcast or any other Reuse without the express written consent of Bay City News, Inc. is prohibited.
####