Winter weather continues with high surf,
flooding, snow and hail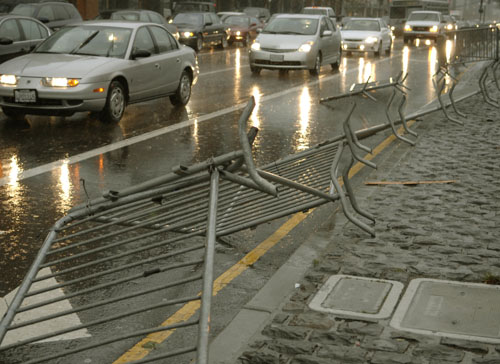 A fence that borders the Muni tracks on King Street in San Francisco
was downed by heavy winds during the storm that hit Northern California Friday.
Photo by Stephen Dorian Miner
Bay City News
January 5, 2008
Cold and wet weather is continuing today with high waves crashing into Bay Area coastlines and snow dusting three regional mountain peaks, according to the National Weather Service.
Flood and high surf warnings are in effect for the Sonoma, Marin, San Mateo, Monterey, Santa Cruz, and San Francisco county coasts, forecaster Steve Anderson said.
The coastal flood warning will be in effect until noon today, and the high surf warning will remain in effect through 4 a.m. Sunday, Anderson said.
Rain showers will also continue today along with thunder, lighting, hail, and brief periods of gusty winds, Anderson said, though today's winds will not be as strong as the hurricane force winds that ripped through the Bay Area on Friday.
Friday's powerful Arctic system, said to be the strongest to hit the Bay Area in years, swept some areas with winds exceeding 80 mph and dropped several inches of rain.
The strongest part of the system has moved through the Bay Area, Anderson said, but it will continue bringing stormy weather through Sunday.
Low air temperatures behind the system's cold front will lower snow levels today and bring snowfall to peaks as low as 3,000 feet in the Bay Area, Anderson said.
Residents can expect light snowfall on Mount St. Helena in the Napa, Sonoma, and Lake county area, Mount Diablo in Contra Costa County, and Mount Hamilton in Santa Clara County, according to Anderson.
A break from the stormy weather is expected Monday, when the region will be between systems, according to Anderson. Another storm system is expected to move into the area Tuesday, he added.
Copyright © 2007 by Bay City News, Inc. -- Republication, Rebroadcast or any other Reuse without the express written consent of Bay City News, Inc. is prohibited.
####