Broussard admits killing Bailey
in police interview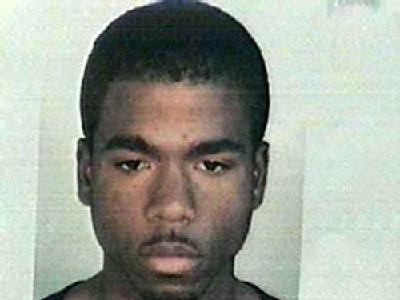 DeVaughndre Broussard
Police photo courtesy ktvu.com
By Jeff Shuttleworth
October 19, 2007
Your Black Muslim Bakery handyman Devaughndre Broussard told Oakland police the day after journalist Chauncey Bailey was murdered in downtown Oakland that he would take the blame for the crime even if he wasn't responsible.
But in a taped interview Aug. 3, the day after Bailey, 57, was gunned down on 14th Street near Alice Street as he was walking to his job as editor of the Oakland Post, Broussard said he was the shooter and shot Bailey three times, twice in the chest and once in the head.
When Detective Derwin Longmire asked him, "Did you do this crime?", Broussard paused momentarily and said, "Yes."
However, Broussard pleaded not guilty to murder charges Thursday and afterward his attorney, LeRue Grim, claimed that Broussard didn't kill Bailey and took responsibility for the killing at the request of bakery leader Yusuf Bey IV, 21, because he "wanted to be a good soldier."
Grim, who made taped interviews of Broussard and Bey available to reporters, said that when the case goes to trial, Broussard will testify and will identify the person who killed Bailey.
Broussard told police that he killed Bailey because "something had to be done" because Bailey had written negative articles about Your Black Muslim Bakery.
Assistant Police Chief Howard Jordan said the day after Bailey was shot that police believed that Yusuf Bey IV, the son of bakery founder Yusuf Bey, was involved in some fashion.
But Bey hasn't been charged and Broussard is the only defendant in the case.
However, Bey is in custody without bail on recent kidnapping and real estate fraud charges.
In a separate interview Aug. 3, Bey told police that he didn't like Bailey because he had written "slanderous things" about his father and the bakery.
But Bey said he didn't have anything to do with Bailey's murder and was upset that Bailey had been killed because it would draw attention to the bakery and "heat would be thrown to the bakery."
Bey said Broussard told him he killed Bailey and in response, "I said we don't need this kind of heat."
Copyright © 2007 by Bay City News, Inc. -- Republication, Rebroadcast or any other Reuse without the express written consent of Bay City News, Inc. is prohibited.
####