Supes quiz zoo officials
"I want to deliver a mea culpa for the zoo"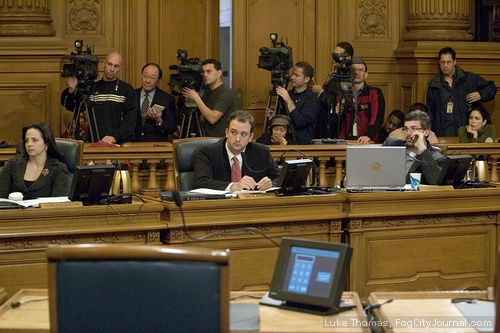 Government Audit and Oversight Committee members Michaela Alioto-Pier,
Sean Elsbernd and Chris Daly held a hearing today to quiz city and zoo officials about zoo safety following the preventable deaths of Carlos Sousa, 17, and Tatiana, a 250-pound Siberian tiger, on Christmas Day.
Photos by Luke Thomas
By Julia Cheever
January 28, 2008
A San Francisco Board of Supervisors committee heard assurances from top officials today that zoo safety is improving in the wake of a fatal tiger attack, but was left with ongoing questions about the effectiveness and oversight of a public-private zoo partnership.
The Government Audit and Oversight Committee met at City Hall to hear about measures taken since a Siberian tiger leaped out of its grotto at the San Francisco Zoo and killed a San Jose teenager and injured two other young men on Christmas Day.
The zoo, Northern California's largest, has been operated and managed by the nonprofit San Francisco Zoological Society since 1993 under a lease agreement with the city.
Supervisor Ross Mirkarimi asked bluntly, "Is the public-private partnership working?"

Supervisor Ross Mirkarimi
Recreation and Park Department General Manager Yomi Agunbiade answered, "I think the public-private partnership has benefited the zoo greatly....Overall, it has worked."
Agunbiade reported that a higher wall above the moat in the tiger grotto should be completed by Feb. 7 at a cost of about $1 million.
He said the concrete part of the wall will be increased from 12.5 feet to just over 16 feet, the standard set by the Association of Zoos and Aquariums. The concrete will be topped with glass and mesh to a total height of 19 to 21 feet.
Agunbiade and Zoo Director Manuel Mollinedo said planning and coordination of emergency responses by police, firefighters and zoo staff has improved and a siren system is now in place to warn the staff and public if a dangerous animal escapes.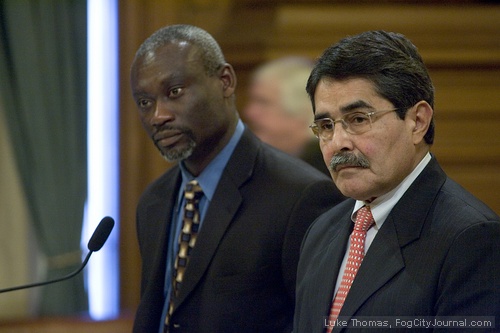 Recreation and Park Department General Manager Yomi Agunbiade (left)
and Zoo Director Manual Mollinedo.
Animals whose escape would be rated a "Code 1" danger include lions, cougars, tigers and chimpanzees, Mollinedo told Supervisor Michela Alioto-Pier in answer to a question.
Zoological Society board chairman Nick Podell told the committee, "Under no circumstances is it OK for an animal to escape."
"I want to deliver a mea culpa for the zoo," he said. "There is no excuse and the focus of the Zoological Society is to make sure it will never happen again."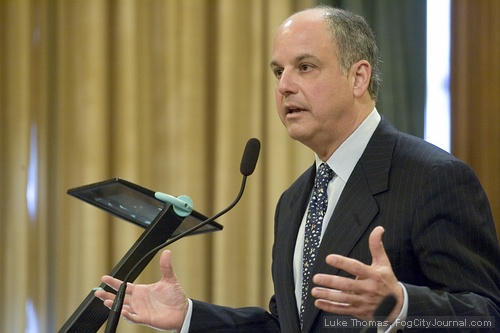 Zoological Society board chairman Nick Podell
Podell said the organization is concentrating on "safety, safety, safety for employees, animals and the public."
Carl Friedman, the recreation and park department's director of animal care and control, said he is convening a peer review panel of zoo and safety experts to make recommendations on animal safety and welfare.
Friedman, who noted, "This tragedy has sent shock waves around the zoo world," said he hoped to have the panel in place within two weeks.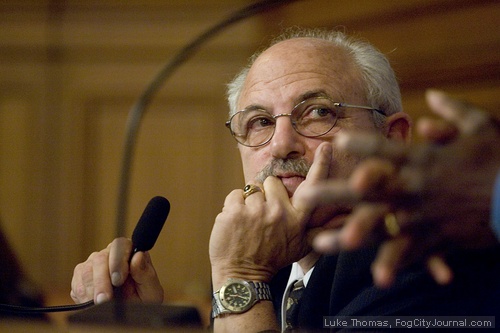 Director of Animal Care and Control, Carl Friedman
Committee chair Sean Elsbernd said he expects to reconvene the committee in six weeks to two months to discuss that panel's report.
Oversight of the zoo is shared by the zoo society board, the city Recreation and Park Commission, a Joint Zoo Committee of the two groups and the Board of Supervisors.
Elsbernd said after today's meeting, "The zoo is the city's property. We'll be keeping a much closer watch from now on."
Copyright © 2007 by Bay City News, Inc. -- Republication, Rebroadcast or any other Reuse without the express written consent of Bay City News, Inc. is prohibited.
####