WITH CATHERINE RAUSCHUBER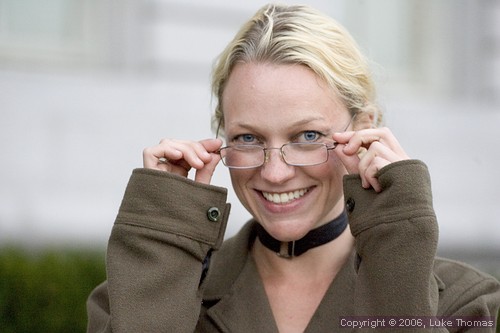 Photo by Luke Thomas
Rosenthal fundraiser wins Burning Man
founder endorsement
October 8, 2006
Last Wednesday current and former supervisors, djs, performers, and an icon of the San Francisco counterculture threw a party supporting Alix Rosenthal's campaign for District 8 supervisor.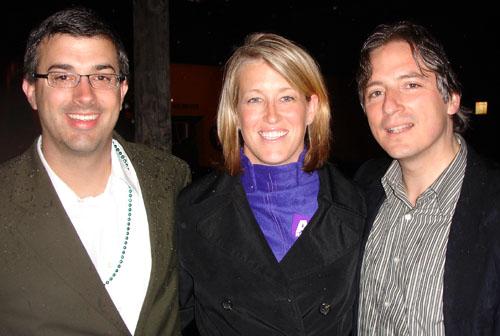 Supervisor Chris Daly, District 8 challenger Alix Rosenthal
and former Board President Matt Gonzalez.
Photo(s) by Catherine Rauschuber
Larry Harvey, founder of Burning Man, spoke about "special interests" in politics, describing why one does not have to be a part of the traditional political scene to have a strong impact on outcomes in races. Larry doesn't usually endorse in local elections, but told me he made the exception for Alix as he did only once before - for Matt Gonzalez's mayoral bid in 2003. Alix attends Burning Man and currently sits on the advisory board of the Black Rock Arts Foundation.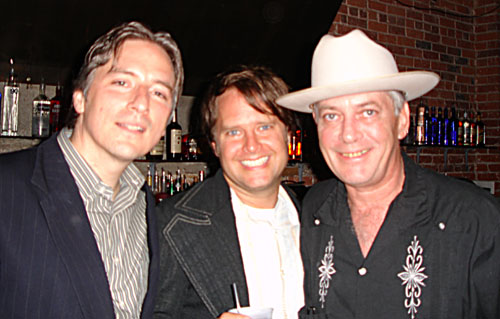 Matt Gonzalez, Andy Blue and Larry Harvey.
Former Supervisor and Board President Matt Gonzalez reminded the audience that the Castro was once represented by Harvey Milk, an icon for progressivism in San Francisco. He explained how the Supervisor representing that district today should still be a progressive leader, voting alongside supervisors from districts 5, 6, and 9 on issues relating to tenant protection and supporting efforts to prohibit autos from Golden Gate Park on weekends. Given Matt won District 8 in the last mayoral election, running on a progressive platform, he beleives such a return to progressive ideals is possible.
DJ's and performers included a line-up of Alix' close friends, all well-known in the San Francisco music scene: Syd Gris heads up Opel Productions which throws some of the best dance events in the city. Tamo and Viajay, fashion designers and dj's of the all female ensemble Angels of Bass. Smoove, a dj whose breakbeat sets are known far outside of San Francisco. And beatbox icon Kid Beyond.
Wednesday's event for Alix was one of the better fundraising parties I've been to in years, at least for my tastes. Cocktails, house parties, and fancy dinners are okay, but those get old. Wednesday was the mixing of politics with a scene that perhaps usually stays out of the local electoral fray, or at least stays out until it feels moved by an individual like Alix to jump in.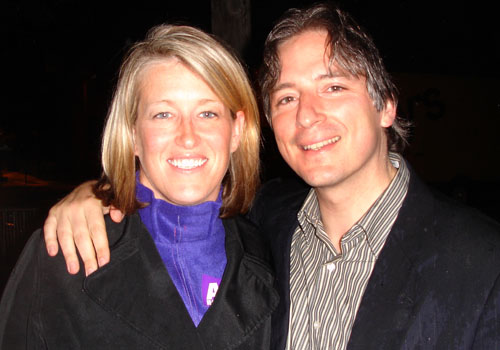 Smoove's email that went out promoting the night read in part: "Now, it's not really my place to tell you what to think or whom to vote for. But I will say, if you're happy with the way things are going, stay home tonight. If not, get off your ass and come down to Mighty a to support Alix Rosenthal as she begins her quest into San Francisco politics… I can personally attest to the appropriateness of her IM's and e-mails. They're always consensual and with persons whom are of age."
The crowd was a mix of City Hall and Burning Man folks, with quite a few straddling both worlds. I enjoyed running into Alix and her partner Steve Jones, San Francisco Bay Guardian City Editor, as well as at least a dozen other City Hall and political types, who also attended Burning Man this year.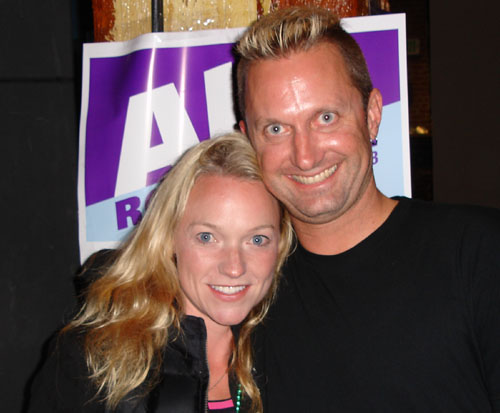 Catherine Rauschuber and Steve Jones
Not to be too redundant with the themes in an earlier piece I wrote about Lovefest, Wednesday night was interesting in that it showed that such a merging of worlds is natural for some candidates – and a hell of a lot of fun too. The only weird thing was leaving Mighty, where the dancing usually lasts hours past last call, before eleven…
####