COURT JESTERINGS
With h brown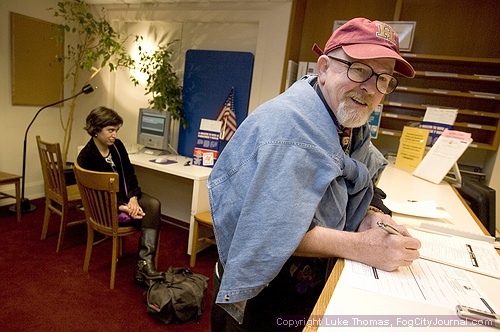 San Francisco mayoral candidate, h. "Court Jester" Brown.
Photo(s) by Luke Thomas
Court Jester's receives offer
from Newsom campaign manager
By h. brown
June 10, 2007
"Gavin controls nothing! Blaming Gavin for what happens at City Hall
is like blaming your dog cause it starts raining."
(Eileen Left writing notes for me)
"What the hell did you expect? Gavin is in Paris Hilton's address book!"
(Eileen continues roll)
"Java the Hud could get elected in D-4 if he wore a red vest and preached racism."
(Her, again)
I swear, that girl will get me in trouble yet. She had some great ideas, though. She says I should say that if I'm elected, I'll fire Charlotte Maillard-Schultz, the Republican head of Protocol (meets queens) who performs this function for both the Newsom administration (supposedly Democrats), and the governor (most decidedly, Republican), and that I should replace Schultz with Sister Bernie Galvin.
'Sister Bernie welcomes Pope!'
'Sister Bernie welcomes Hugo Chavez!'
'Sister Bernie welcomes the Dali Lama!'
'Sister Bernie welcomes Chevron C.E.O.!'
Or...
"Diamond Dave welcomes Bob Dylan!"
"Diamond Dave welcomes Michael Moore!"
"Diamond Dave welcomes Vladimir Putin!"
OK, that last one would never happen. But, you get the idea. War mongering Republicans should not be representing the City of St. Francis anywhere.
She says I should double the police detail that guards the Mayor too. Make 'em all report for work in their regular uniforms. Then, drop them off to walk 8-hour, one officer foot patrols and pick them up later when you drop off the next shift.
Shit, I can drive my own car. Give me a gun permit and I'll pack. Think I can't drive and shoot straight? What am I, Carole Migden?
Champagne and an offer to take a dive
Jens and I had an intriguing guest last evening at the 'World's Smallest Night Club' at O'Farrell and Larkin. Nice young guy named Bob Brigham. Brought bottle of Barefoot Brute champagne and a 6 pack of Red Stripe beer. We liked him right away.
Came from someplace called 'Bullrite' or something, Montana. Jens, not surprisingly, had been there. "There was just the train station and a house," said the Jenster. "Yeah, that was our house," replied the youngster.
Bob's flacking for Mark Leno, I believe. I gave him the usual ration of shit and he told me some stuff - off the record - that I'd tell you but I forget what it was. Joe Veronese pushed me all morning about it, but I couldn't remember. Something to do with a political race.
What I do remember is that he said that Eric Jaye read my piece about spending my Social Security nest egg to enter the race for Mayor because all of the Progressive candidates have proven to be chickenshit (you're dead mom, stop censoring me) … Eric said that he'd agree to get dunked in a pool for the highest bidder in an effort to recover my initial SS lump sum payment.
I choked up. It was an Armando Benitez moment. I mean, have you seen Jaye? He's as small and fat and ugly as me, and he's going to go nude into the pool at the Phoenix Hotel on my behalf?
Naw, but maybe dressed (FCJ's Luke Thomas confirmed with Jaye who said that he indeed agreed to sacrifice his charity plunge cherry for the Jaye-insulting Bulldog publisher) … Brigham works for Leno. Hmmm, I got on the phone to my evil, unpaid spokesperson, Marc Salomon. Wadda we do?
I talk to another couple of people. The Phoenix is a Chip Conley thing and he's a friend of Gavin's and Gavin and Jaye are now on the outs, but you didn't hear it from me, and you do know that Whitehurst is handling Leno's campaign? Huh?
I've never been able to get a straight answer out of anyone. Even myself. I ask Eileen and she says to email Daly to see if he'll take part, and to ask Neska to be the music if we get the place and to see if Peskin will do it in his Speedos (Eileen loves to see guys in Speedos).
Frankly, it's a little complicated for me right now. I'm gonna take it slow. Light a joint. Have a drink. Get enough signatures for the nominating petition. Keep ragging Daly to enter. Have another joint. Pay my money and get broke and legally into the race. Then, see if Eric still wants to party. Frankly, I think it would be fun.
I should add a parting thought
Five years ago when I ran against Newsom for the D-2 supe job, I had a party at a non-profit music conservatory down on Shotwell. Neska played and Tony Hall sang and I billed it as 'the calm before the storm', or something like that.
Newsom not only didn't show up, but his people called candidates all over town telling them not to show up. After that, when I called the center 2 years later to book another party, they said they wouldn't rent to me"for political reasons."
That was Eric Jaye then (there is no 'Newsom') and here is Eric Jaye now … same guy trying to get Dan Noyes and other friends of mine in the media fired for simply being even-handed in their coverage … here's this guy wanting to help me out?
Yeah, sure, sounds like fun, we'll do it.
I will too. I'm sure my buddy Matt Gonzalez will get baptized for me.
And, Pat Murphy.
No doubt, Eric Steinberg.
I'm losing you.
Diamond Dave is opening the Haight Street Faire tomorrow.
Diamond Dave for Mayor!
Me for Mayor!
Daly for Mayor!
You for Mayor!
Arm Candy needed
Mayoral candidate with a serious drinking problem (not the present Mayor) needs pretty ladies to attend public events and feign interest in and affection for, candidate. English not necessary. Gold card gives you a leg up, so to speak.
Enuff, enuff.

h. brown is a 62 year-old keeper of sfbulldog.com, an eclectic site featuring a half dozen City Hall denizens. h is a former sailor, firefighter, teacher, nightclub owner, and a hard-living satirical muckraker. Email h at h@ludd.net.

####
Editor's Note: Views expressed by columnists published on FogCityJournal.com are not necessarily the views or beliefs of Fog City Journal. Fog City Journal supports free speech in all its varied forms and provides a forum for a complete spectrum of viewpoints.