COURT JESTERINGS
With h brown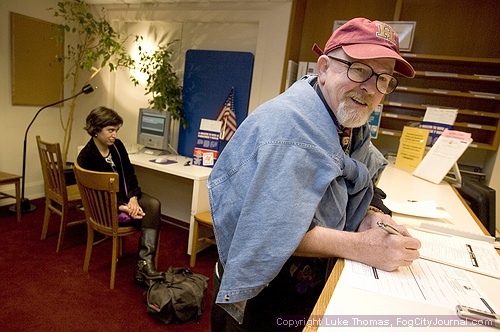 San Francisco's Court Jester at the Department of Elections,
Wednesday, filed papers declaring his candidacy for Mayor of San Francisco.
Photo(s) by Luke Thomas
On a mission from God:
Court Jester files to run for Mayor of San Francisco
By h. brown
June 7, 2007
h. brown vs Gavin II takes shape!
("This time we're in my hood," says brown)
Yesterday, against the advice of all my pregnant girlfriends (they have 'pregnancy brain' anyway), sober friends and allies, I followed the voice of God as it came to me on the 38 Geary Limited (is there a better place for a modern 'burning bush'?). Hearing the Lord God Almighty, Benevolent Ruler of Heaven and Earth, (with, albeit, a spotty attendance record), I listened to the Lord and She said:
"Run, h! RUN!!"
Since the bus was pretty crowded, and I had a window seat, I decided that She didn't mean for me to try and get up and run right there. I took it as a broader suggestion that I run for Mayor.
I wudda lost my window seat if I answered the call, and tried to start running on the 38 Limited, barreling in from the Richmond at 9am. It was good enough for me.
Dig Art Bruzzone tonite!
(Comcast, channel 11 at 6:30pm)
It also airs on Friday at 8:00pm, and Sunday at 8:30pm. I decided to announce my candidacy on Arthur Bruzzone's show, SFUnscripted, where I was already scheduled to tape an appearance.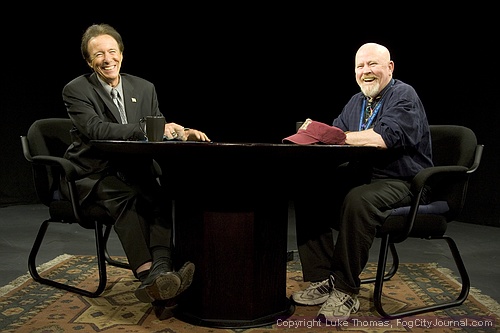 Arthur Bruzzone and h. Brown
You gotta hand it to Bruzzone. He is, without a doubt, the most independent political TV show in the Bay Area. The guy interviews people ranging from the far, far left, to the far, far right. You need only have something to say and be a local locus of political energy at the time the interview runs. Once filmed, you become a part of the Bruzzone archives, which have captured every major mover and shaker in San Francisco over the past several decades. It's always an honor to speak with Bruzzone.
You can be blackballed by every institution in town (like me), and Bruzzone will interview you and ask why. You can be a wonk closed up in your own world, and Bruzzone will still interview you.
Entry for Mayor up 50%
So, I blind-sided Bruzzone by taking his curiosity at what happened at last Saturday's 'Progressive Convention,' and answered to the effect that all of our male Progressive hierarchy failed a balls check, and that I'd be running in their place.
It cost $3,334 to run for Mayor in '03. The 'Progressive' Board kicked that up to $4,915 to run this time. Or you can gather 10,000 signatures at $1.50 a pop, plus shipping and handling. You can spend $20,000 to get on the ballot going the signature route, or you can come up with five grand out of pocket. So, Daly and Mirkarimi and Peskin and all the other 'left' supes, increased the filing fee for Mayor to such a level that even the most knowledgeable and devoted of the poor were shut out. But God had a different idea.
To call it 'serendipitous,' or something akin would account for the fact that just as this election arrives, the feds sent me almost the exact amount I needed to run a candidate (I didn't know how close the numbers were at the time - I'd thought it was just under $4,000 and I'd be able to repay the principle on an old debt to a friend). Whatever, damned near the exact amount needed to fund the entry fee for a lefty candidate showed up in my mailbox a couple of weeks ago.
Keefer and Salomon said 'No'
They're always my first choices for any applicable office. Krissy Keefer is still recovering from fighting Nancy Pelosi while fending off attacks from within her own lefty ranks. I don't blame her for not wanting to get out in front of many of the same spears this go around. And Marc Salomon is interviewing for actual paying jobs.
Nevertheless, I'm asking Keefer (here) to be my campaign manager and Salomon to be my spokesperson. I doubt they'll have much to do anyway, even if they accept. It should make for interesting Friday Salons this election season, though.
My candidacy is about getting a serious conversation started, folks. I know Newsom. I ran against him in 2002 for District 2 Supervisor, and there's a documentary on the effort called "Cheap Rent" that we've never quite finished. Perhaps it's because it really won't be finished until after this campaign. You'll be able to see snippets of it as the campaign progresses.
Me? I thought the occasion was a great opportunity for me to advance my pursuit of a gorgeous woman I've been pursuing for the last few weeks. I'm not above that.
"Wanna be my girlfriend?"
I'm a tough date. I invite you to share my world, and you don't get to drive during the race. That translates into about one girlfriend every five or six years, but they are the best. I've been interviewing.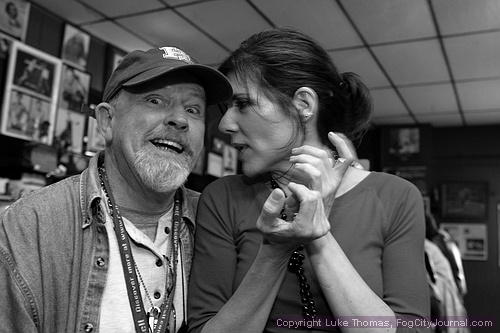 h. Brown with his amorous hopeful
Yesterday afternoon, I invited my latest prospect to meet me at UN Plaza, so she could come with me, Luke Thomas, Thomas' plus-one, Elaine Santore, Salomon, and Doug McAbee to announce my candidacy on Art's show. First, we needed to go by Luke's place and meet him and Elaine (who was absorbing her own firing from SFist.com that I didn't even know about yet.)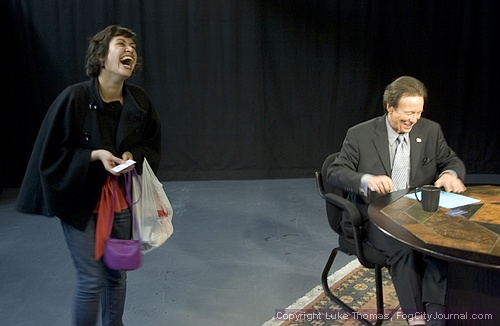 h. Brown's campaign slogan: "All that you've read or heard about Newsom is true."
I was late picking her up, and she said that she'd been hit on ceaselessly while she waited for me. Needless to say, she wasn't that happy.
So we went to pick up Luke and Elaine. She knew them, and they gave me credibility. Of course, they weren't there. She was wearing high heels, and it was at least 10 blocks to where I thought Bruzzone's studio was located (I was off by 15 blocks). I had to shield her from my 'neighbors' as we worked our way down 6th Street and headed toward the Channel 11 studios.
"I'm going back to work."
You couldn't blame her, could you? She was just getting settled in a new job, and had taken the afternoon off to follow this crazy guy she barely knew through the most dangerous section of town. I knew I wasn't lying, and that there really was a TV show, and that Luke and Elaine would really show up, and so would Doug and Marc. But here we were, trudging down the street while I drank the last of a pony bottle of champagne, and she thought it might make sense to get away while the getting was good.
I wondered about fate and that kind of thing. You find out pretty early in a relationship whether the person will risk something for you. To you, what you're asking might seem insignificant. To them, it could mean stepping off a cliff. I wanted her to walk further down the street with me and be on my arm for my ascent into history. She might have thought we were headed for …
Tonight … channel 11 … 6:30pm
She turned around, and walked away with me. Isn't that a line from a Roy Orbison song? Well, she did, and we'll find out what happens with that but now, the column is called for by the publisher of first promise …
Buckle up, buckaroos!
I'm running for Mayor.
Are you running with me?

h. brown is a 62 year-old keeper of sfbulldog.com, an eclectic site featuring a half dozen City Hall denizens. h is a former sailor, firefighter, teacher, nightclub owner, and a hard-living satirical muckraker. Email h at h@ludd.net.

####
Editor's Note: Views expressed by columnists published on FogCityJournal.com are not necessarily the views or beliefs of Fog City Journal. Fog City Journal supports free speech in all its varied forms and provides a forum for a complete spectrum of viewpoints.