COURT JESTERINGS
With h. brown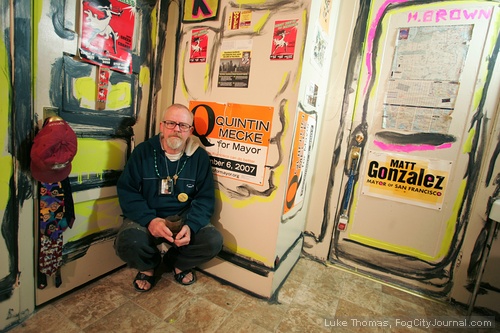 h. "Court Jester" brown
Photo(s) by Luke Thomas
Ben and Tatiana
By h. brown
January 21, 2008
Bulldog autopsies for 2007
(and, some accolades)
"Suddenly, like a streaking yellow meteor,
the cat leaped from the roof
onto the pack of fighting dogs
to rescue me."
(from 'What would Tatiana do?')
The cat was 'Ben,' my 8-pound domesticated (?) yellow tabby, and he thought I was in
trouble and jumped to almost certain death to save me.
Til now, it was the greatest display of love for me that any creature has ever shown. Not that I haven't loved and been loved as much and most likely more than other humans, it was just that this act came from nowhere and was so unexpected that it carries over into my hall of 'best life experiences,' and always will. This morning I sat and wept before his painting (done by Paul Albertson), and photo, in the shrine I've fashioned for him in the corner across from my desk. He sits there frozen in time and gazes at me pecking away on my keyboard. Sometimes something like Tatiana, or even a bit of music drifting in from U.N. Plaza, will send me into those dreams and that's when I miss his purr most.
He died 7 years ago and the hole he left in my life can never be filled. Only animals give complete love. Humans want pre-nuptials.
He was a cat jumping 'into' an enclosure full of mortal enemies. There were 13 dogs and they ranged from 90 pounds on down to around 10, and things were out of control, but the little Tom cat …
I'll tell you that story some other time. It's included in a work I wrote but never published called 'Do they all have names?' about the time my last wife and I spent volunteering with a group called 'Operation Stray Cat' at Clemson University . Suffice to say that while most would have thought him an ordinary house cat, Ben saw himself as a Siberian tiger and I agreed. We camped our way from South Carolina to San Francisco after my last divorce, and then all the way up the coast, across Canada, the Yukon and finally all the way through Anchorage and to the foot of the mighty Denali and on down to Homer, Alaska.
Then, we made our way back across the Al-Can Highway, on down through the Great Northwest and to Chicago and St. Louis and to Dodge City and onto Vegas and on back to San Francisco.
Ben, he liked to travel and so do I. Indulge me while I tell one more story awakened in my memory bank by the death of Tatiana, the magnificent tigress.
"In my country, those animals kill you."
(Von Choy Sae Chao)
Von Choy was a Mien Chinese immigrant from the jungles of Laos who ended up in San Francisco because the victorious Vietnamese wanted to kill all of his people for helping the Americans during the Viet Nam War. It was the early 80's and he was my assistant manager at the Kirkham Heights Apartments (an 11-building complex housing mostly medical staff from the adjoining UC Medical complex on Mt. Parnassus). Von Choy and his family had just made their first trip to a zoo and he found what he'd seen to be hard to believe.
"Is nothing for that tiger!!"
(Commenting on big cat grotto)
He'd know. Once we were talking about our families and I told him that my grandfather had been a hunter and a trapper (humane, even then) and that he hunted on horseback with a pack of dogs.
Von Choy asked if my grandpa had had a gun and I replied that of course he did and he asked what he hunted and I told him that the favored game was raccoon and how they could get up to 20 lbs and even a bit over, and he looked at me strangely and I asked what he'd hunted in Laos.
"Tiger!"
With sharp sticks. Yeah, I shit you not. He explained how that for a thousand years his people who had been forced from China in some kind of religious dispute had settled in the jungles of Laos and had had to hunt the huge cats who sometimes included the villagers in their food chain.
Imagine that. A thousand years of fighting tigers with sharp sticks.
They had no choice. He said they nearly always lost a couple of hunters or more in the final assault but that you couldn't allow the arch-predators to go unchallenged, or they would eventually eat everyone in the village.
It's no wonder he was amazed that Americans looked upon the tigers and pythons as toys and he was the first to alert me to the fact that the outdoor enclosures were far too small. He never took his family back (an American friend had taken them in the first place or they'd have never gone). Turns out he was right, huh?
Ben, Tatiana, the Sae Chaos
I can be a gruff nasty bastard. Ask just about anyone. But, I have some tender spots in my heart and if you go after my family, friends or any animal, you'll find out. That's why I've agonized over these last several weeks since Tatiana finally found peace and freedom. What to do? What to do?
Close the Zoo down in stages
How can an otherwise perfectly rational "5th generation San Franciscan" grandmother argue with all sincerity that no matter what the cost in misery and humiliation and poor health caused to the animals, that her grandchildren have a right to see these beasts up close and to taunt them all they want?
Zoos are an anachronism of the colonial era and there is no place for them in a civilized society. I'm not against nature preserves. Due to the catastrophic rape of the natural habitat of most living creatures, it is incumbent upon man to insure the survival of endangered native species. But, under the same conditions, these animals have lived throughout the histories of their individual species.
Keeping an elephant in the SF Zoo was like running fully loaded semi-truck around in circles in a baseball stadium.
Matt Gonzalez gave us a start there (no, spinmeisters, it was not a Bevan Dufty project). Unfortunately, by the time Matt could get the last elephants transferred, 3 out of 4 of them died from having their feet rot off because they didn't have enough room to walk around.
And it was these same people from AZA (American Zoo and Aquarium) who threatened to stop trading endangered species with the SF Zoo if they moved the elephants. They didn't give a shit about the elephants. Only whether their wealthy donors (yes, there are groups of Swells in pretty much every city who feel entitled to walk up and pet dangerous beasts) … they care only about their access to these animals and not whether, not only are conditions passable for the animals, but even, survivable.
Mollinedo a poster boy for cruelty to animals
It was Mollinedo (then at the L. A. Zoo) who let Sharon Stone and Phil Bronstein into the cage with the Komodo dragon that tried to have one of Phil's feet for a snack (I understand the animal is now affectionately called 'Clint' - after Clint Reilly - nowadays).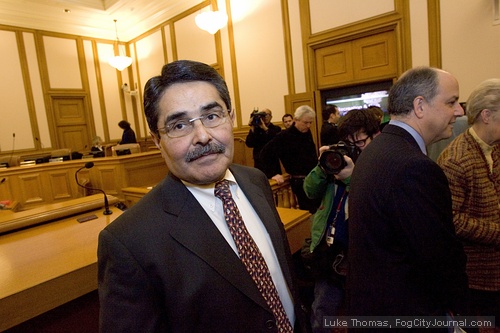 San Francisco Zoo Director Manual Mollinedo
It was Mollinedo who let the feet rot off of the elephants until a majority of the SF Board of Supes forced him to move them. And, of course, it was Mollinedo who is 'improving' the enclosures for the big cats at our zoo rather then challenge the 19th Century presupposition that it is OK to enslave animals and people if you have the power to do so, and if it increases your wealth or pleasure.
He does not put the animals first
Weren't you shocked to learn that the Zoological Society is giving this serial-idiot well over $300k a year to run our zoo? That's because he'll let the wealthy people who pay him do anything they want with the animals. The very fact that they hired him after the Stone/Bronstein/Komodo dragon fiasco says it all. Any manager who'd let a socialite into a cage with a wild animal, shouldn't be allowed to run a pet store, let alone a major zoo.
McGoldrick should call for hearing
Not to assign responsibility for what happened to Tatiana, but to investigate the entire idea as to whether an urban zoo holding such a wide variety of free-range creatures is even feasible in a city that claims to have a heart. In short, does the City of St. Francis practice animal cruelty to please the rich? Let's be the first to conduct a serious study on this issue. It would be a nice final legacy for the soon-to-depart 'Class of 2000'. Let your theme be from that great Jack Lemmon movie, 'Save the tiger!'.
Can a writer survive in an SRO room?
Yeah, sure. True, if the writer was used to more space, or a bathroom, or a kitchen beforehand … you need to get them out occasionally and into settings where there are potential mates from the same (or, closely-related) species. I always go to Ross Mirkarimi's monthly art parties with just that in mind.
This month's party was particularly, shall we say, 'well-stacked'. Honest to Jeehocipher, you never seen such a bevy of beauties. At one point, Luke Thomas of Fog City Journal fame took a photo of four such lovelies flanking the Abyssinian stud supervisor and I just hope it turned out. I'm not saying that looks count for everything you understand? No, certainly not. Only for around 90% of everything.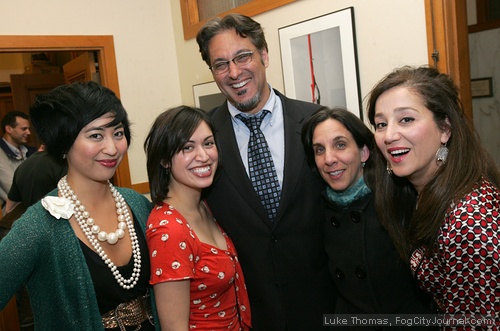 Supervisor Ross Mirkarimi is flanked by debutantes Charlotte Mayang, Elaine Santore,
Sue Vaughan and Sasaneh Solaimani.
There was a tall and shapely lady named Christina Marie who came with a smaller brunette beauty named Mary and it turned out that Christina buys, rehabs and turns over Victorians. To me, that's like telling a drunk that your daddy owns a whiskey still. Other than animals and politics and girls, there's nothing I love to put my hands on more than a vintage Victorian structure. Put on a mask and protective goggles, grab a crowbar. Well, they were smart as they were gorgeous and not having anything to do with me but I got my picture taken with them and it was a thrill.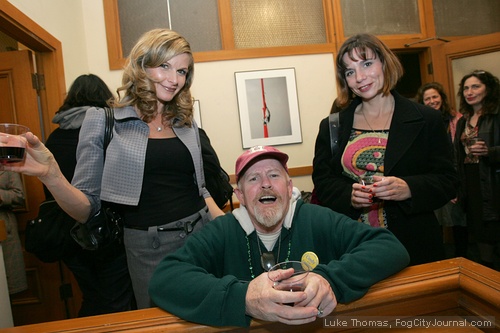 h. brown's new found loves, Christina Marie and Mary.
Hope Johnson sat on my knee for a second and I'll never wash that knee again. I invited Faye Chan who is a Tatiana fan whom I met at the Zoo hearing and promptly forgot her name while introducing her to Mirkarimi. Oh well, show 'em the 'true' you early and you don't disappoint 'em further down the line.
I flirted with Ahimsa Sumchai as I always do and kept trying to get information out of Colleen Crowley of Gavin's staff who is very gracious and must have been there subbing for Michael Farrah.
Colleen can be so deadly serious when she's working, then, at one of these gatherings, she'll suddenly get amused and flash an open, dimpled bright smile like you'd see on a 4-year-old seeing a pretty butterfly.
We work on my 'pad'
Looks like I'm gonna stay in this SRO room for awhile. Got turned down for latest application to manage a local apartment building (about all I'm good for now - certainly no one's gonna pay me for writing) … got rejection and Luke suggested I work with the room I actually have and continue the theme of hanging political poster from campaigns I've worked for and against on the walls, and supplement them with a little art and make my room not so, uhhhh, disgusting.
So, I invited Charlie Lennon, the sign painter/muralist/poet by with Patrick Cassidy the poet/novelist/wall painter and Luke, and we drank heavily while watching games of American football and drew all between the posters with that window kind of sign paint you can wash off. Luke got some shots of the results and I hope he posts 'em on FCJ cause the difference in energy in the room between the 'after the paint party' and before is certainly palpable.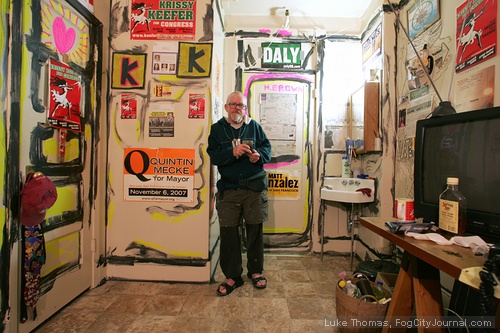 h. brown's SRO gets a face-lift.
Now, I need a bed. One of the ladies offered me an inflatable mattress she's kept boxed and on a shelf for several years and that would be really, really nice. I told Luke that if the thing will hold air, we should get lady friends to pose with me reclined upon it will all the art in the background cause, even though we aren't lovers, it will drive my enemies crazy. You know, kinda like, 'How can an old hippie on social security live this well when I …"
Maybe we can photo-shop in a deck and hot tub to really piss 'em off.
Conclusions
I house-sit for lots of people (still need more, gimme a call) and virtually every single one of them has something in common. That would be the ever-present shrine to a deceased animal. These animals became and remain a part of our lives forever. I remember listening to the phrase in 'Mr. Bojangles' long ago. You know the one … "the dog up and died and after 20 years, he still grieved"?

Mr. Bojangles by John Holt
I remember thinking at the time (must be 40 years ago) that only an old black tap dancer in a county jail could miss an animal so much. Well, it's not true. Ben's been gone for the better part of a decade now and I weep as I write this. And, resolve to try and get McGoldrick to hold hearings on freeing Ben's big brothers and sisters, the wild lions and tigers and leopards in zoos everywhere.
I love you, Ben. And, I'll never, ever forget you.

Ben's portrait by Paul Albertson adorns the wall
of h. brown's humble Tenderloin abode.
h. brown is a 62 year-old keeper of sfbulldog.com, an eclectic site featuring a half dozen City Hall denizens. h is a former sailor, firefighter, teacher, nightclub owner, and a hard-living satirical muckraker. Email h at h@ludd.net.

####
Editor's Note: Views expressed by columnists published on FogCityJournal.com are not necessarily the views or beliefs of Fog City Journal. Fog City Journal supports free speech in all its varied forms and provides a forum for a complete spectrum of viewpoints.