Public opposition to Richmond District Starbucks
cited by supervisors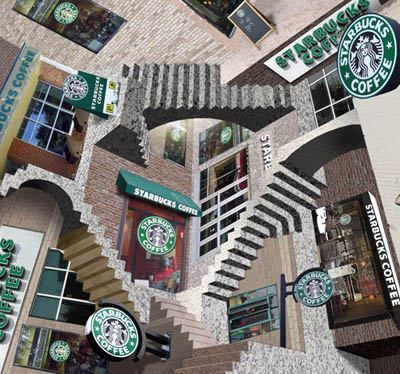 Illustration courtesy, mit.edu
By Emmett Berg, Fog City Journal contributing editor
September11, 2007
Opposition to a Starbucks coffeeshop inside a Toyota service building on Geary Boulevard in the Richmond district was cited by San Francisco supervisors as they overruled staff today and denied the coffee giant an operating permit.
The Toyota showroom and repair facility under development at 4041 Geary Boulevard was proposing to locate a Starbucks next to its lobby. In June the proposal was approved by the city Planning Commission in a 4-2 vote.
The site was formerly occupied by Cala Foods before Toyota of San Francisco took it over. An official for Toyota said the idea was to have a better place for customers waiting to pick up their vehicles at the dealership.
An appeal of the Planning Comission decision brought the matter to the threshold of the Board of Supervisors, where members heard from city planners indicating the Starbucks proposal met zoning codes and was a fit on a strip of Geary that includes a Taco Bell and Kentucky Fried Chicken.
A city analysis found there were at least 15 coffeehouses already servicing the neighborhood. A Starbucks representative pointed to research indicating small businesses would be unhurt by the presence of the familiar brand, and that the corporation was an ally to communities.
Those arguments did not resound above the din of the crowded board chamber.
Among the several-dozen speakers who testified in opposition, a number seemed to prefer any other retailer as long as it was not Starbucks. They were armed with petitions and submitted findings indicating that as many as 25 coffee houses presently exist in surrounding neighborhood. The 80 Starbucks locations already in San Francisco, opponents said, were enough.
Supervisors voted 9-1 to deny the permit. Supervisor Ed Jew cast the lone vote in support of the permit.
Supervisor Gerardo Sandoval was absent.
####