Coast Guard missions at Station Golden Gate
are anything but routine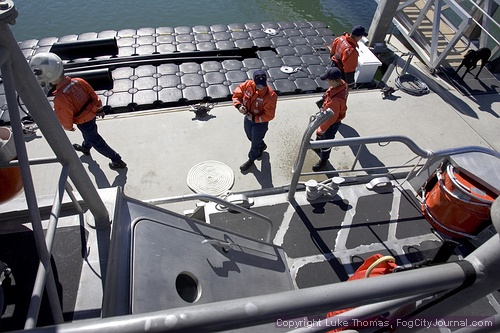 U.S. Coast Guard personnel return to Station Golden Gate after a training mission on the Bay. A typical training mission might include rescuing a simulated man overboard, or training coxswains to maneuver through high surf. Though training missions are routine for the Coast Guard, real search and rescue missions are often anything but routine.
Photo(s) by Luke Thomas
By Emmett Berg
November 19, 2007
The most grueling jobs in the U.S. Coast Guard clock in on a Marin County cove in the shadow of the Golden Gate Bridge.
A lonely outpost on the decaying grounds of Fort Baker, where three power lifeboats docked at Station Golden Gate (SGG) are operated by men and women who have risen through the enlisted ranks of the Guard. Everybody here gets their hands dirty.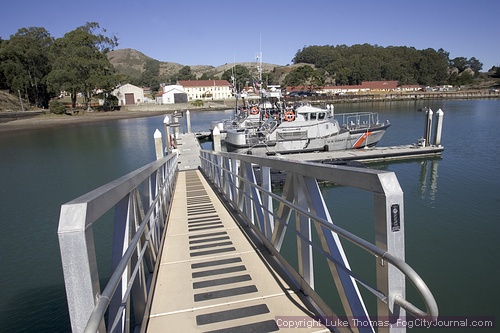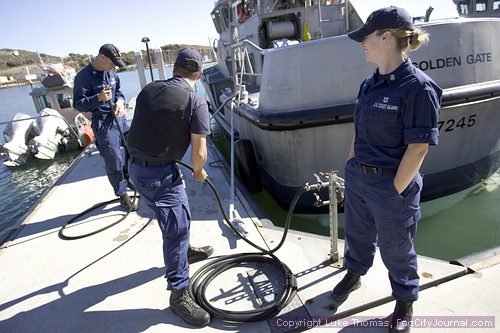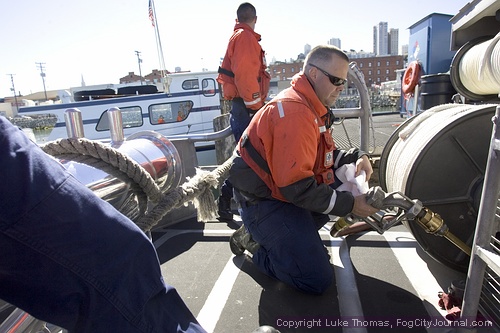 If weather reports show 15-foot seas with 30-foot wave peaks, a coxswain calls it "a good day for surf training," and hands over control of a $1.2 million power lifeboat to a crewmember needing piloting experience.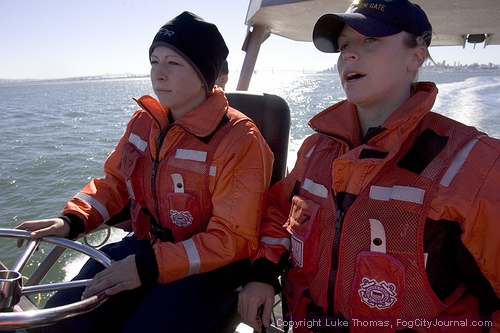 First Class Boatswain's Mate Jessica Shafer provides piloting instruction
to a new Coast Guard cadet.
At SGG they say to take seasickness for granted while training on a power lifeboat and know that getting seasick and staying at your post are expected simultaneously. There comes a time when a crewmember who's prone to seasickness will have to get underway and barely notice the weather as they run to the dock to support the next emergecy call.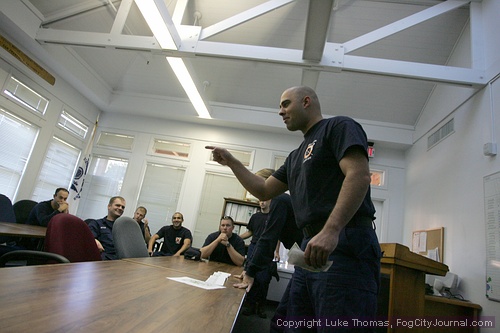 U.S. Coast Guard Executive Petty Officer Kevin Morgan
leads a morning briefing at Station Golden Gate.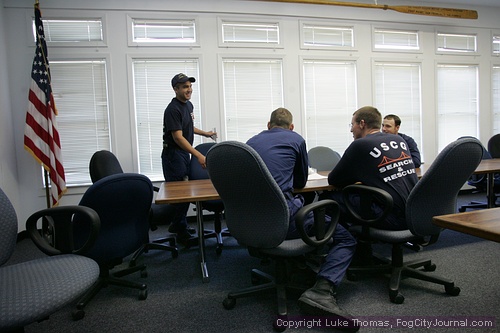 Crewmembers review mission logs and training manuals following Morgan's briefing.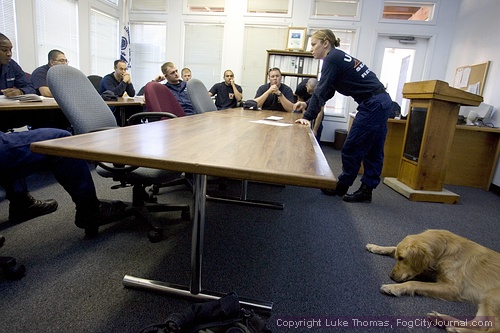 Experiences stack up fast in ocean and Bay waters surrounding the Golden Gate, where rushing currents and shifting shoals can fool veteran sailors. But the special challenges at SGG derive as much from humankind as from the lay of the land and waters.
If the last year is any measure, SGG will be busier rescuing stranded kitesurfers than anything else. Kitesurfers unable to return to shore accounted for about a third of the 600 calls reported over the last year. Close behind in frequency were reports of suicide jumpers, with more than 100 cases.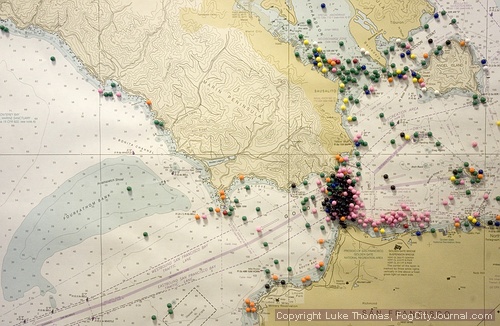 A color-coded incident frequency map at Station Golden Gate.
Pink pins: Kitesurfers; Black pins: Suicide jumpers.
The jumper-calls, where crews search and in many instances recover a body, have been traumatic for members of the Coast Guard. In some instances, jumpers fall to their deaths not into the Bay but onto rocks on the shoreline, making recovery efforts particularly disturbing.
That may be one reason why employee turnover is reported higher than normal at SGG, and why the Coast Guard is considering requiring psychological testing as a pre-requisite to being stationed there.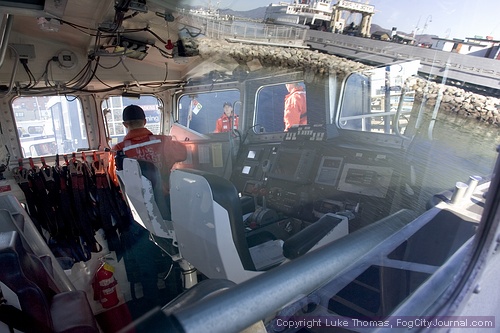 The bridge jumpers may be taking a toll on the Guard, but at SGG every call is treated the same. First Class Boatswain's Mate Jessica Shafer was the skipper on a Coast Guard lifeboat that responded to a suicide jumper call earlier this year and saved a person's life.
In an omission that speaks legions about public discourse on suicide, the Coast Guard command awarded commendations to the crew, but did not publicize their heroism.
Here's what happened: Arriving to a spot underneath the bridge, the crew located a person in the water. A crewmember on the deck yelled back instructions to Shafer, who could not see the person from her position at the helm of the 47-foot vessel. Then Shafer was able to maneuver close enough to make the save.
Shafer concedes that no one at SGG really wants to respond to a report of a suicide jumper. Yet it was a steadfast commitment to a rapid response that gave the crew a chance to act. "Knowing what it was, I'm glad I didn't drag my feet," Shafer said.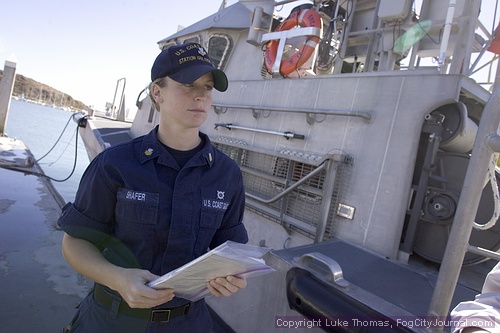 Jessica Shafer

####