Palace of Fine Arts hosts Persian Winter "Solh" Fest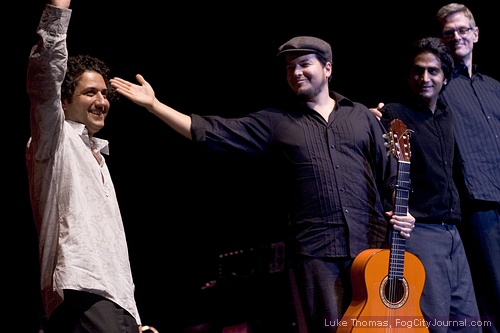 Iranian musician and vocalist Hamed Nikpay rejoices Friday after a rousing performance
during Beyond Persia's Winter "Solh" Fest at the Palace of Fine Arts.
Photo(s) by Luke Thomas
December 10, 2007
As many as five hundred Persians braved the San Francisco cold Friday to celebrate Beyond Persia's Winter Solh Fest at the Palace of Fine Arts.
Beyond Persia promotes Persian art and culture through film festivals, art exhibitions and concerts by Iranian artists living outside Iran. The event coincides with the celebration of the nonprofit organization's first anniversary and aspired to promote peace as well as raise awareness about contemporary Persian art and culture.
Beyond Persia co-hosted the event with Anar, an organization of young San Francisco Bay Area Iranian-Americans. Anar strives to develop the next generation of artistic, cultural, and professional civic leaders.
Fog City Journal contributor Mishana Hosseinioun and Community Programs Liaison to the San Francisco Mayor's Office Ahsha Safai, are both members of Anar. Safai also acted as Host Committee Speaker and honorary co-chair of the evening.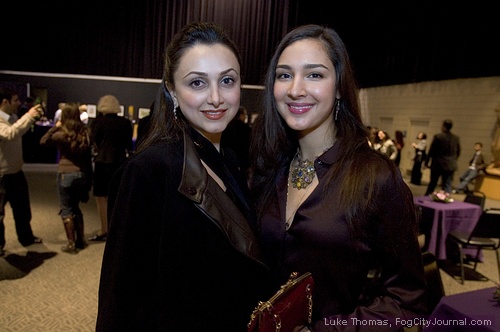 FCJ contributor Mishana Hosseinioun (right) with Bita Daryabari,
founder of Unique Zan Foundation.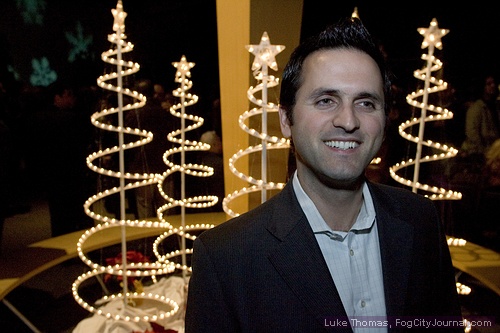 Community Programs Liaison to the San Francisco Mayor's Office Ahsha Safai.
The event began with an art show, silent auction and reception, followed by live musical performances, comedic interludes and speeches from prominent Bay Area Iranian-Americans.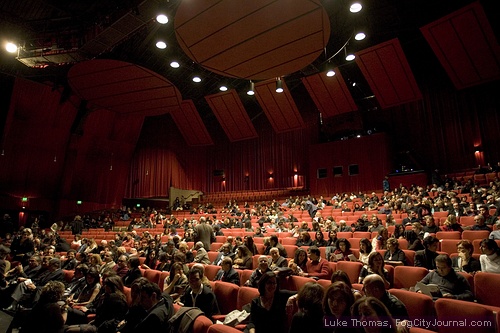 Palace of Fine Arts Auditorium.
Classical pianist and composer Arjang Rad performed songs from his debut album, Circle of Myths. Aside from being an accomplished performer, Rad also teaches piano and is a published author and former English professor at Cal State Northridge. Rad's music incorporates his passion for archetypes, Jungian psychology and world mythology, especially the hero's journey and the works of Joseph Campbell.
Rad based the sixth movement of Myths, titled "The Dragon," on the tale of Rostam, from Persian poet Ferdowsi's epic Shahnameh. "These myths are perhaps about some general tendencies we have as human beings that can apply to us all."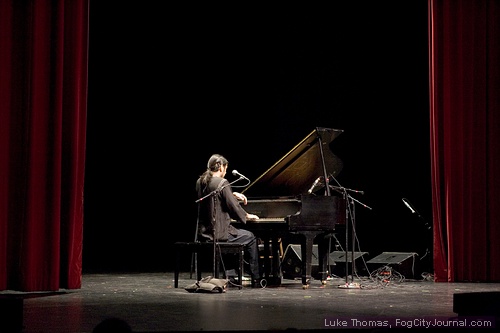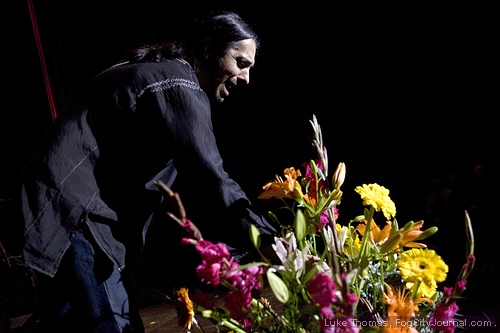 Arjang Rad graciously accepts a bouquet following his performance
of selected movements from Circle of Myths.
Co-Emcee Sheila Vossough made her stand-up comedy debut in a routine titled "Sheila Unveiled." Born in Tehran, Vossough works as an actress in Los Angeles. Vossough has appeared in Iranian plays, including one with Behrouz Vossoughi, and hosted a TV show, "The P.S. Show" with actor Parviz Sayyad.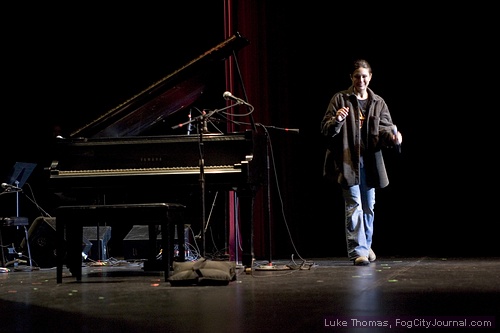 Comedian, stage actress and co-Emcee Sheila Vossough.
During her stand-up routine, Vossough had a warning for Iranian women wanting to come to America: "Women of Iran, please stop trying to get the hell out. Where do you think you're going? If any of these stories about your nightlives are true, stay. I swear to God, when you set foot in the States, all this attention from men stops. Men here are not as horny as you're used to."
Vossough co-emceed the event with Maryam Sayyad, daughter of popular Iranian actor Parviz Sayyad. She also appeared on the P.S. show with her father, but now works in interior design in Los Angeles.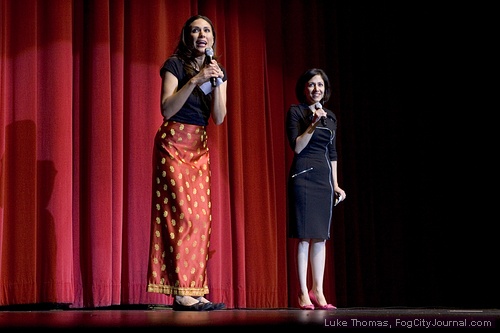 Co-Emcees Sheila Vossough and Maryam Sayyad.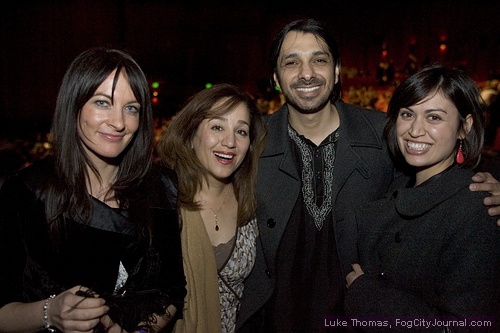 Arjang Rad's wife Magdalena Munro, Sasaneh Solaimani, Arjang Rad and Elaine Santore.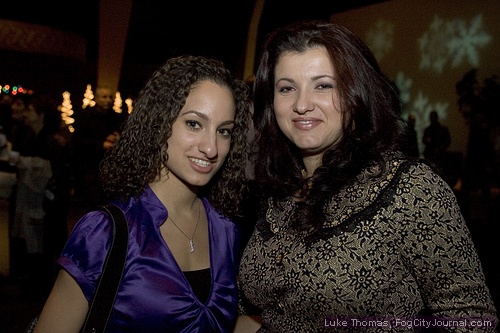 Sepeedeh Cigarchi and Niosha Nafei of the Niosha Dance Academy.
After intermission, Iranian vocalist, composer, and musician Hamed Nikpay performed. Nikpay has written musical scores for Iranian cinema, and performed in Asia, Iran, and Europe.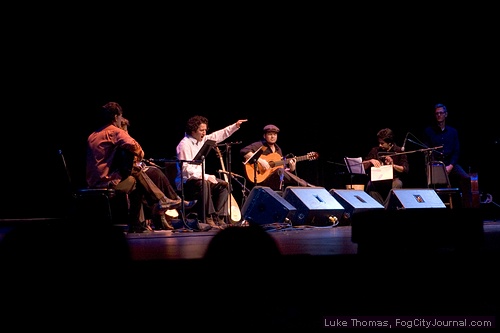 Hamed Nikpay performs.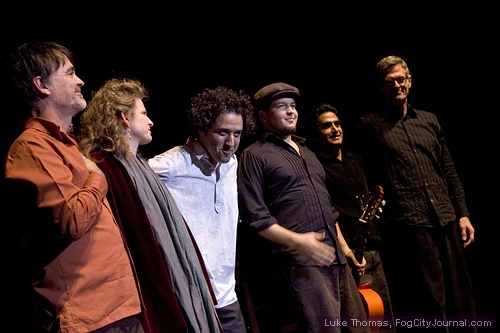 Hamed Nikpay bows with his band during the crowd's rousing ovation.
San Francisco Immigrant Rights Commissioner and Host Committee Speaker Dr. Elahe Enssani addressed the audience and commended the work of Beyond Persia in its first year.
"In immigration, community substitutes extended family," Enssani said. "We become each other's surrogate parents, surrogate cousin. I realize I know every single one of you. There's hardly anyone I don't know by first name. That's amazing. That's the power of community. This is what Beyond Persia has done for our immigrant community."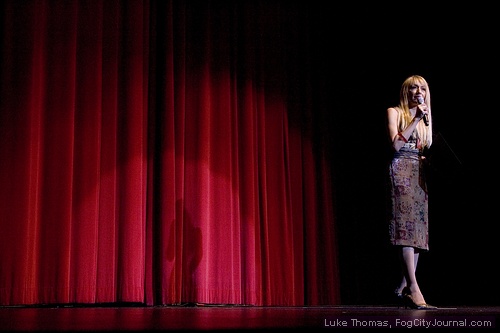 Dr. Elahe Enssani
Safai seconded Ensanni's praises: "Tonight exemplifies how our community can work together." He formally announced his bid for District 11 Supervisor, which drew big applause from the crowd.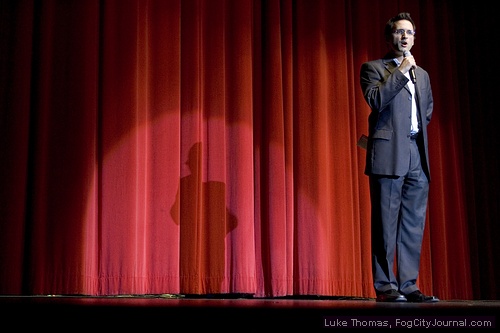 District 11 Supervisor candidate Ahsha Safai.
After Safai spoke, fellow Host Committee Speaker Supervisor Ross "Rostam" Mirkarimi took to the stage.
"I am a proud Iranian-American. As I understand it, the first elected to office in the City and Country of San Francisco, and as I understand it, one of the few elected to office in the state of California," Mirkarimi said. "And that brings an incredible, I think, distinction amid a very, very distressful time. When I came into office in 2005, I wanted us to assert our identity which is why I thought no policy, no politician can do what the arts can do, the rich, amazing art that really catalyzes this modern world which emanated from the Persian Empire."

Supervisor Ross Mirkarimi.
At the end of the program, Persian Blues/Jazz/Rock band Kiosk performed. Kiosk originally formed in Isfahan/Tehran. Their genre-defying sound and unconventional lyrics made them a crowd favorite.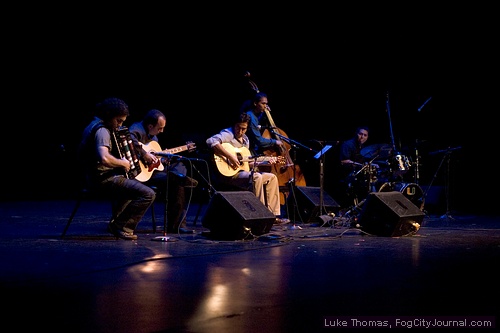 Kiosk
The night ended with dinner catered by A Taste of Persia, and dancing with music courtesy of DJ Aykut.
Additional reporting (in Persian) by Sabereh Kashi available at the BBC's website.
####