The CrackBerry Chronicles
With Elaine Santore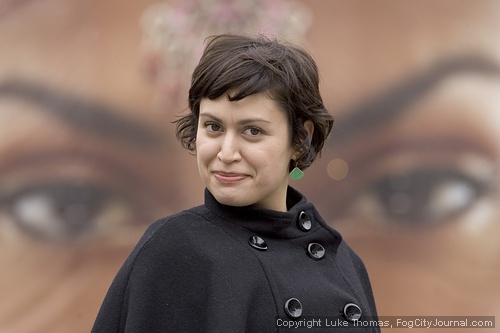 Photo(s) by Luke Thomas
June 12, 2007
Big Brother Visits
Last weekend, I got a visit from my favorite sibling. Let's call him Big Brother. Although Big Brother and I were born in San Francisco, he's been living in LA for nearly seven years. Here's a random sampling of observations BB made while we were out this weekend.
On San Francisco women: "One thing about women in LA: they don't have wrinkles. Their faces don't really move properly, but they don't let anybody see them with wrinkles. The women here don't care."
Upon returning from a concert: "There were a lot of ugly people there. Their clothes were stained and mismatched, and it didn't look like any of them owned a comb. Not just the girls, but the guys, too. I felt like I really stood out. I'm just used to going out in LA and seeing crowds of really hot people."
On bars: "Instead of hot nineteen year olds with fake IDs, there's a bunch of middle aged guys in there who look like they're gonna throw up on you."
On white guys: "Why does every twenty-something white dude in San Francisco think he's black?"
No comment from this author. Although there are days when I think Big Brother isn't actually a person, but my id personified. You know, kind of like Tyler Durden in Fight Club.
Ballard vs. Daly
As Luke Thomas and I made our way to City Hall Tuesday afternoon, we were approached by a spiffy suited and booted Newsom Communications Director, Nathan Ballard. He seemed totally excited to see us, like he had some great bit of gossip he just had to share. (Basically, the same face I make 24/7.)
Nathan Ballard (really, really excited): "Did you hear...?"
Luke Thomas: (while digging for his camera): "Hear what? Did Jew resign?"
Nathan Ballard: "Daly cancelled the hearing tomorrow. I guess he lost his nerve."
Running behind schedule, we quickly made our way into City Hall for the Board of Supervisors meeting and ran into Supervisor Chris Daly. After explaining the jist of our conversation with Ballard, we asked Daly to confirm if he had, in fact, "backed down" from the mother of all budget hearing meetings.
Chris Daly (nonplussed): "What's he [Ballard] talking about? I didn't back down."
I only showed up to the meeting to see if Supervisor Ed Jew was going to resign, in light of the newest letter from the City Attorney's office, but he didn't. The television cameras were ambulance-chasing as usual, but after it became clear Jew wasn't going to address the issue, at this meeting anyway, they peace'd out.
And we all know how the rest of it turned out ...

Ed Jew looking like he knows he is so busted.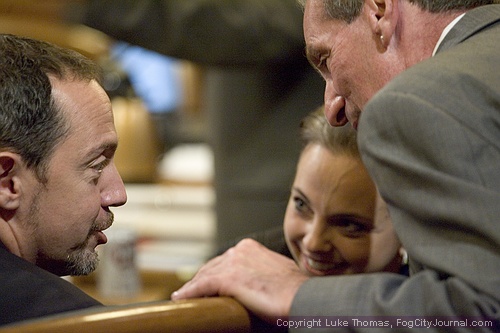 Supervisor Bevan Dufty: "I don't know why Ed thinks he can come into work
without taking a shower. He's so tragic.
How do you guys like my shoes?"
CrackBerry Blind Item
Which snarky scribe's been had by the slimiest campaign guru in town? The scribe in question might want to jump off this cliff. We hope no other members of this scribe's D-list brigade will follow.
####