The CrackBerry Chronicles
With Elaine Santore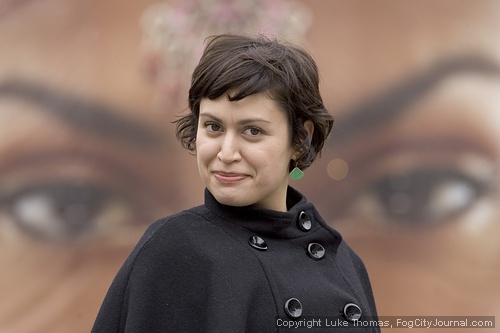 Photo(s) by Luke Thomas
June 24, 2007
Don't cry for me, San Francisco!
I used to tell my friends that someday I would live in an apartment with a balcony, so I could shout to the world, "We've made it, y'all!"
Instead, I shouted that over h. Brown's balcony during the Gay Pride Parade. But I should've said, "We've (kind of) made it, y'all!"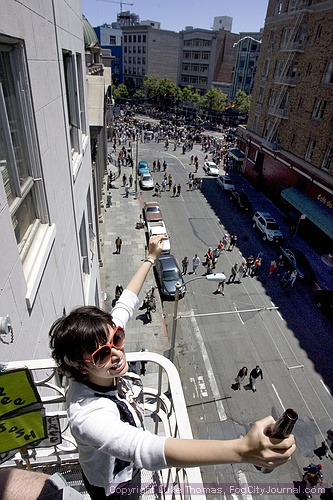 Elaine Santore as Eva Peron.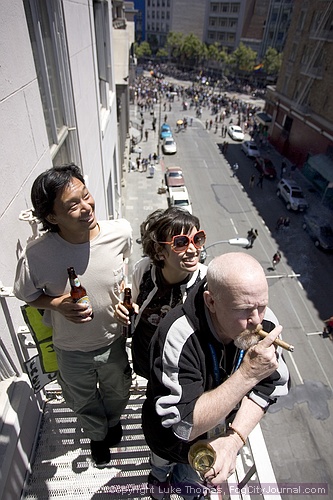 Fog City Journal loves a parade:
Jon Han, Elaine Santore, and h. Brown.
For those of you living in a cave, it was Gay Pride weekend in San Francisco and a couple of other cities that don't matter. This morning, Luke Thomas and I attended the Alice B. Toklas LGBT Democratic Club breakfast with First Lady hopeful, Elizabeth Edwards at the Sir Francis Drake Hotel. The night before, I was informed that Mayor Gavin Newsom and District Attorney Kamala Harris would be there.
In light of my last column and Fog City's editorial, I responded, "That might be awkward," but I don't let potential awkwardness get in the way of free food and mimosas. Duh.
Luke and I showed up fashionably late, and managed to get seats at a table full of John Edwards 2008 supporters. While we were eating breakfast, we spotted SFGate culture blogger Beth Spotswood and waived.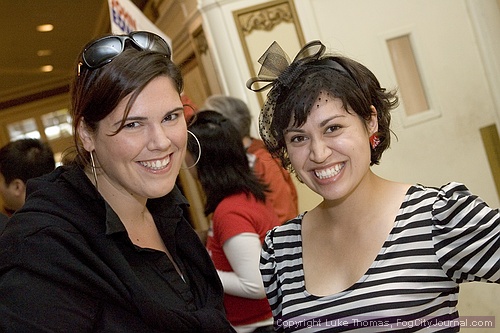 SFGate Culture Blogger Beth Spotswood and Elaine Santore.
State Senator Carole Migden took the stage, and asked the crowd why they weren't giving her more applause. Awkward.

State Senator Carole Migden
The highlight of the morning was watching Supervisors Tom Ammiano, Bevan Dufty, and Aaron Peskin take the stage. Ammiano said of Peskin, "He really lives where he says he lives. I know because I took a shower with him." This was, of course, in reference to their embattled colleague, District 4 Supervisor Ed Jew.
Ammiano added, "In terms of pride, I think Newsom and Daly should celebrate gay pride and have make-up sex. Don't you?"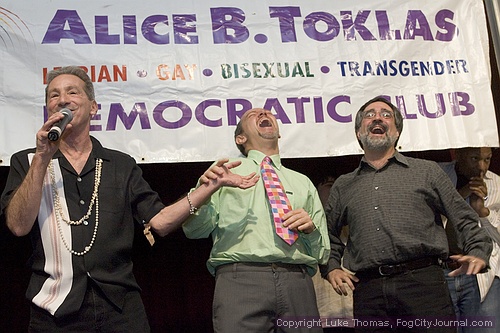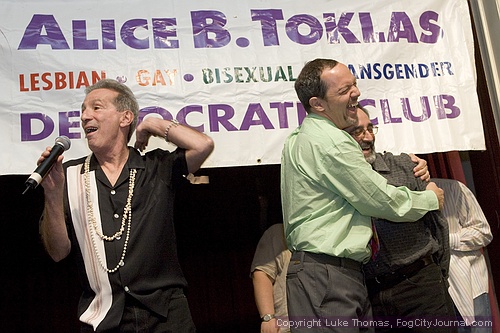 Supervisors Tom Ammiano, Bevan Dufty, and Board President Aaron Peskin.
Which begs the question: "Who would be the top?" Hmmm…
Then Dufty took the mike and said that ever since Peskin posed in a Speedo for San Francisco magazine, gay men keep asking to be introduced to Peskin instead. Oh, Buffy!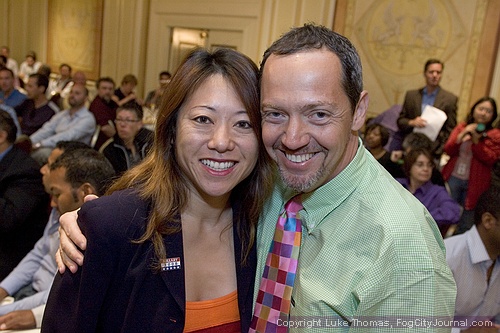 District 8 Supervisor Bevan Dufty with State Assemblymember Fiona Ma.
I was busy looking for another mimosa when Newsom plunked himself down two seats away from me. He looked flustered in his ruffled suit, explaining how his handlers left him waiting in the lobby by himself and that's why he was late. Sounds like somebody was asleep at the switch.
Treasurer Jose Cisneros spoke, assuring the crowd that he had $4 billion in his possession for gays. Then he introduced Assessor Phil Ting as "my partner in crime." Never one to miss an opportunity to crack a corny joke, Newsom said, "$4 billion? Partner in crime?" Tragically, I laughed. But it was a mercy laugh.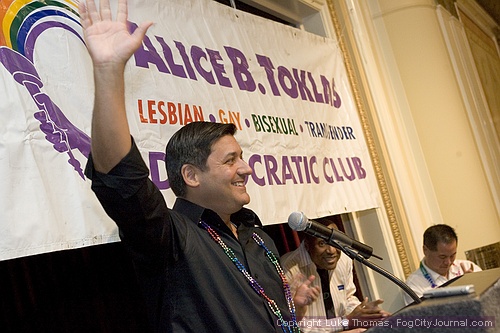 Treasurer Jose Cisneros.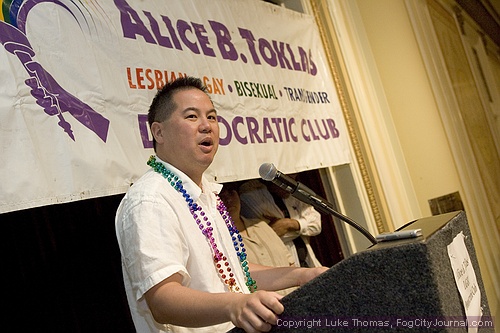 Assessor Phil Ting.
Yes, bloggers can get along
When Newsom left our table to give his speech, Spotswood darted to the seat next to me. "I can't believe he sat right next to you!" Beth kept looking at Newsom's Starbucks cup. "Do you think he's going to come back for his coffee?" she asked. Unfortunately, Newsom did not come back to the table to retrieve his coffee cup, as it was already empty. (I think we all knew who took it home with her…)
Spotswood inquired about my recent encounter with mayoral girlfriend Jennifer Siebel, whom the satirist refers to as "Swiss Miss." ("She was nice to you?" "Yes.") And other girl-talk that my gentleman publisher would rather not, well, publish.
Never one to miss the opportunity to stage a dramatic photo-op, I grabbed Newsom's arm and said, "Gavin, do you know Beth Spotswood?"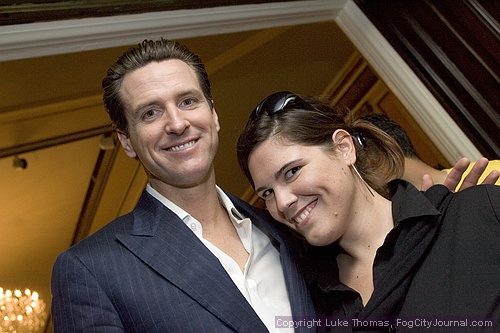 Beth Spotswood cozies up to her #1 crush, Mayor Gavin Newsom.
Speaking of bloggers, I must take time to give a shout-out to my friend Damion Matthews, who edits the society and fashion blog SFLuxe. In the wake of the San Francisco Chronicle Swells society columnist Catherine Bigelow's recent lay off, SFLuxe might be the only game in town for those of us who follow the lifestyles of San Francisco's social set.
This week, he single-handedly solved the mystery of Valleywag's "Freaky Mogul of Pac Heights," and found some photos of Anne Getty looking like less of an Australian's nightmare in a 1981 issue of Vogue.
Pride in the name of love
Like most young girls in San Francisco, I made my first gay BFF when I was around eight years old. This led to a lifetime (well, for my twenty-four years, anyway) of close gay male friends. Unfortunately, I had to recently retire from faghagdom, as it's a lonely life for a straight woman.
In honor of pride, I'm sending out a thousand kisses to all my LGBT friends across America. Keep making life beautiful!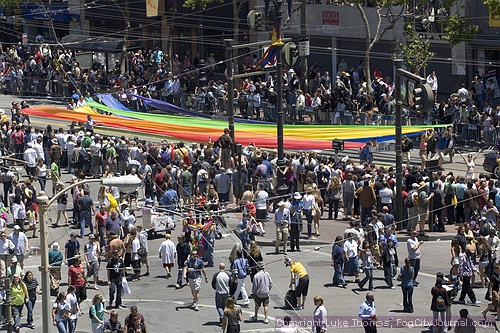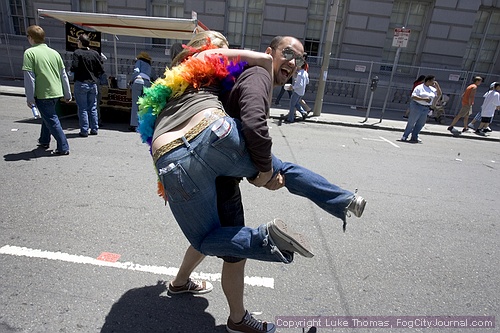 Public transportation.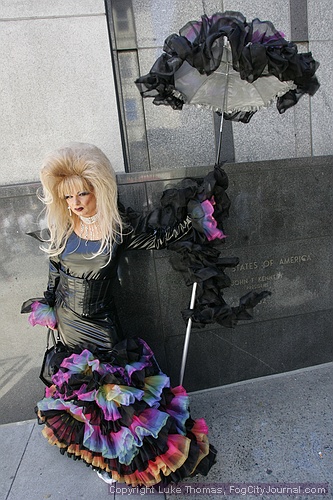 Love the parasol.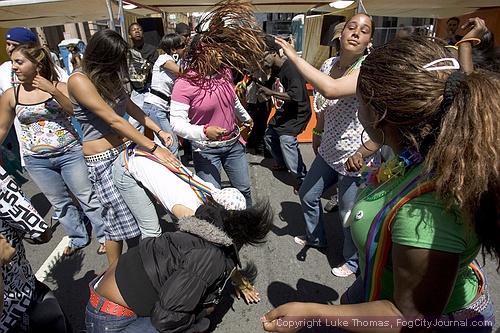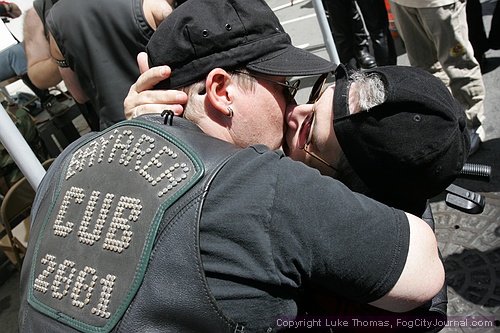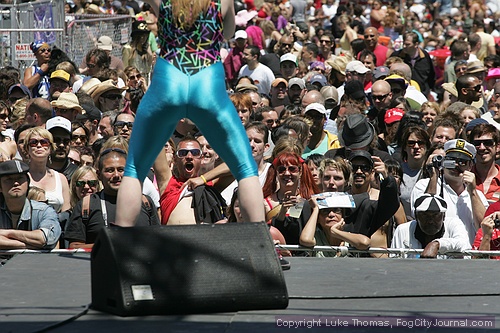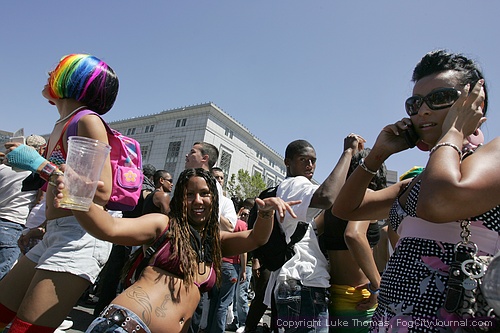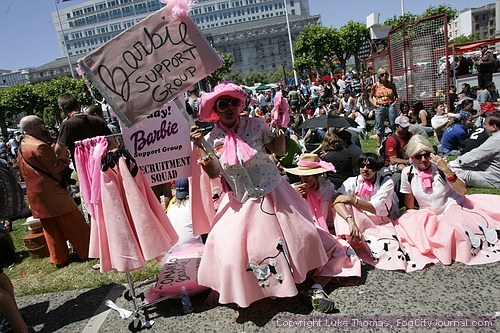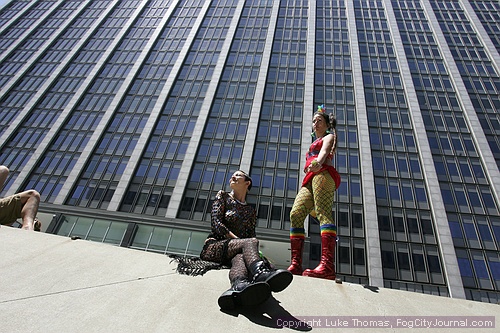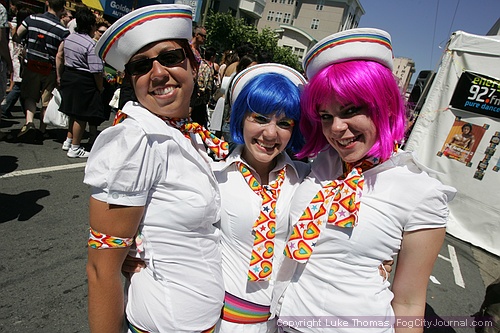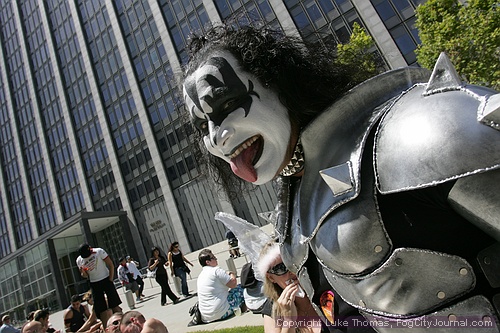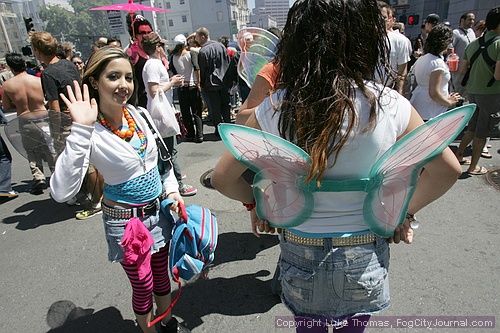 CrackBerry Not So Blind Item
Which incumbent declined to be photographed with Elizabeth Edwards after the Toklas breakfast? Could it be because he's secretly endorsing another Democratic presidential candidate instead?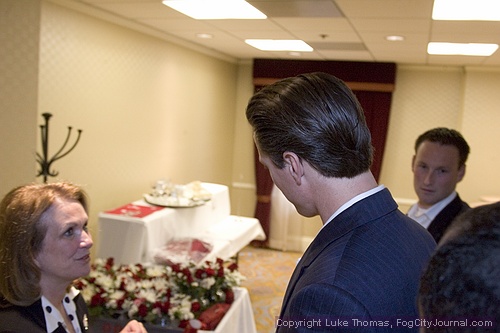 Which blogger/advoscribe was overheard saying, "I'm not 12 years old, Beth, I'm the same age as you!"
####