The CrackBerry Chronicles
With Elaine Santore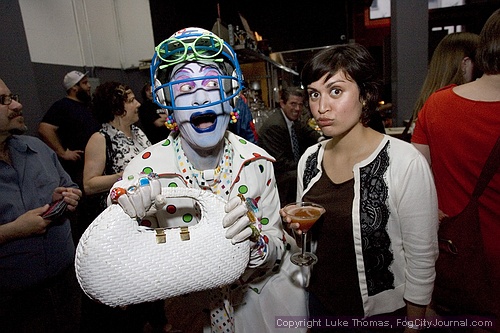 Photo(s) by Luke Thomas
July 13, 2007
The Death of Jane
The folding of Jane magazine on July 10 marked the end of a decade of regime changes and reinvention. When the magazine launched in 1997, editor in chief Jane Pratt was at the helm, fresh off the close of the alt-teen magazine, Sassy. Jane offered a snarky, feminist alternative to competitors like Vogue, Elle and Cosmopolitan.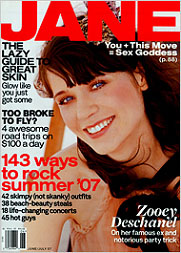 The last cover of Jane, with actress Zooey Deschanel
By 2005, Jane's audience grew out of the publication's first incarnation and Pratt stepped down. Jane's parent company, Condé Nast Publications, replaced Pratt with Brandon Holley, formerly of the defunct ElleGirl. Many believed Pratt was forced out, and that Holley was hired to court more mainstream advertisers.
Jane 2.0 proved to be successful, if not controversial. Many readers cancelled their subscriptions because the new voice lacked Pratt's trademark wit. The new readers fit a particular niche of women in their 20s and 30s, who appreciated Jane's unconventional blend of fashion, beauty, and relationship advice, with a monthly section for essays on cultural issues.
Despite the more optimistic, upbeat, and irreverent tone, advertisers abandoned the magazine. Jane continued to be popular with its readers who defended the publication against complaints the magazine had become consumerist and shallow.
Jane's demise came as a surprise to its publisher, Carlos Lamadrid, who was hired with Holley in 2005. According to the New York Times, the 60 staffers at Jane will be interviewing for other positions at Condé Nast, but Lamadrid and Holley will not be staying with the company. The ambitious new website, janemag.com, was also discontinued.
So, what does the death of Jane say about the women's magazine market as a whole? Several high-profile glossies have folded in the past decade, including former Vogue editor Grace Mirabella's Mirabella (1989-2000), and Tina Brown's Talk (1999-2001).
Although Jane re-launched its website to compete in the burgeoning online market, the popularity of its blogs and advice columns weren't enough to keep the magazine afloat.
Personally, I loved Jane for its trashiness, accessibility, and reliably lowbrow celebrity interviews. Though I admire Vogue's Anna Wintour as an arbiter of taste, some of us girls just don't stack up.
"I don't believe in political parties. I just believe in having parties."
A couple weeks ago, one of my beloved East Coast readers complained about the CrackBerry Chronicles' recent scarcity of party coverage. I reassured her that election season was coming up and that there would be more exciting events for me to write about, aside from boring government meetings. Let's hope these party pics suffice.
Last night, Luke Thomas and I attended an invite only GenArt event at 111 Minna. The event showcased the work of artist Jason Mecier, famous for his series of celebrity portraits titled "Celebrity Junkdrawers."
During the party, reps from Rimmel London were doing complimentary makeovers.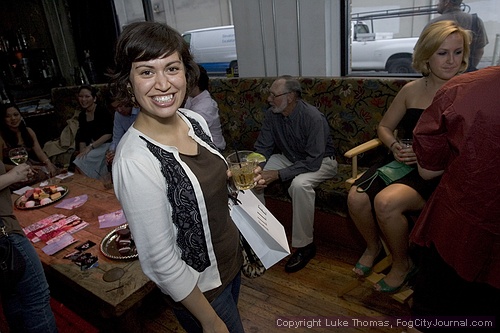 Before the makeover…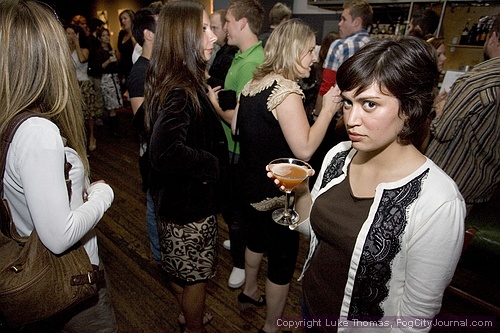 …And after.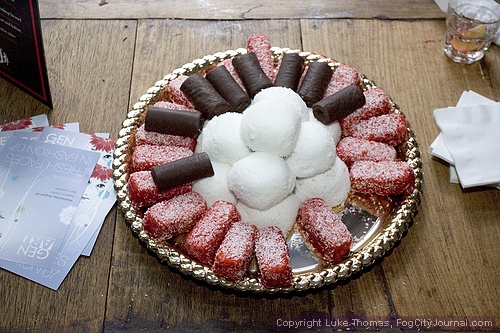 Elaine was specifically instructed NOT to eat these evil things.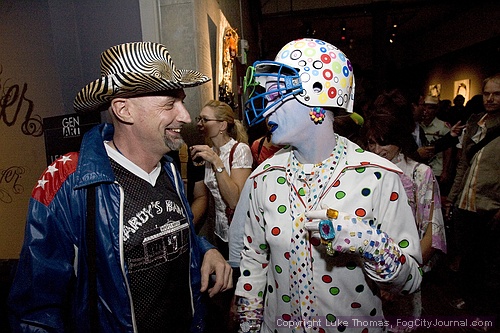 Hey, at least we still have the Oakland Raiders.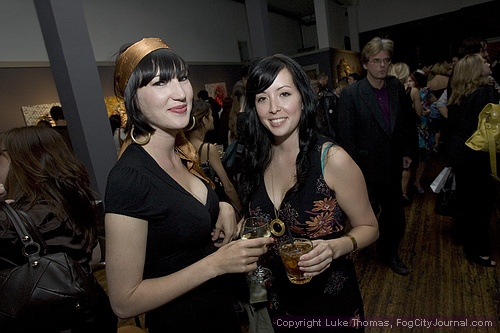 Cute scarf.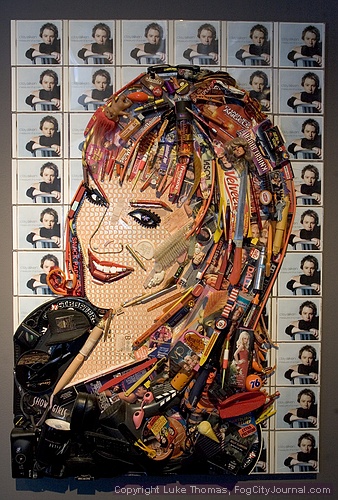 Comedienne and gay icon, Kathy Griffin.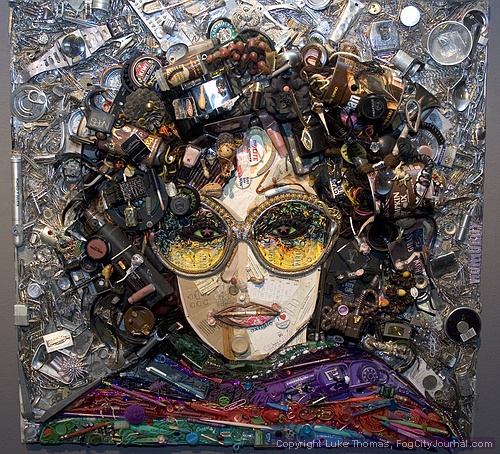 Parker Posey, aka the look Elaine rips off every day.

Tammy Faye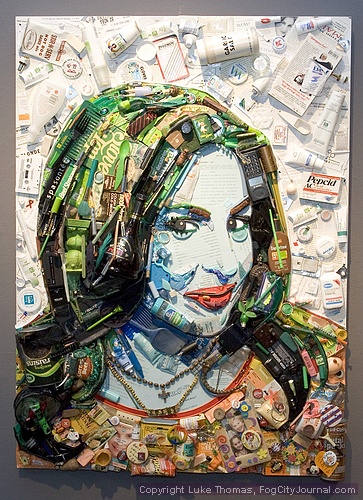 Kathy Najimy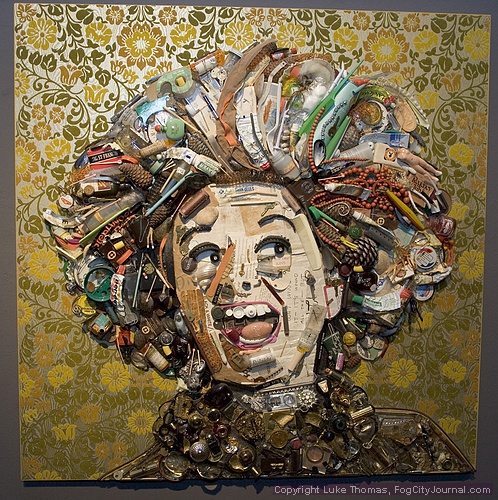 Phyllis Diller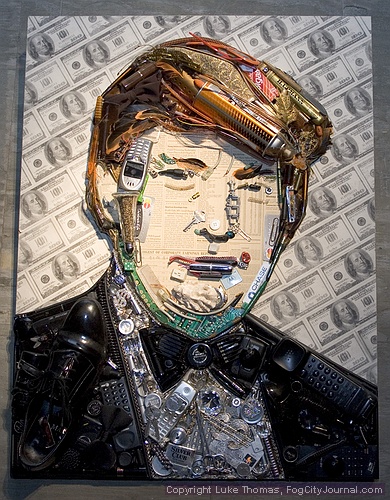 Donald Trump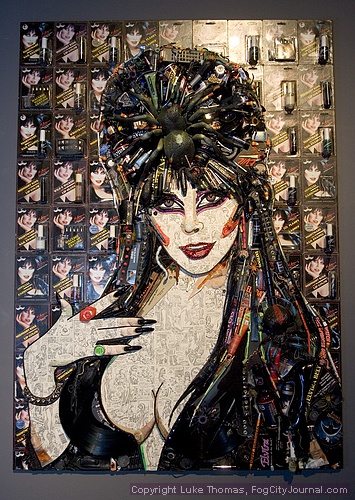 Elvira, Mistress of the Dark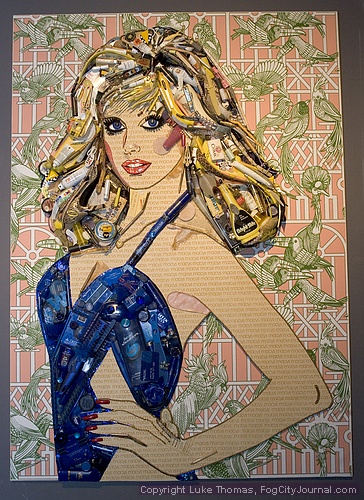 Morgan Fairchild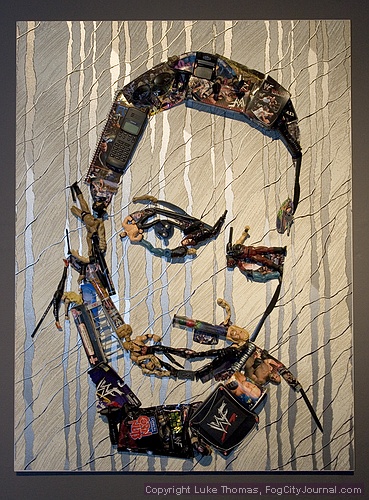 The Rock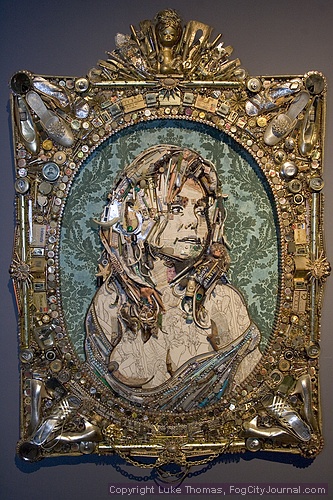 Farrah Fawcett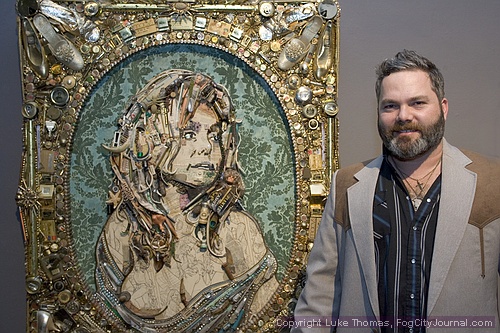 The artist, Jason Mecier.
God loves a tryer, part 2
Weeks after the Progressive Convention, District 6 Supervisor Chris Daly is still on the lookout for a progressive candidate to challenge Mayor Gavin Newsom.
His latest endorsement? Me.
"Think about it. How many women of color are running in the race?" Daly asked.
Yes, I suppose I do have that going for me. I would definitely be a lock for the Filipino vote, if any of my 30 some odd relatives actually lived outside of Daly City. And I'm certainly not the shortest candidate in the race.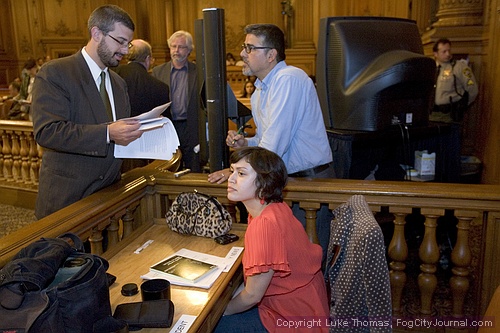 District 6 Supervisor Chris Daly tosses the mayoral candidate hot potato
to Elaine during Tuesday's Board of Supervisors meeting.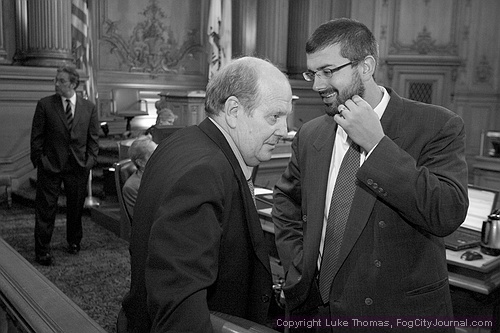 Chris Daly to Jake McGoldrick: Seriously, Jake, if Mirkarimi doesn't come around
we should draft Elaine. Too bad we can't recycle those blogswarm t-shirts…
Sorry, Chris, but on my list of dream jobs (#1 being a reporter for US Weekly, #2 being First Lady of Nebraska), Mayor of San Francisco falls somewhere in between Diana Ross' personal assistant and Ann Getty's makeup artist.
Fog City Journal plans to write an editorial entitled, "Anybody wanna run for mayor? Anybody?"
Crickets...
Do you love it?
For those of you who missed my appearance on SF/Unscripted, the video is now available online.
Next up for CrackBerry: Fox News.
CrackBerry Blind Item
Which Newsom lapdog called the mayor a "sulker?"
####