Overheard in Fog City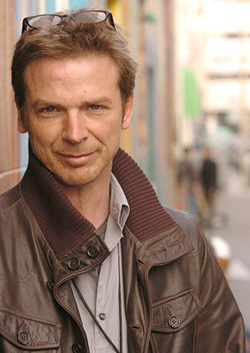 Luke Thomas
FCJ Publisher and Editor-in-Chief
Photo by Adam Aufdencamp
By Luke Thomas
July 4, 2007, 9:02 a.m. (updated 10:48 a.m.)
Josh Wolf to run for Mayor of San Francisco?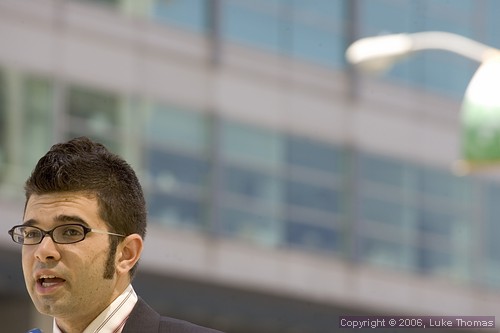 The venerable Josh Wolf
This could be a long shot, but we're hearing from several sources that journalist Josh Wolf is considering a run for mayor of San Francisco. We're also hearing that Wolf may make his intent official today with an announcement at Dolores Park during Independence Day festivities.
As for Wolf's reason for running? Check out his latest blog entry in which Wolf speaks about declaring San Francisco a sovereign nation and urges the Board of Supervisors to amend the City Charter, "in order to establish and clarify the lawful standing of the United Neighborhood of San Francisco as a sovereign nation per this Declaration and to inform the government of the United States of America of our separate and sovereign status in a timely and appropriate manner."
You'll recall Wolf attended the 2007 San Francisco Progressive Convention in June, but he gave no indications of his intent to run for mayor at the event despite supportive encouragement from Supervisor Chris Daly.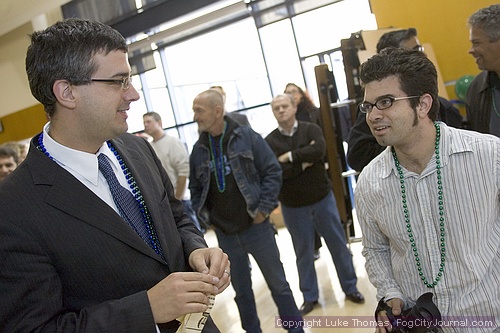 Supervisor Chris Daly and Josh Wolf at the 2007 Progressive Convention.
Update, 10:48 a.m: Josh Wolf provided Fog City Journal with the following statement, confirming his bid to run for Mayor of San Francisco.
Luke, thanks for your recent article about my bid for mayor of the city and county of San Francisco. I'd like to let you know that I have filed my declaration of intent with The City, and plan to mount a serious campaign for the office of mayor. I will be in Dolores Park this weekend gathering signatures in lieu of the filing fee, and will be posting a drafted copy of my platform at http://joshwolf.net later on today.
It's true that I made little effort to introduce people to my intent to run for mayor at the Progressive Convention, but at the time it seemed that either Ross Mirkarimi or Chris Daly would be announcing their candidacy. In the weeks that have followed the convention no viable progressive candidates have surfaced, and I feel that San Francisco deserves better than allowing Newsom a free-pass for another term as mayor. With no viable candidates to campaign for and none of the progressive heavy-weights running, I figured it was time to throw my hat in and see if the people of San Francisco want to support me as their mayor.
Josh
Matt Gonzalez polling
According to a reliable source, former mayoral candidate Matt Gonzalez is in the last throes of making an informed decision about running for mayor. Gonzalez, who has commissioned a recent telephone opinion poll, is expected to make a final decision within two weeks.

Former San Francisco Board of Supervisors President Matt Gonzalez.
####