The CrackBerry Chronicles
With Elaine Santore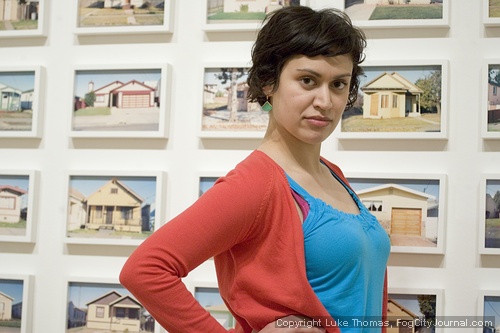 Photo(s) by Luke Thomas
July 27, 2007
When is CrackBerry getting a reality show?
During my lengthy (i.e. 48-hour) vacay at my parents' house, I caught up on two Bravo reality shows I've been dying to see: the new season of Kathy Griffin's "My Life on the D-List" (aka one of my favorite reality shows of all time), and Paula Abdul's "Hey Paula." As much as I pretend I'm above watching D-List celebs try to transcend their mid-level stardom with reality shows, watching them order around multiple assistants is way more fun than watching, say, Diana Ross.
For the show's third season, Kathy travels to London, and meets writer/comedian Ricky Gervais. Gervais is, of course, the creator of the UK version of "The Office." It's hilarious to watch Kathy grill Ricky about his A-list friends and what he really thinks of Madonna.

Video of Kathy Griffin and Ricky Gervais by Gervaisworlddotcom.
Kathy even makes up with my blog idol, Perez Hilton, with whom she engaged in a vicious public feud.
Paula Abdul's show turned out to be as much of a trainwreck as I expected. It's filled with bizarre ramblings and loopy speeches I'm hoping are drug-induced. Otherwise, this woman needs help. It's a miracle Paula's still famous, and hasn't been fired from "American Idol" yet. She somehow holds it together on "Idol" for a couple hours a week. But most of the time she throws hissy fits, cries, and generally makes her assistants' lives a living hell. It's hilarious.
It's really only a matter of time before Fog City Journal gets its own reality show. In the meantime, Luke Thomas and I plan to apply for TLC's "Trading Spaces" when the show comes to San Francisco. Of course, we would actually need to trade spaces with two other fame-seeking participants.
My first choice? Chris and Sarah Low Daly. My second choice is h. Brown, but making-over an SRO might be a little too real for TLC.
I figure with my penchant for eccentric headwear, and Luke's accent, we're shoo-ins. Americans love English accents. Duh.
Progressive Etiquette
Contrary to popular belief, just because I appear to be young and hip does not mean that I'm actually young and hip. For a twentysomething nightmare that fancies herself a D-List local celebrity, I don't go out very much. I know, I know, it sure looks like I go out a lot. But I mostly go to events (read: anywhere with an open bar), and hear about hot spots through friends but rarely make the effort to show up anywhere.
(Publicists, please put us on your lists for all open bar events).
Last night, our usual crowd of progressives and hangers-on attended a bash for Julian Davis to celebrate his new job. Thankfully, he decided to throw the party at Fog City Journal's newest neighborhood bar, Etiquette on 7th and Market.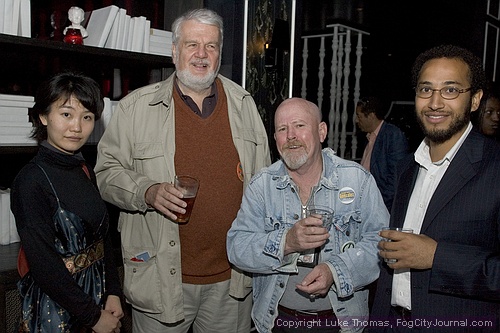 Bruce B. Brugmann, mayoral candidate h. Brown, and Julian Davis.
Despite the trendy trappings, it ended up being the usual salon crew and lively conversation. The staff was nice, the music wasn't obnoxiously loud, and the drinks weren't too overpriced. I'm always a sucker for those specialty menus on the bar, and after one Adam's Leaf, Luke and I switched over to the pomegranate margarita special everybody else was ordering.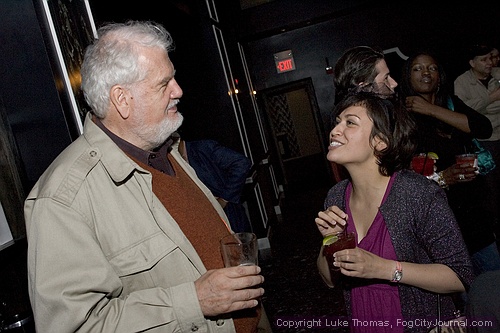 When Elaine Santore asked Bruce whom the Guardian would be endorsing for mayor,
he replied without hesitation, "h. Brown."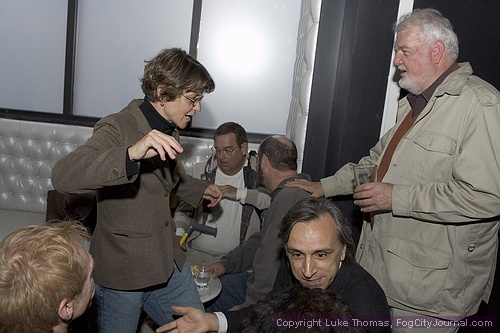 Debra Walker, John Rizzo, Bruce B. Brugmann.

Renaissance man Paul Hogarth and SFPartyParty.com publisher Ted Strawser.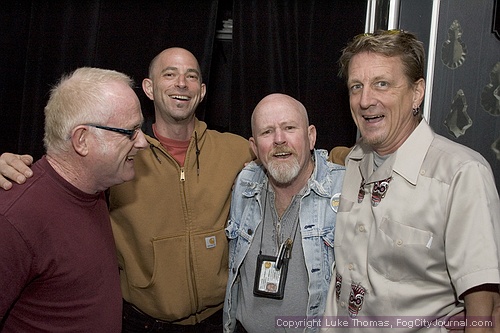 Joe Lynn, Marc Salomon, h. Brown and Entertainment Commissioner Terrance Alan.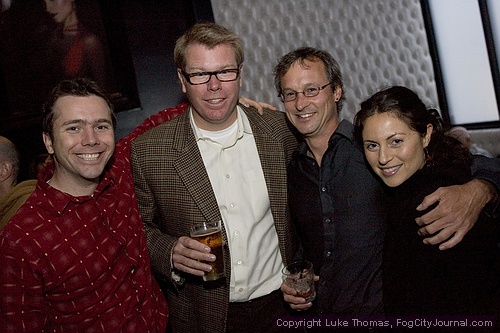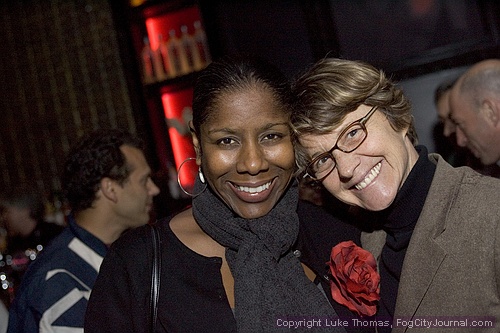 Kim Shree-Maufus, Debra Walker

CrackBerry Blind Items
Which political has-been keeps squatting in every political race in the City, but probably won't run for anything? He and his coterie of dreamers need to stop living in a time warp. It's 2007 and y'all are no longer hot.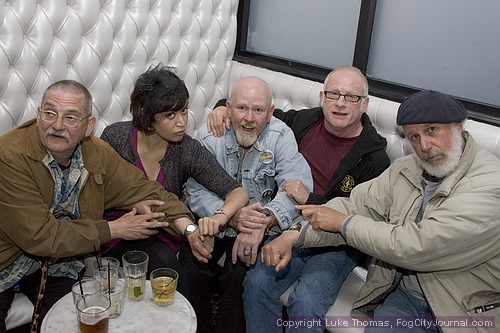 Survey says: "Time's up, loser!"
As my BFF, Aaron (aka CrackBaby), would say, "Time to retire in Palm Springs, 'cause your Playas License has been revoked."

No More Heroes

Which blogger said the following about a newly appointed blog editor: "He makes me ashamed to be a homosexual."
####